Let's start with some pictures: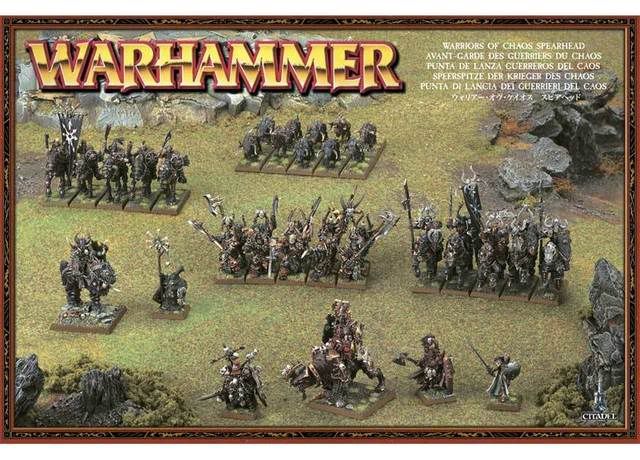 Spearhead
Slaaneshi Character Sigvald.
Exactly... new mounted PLASTIC marauders
Khornelord on Juggernaut, comes with alternative head (helmet) so you can choose.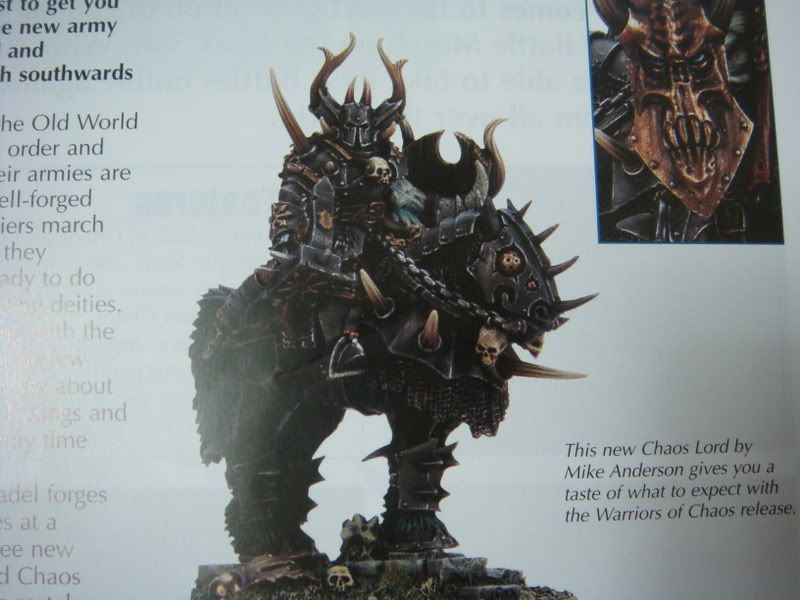 Mounted Chaos Lord
Plastic Hounds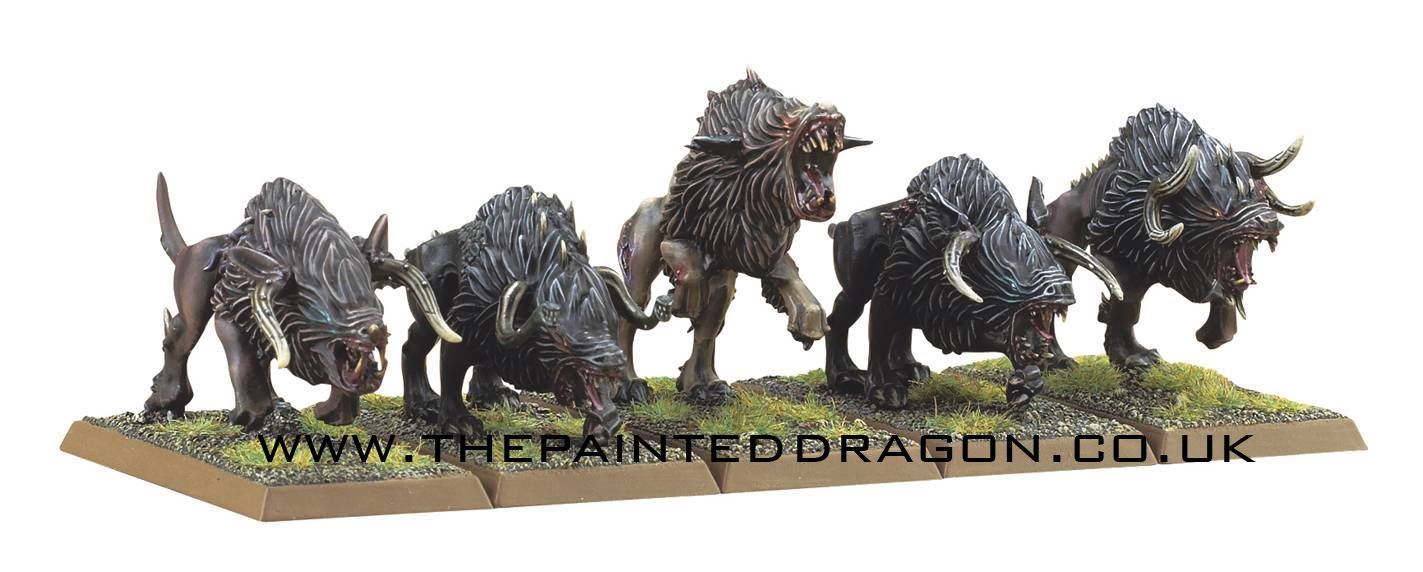 Chosen (?) Standard Bearer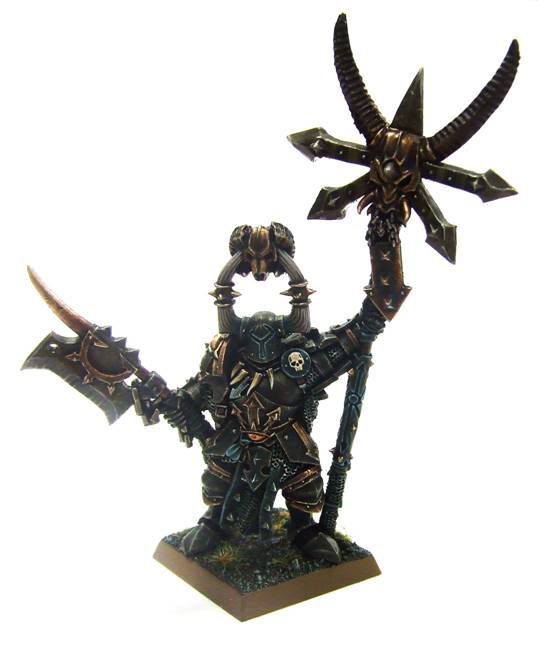 Deamon Prince
A rough sketch of the new armylist:
Quote:
Basically it's something like this:

CORE: Warriors, Marauders, Marauder Horsemen, Warhounds
SPECIAL: Knights, Chariots, Ogres, Trolls, Dragon Ogres
RARE: Giant, Shaggoth, Hellcannon, War Altar (possibly - this is not confirmed)

SOMEWHERE: Forsaken (half-spawn), Spawn (might not be in Rare), Chosen Warriors

...that's 16 units.
Chaos Warriors are going back to their roots. 2 attacks standard each and Chaos Armour and about 14 point, 15 with shield (not quite sure, expect it to be).
Chaos Knights are equal to the now Chosen Knights (Chaos Armour and 2 attacks each). The new Chosen Warriors on foot have stats which make opponents cry
- Forsaken have a move of 6 inch, less armour than Chaos Warriors, d3+1 attacks (+1 probably because of frenzy) and a random bonus from a 2d6 roll ... verder minder armour dan Chaos Warriors, d3+1 attacks (die +1 zou van frenzy kunnen komen) en een random bonus van een 2d6 roll.
- Chosen also have a bonus of that 2d6 roll (determinded start of the battle) and most of it gives a statsboost.
That Gaze of the Gods table which is been talked about (2d6 roll) is a list of upgrades that go from Stupidity (double 1) or nothing (7) to a +1 on differant stats or fear (11) and multiple times throwing the dice (12)
As for marks:
Quote:
- Marks:
Khorne = Frenzy
Nurgle = -1 WS and BS for enemy when attacking or shooting the unit
Slaanesh = Itp, but ASF also for characters and I think Giants and Ogres.
Tzeentch = +1 ward save and +1 to cast if you are a wizard.

- Army rule IS re-roll panic.

- Gaze of the Gods table - you roll 2D6 in certain situations, which are:
Character wins a challenge (doesn't include beating unit champs however)
Character kills a large target
Trolls regenerate 2 or more wounds

- Characters can get Chaos Gifts aswell as Magic Items (much like how the Vampire Powers work)

- Shaggoths are rare, there is no character choice.

- War Alter is IN!!! Sort of like a Chariot mounted Cauldron of Blood if you will in that it is a chariot type model but gives benefits similar to the cauldron.

- Knights at S5 with magical attacks, or at S6 with non-magical attacks, lance replaces the magic weapon.

- On top of that, Chosen may roll at the start of the game and the War Alter allows one unit per turn roll, as one of its benefits.

- Horsemen and Giants can now be marked, and Ogres can be marked too. Oh, and Ogres have Chaos Armour
Quote:
Hey guys, got some more info from Qrab at TWF here, straight from the book, and is 100% legit:

- Marauders are now lower cost basic
- Hounds can now get upgrades, either scaly skin or poison attacks for a few points/model
- Forsaken stat line:
M6 WS5 BS4 S4 T4 W1 I5 AD3+1 Ltd8 AS5+
Two Hand Weapons, Frenzy
- War Shrine cannot be joined by characters and moves and fights as a monster. Has ~4A. In the shooting phase, any characters within 12" must immediately issue a challenge if they are in combat and fight it. If they win they get to roll on the Gods table. Note that by this benefit from the Shrine, they can get a roll in the shoot phase and the combat phase if there are enough models to challenge. The information on this is a little hazy and so take this part with a grain of salt until I can get a more in depth explaination.
- Lore of Slaanesh is pretty much the same as in Hordes.
Quote:
Ok, I've finally recovered from LA Gamesday, and have some info on the new Mortals of Chaos Book.


*7-8 Special Characters; Only 2 are Archaon, one in Lord form (current) and one in Hero form.

*Dragon Ogre Shaggoth Special Characters: Starts with a K or C (I was really drunk at this point) but he's called "Sun Eater" due to his background and Special Rules. Mostly '8's in stats, carries a Great Hammer that does D3 Wounds and he can call upon Lightning to strike his enemies or himself/other Dragon Ogres...

*Slaanesh Special Character: Former Prince of some far off kingdom, only son to a King who had many daughters and prayed to all "gods" for a son...Slaanesh heard him. Lived a truly graced life, rain won't fall upon him, wind won't ruffle his hair, doesn't really touch the ground, extremely beautiful, etc. But, he's extremely twisted on the inside as he is attractive on the outside...

*Khorne Special Character: A female who's wandered the Northern Wastes of Chaos slaying all in her path, faced a Slaanesh Daemon Prince who attempted to make her his bride and lost his head for it! She then battled her way into the Realm of Chaos, slayed many many lessor Daemons of Khorne to lay the Slaaneshii Daemon Prince head at the base of Lord Khorne's Skull Throne, but was mortally wounded on the way to it. She places the skull there, then dies, but because Khorne was amused and appreciated her "style" he resurrected her, but in a slightly more appeasing form...so she has a Bloodletter's lower body!

*Marauder Special Character: Mighty warrior, took his tribe all throughout the Northern Wastes slaying all, gets really hammered one night on his 4th kep of beer/mead and announces to all that he's the mightiest warrior in all the lands and all the realms/dimensions...of course the Dark 4 hear this and curse him to prove it! He rides a Marauder boat with his tribe and are forced to bounce around from land to land, realm to realm, dimension to dimension and face the mightiest fighters in all! Special rules allows him and his unit to appear from any table edge!


*Chaos Warriors: Yup, all come with Chaos Armor, WS(5), A(2)?...Chosen are WS(6), A(3) and a Special slot. Automatically roll once on the Eye of the Gods chart at the begining of the game.

*Chaos Knights: No Chosen, but lots of upgrade options, all have Chaos Armor, and A(2) base. Specails

*Chariots of Chaos: Specials, cheaper and can be bought in pairs.

*Dragon Ogres: Now Specials, have Command model options, and Phil said they benefit from the Army Wide Special Rule...

*Chaos Trolls: Some upgrade options, and Specials. Chaos Troll Special Character is said to be nasty...

*Chaos Ogres: Can have Marks of the Dark 4, and are Specials.

*Eye of the Gods chart: Very similiar to the old Chaos Gifts cards from 5th Edition, some units/characters roll on it once at the begining of the game. Then roll each time they slay an enemy character in a Personal Challenge and offer up the remains to the Dark 4...all rolls/effects are cumulative.

*Hell Cannon: 1 Rare slot, has "Daemonic Gifts" upgrades.

*Chaos Giant: Can be Marked, is a Rare.

*Shaggoths: Rares, and can be Marked. Better stats now for similair points cost.


*OH YEAH!!! The book itself is about 128 pages, and crammed full of tons of Fluff, and timelines of events! LOTS of great new artwork to go along with the book.
And this concludes the copy/paste previews/rumours.