I've been making terrain for a friend's tabletop RPG campaign. He uses a hex map, so I can't make anything that has a floor on it. This limits most of what I can make to walls, buildings, and things that block movement or LOS. He uses Lego minifigures to represent humans, so everything is to a scale more or less approximate to Warhammer.
A while ago I found some wedding cake pillars when I was browsing through Michael's. It was only about five bucks for a pack of 4, so I picked them up thinking they might come in handy for one project or another. Well--they did.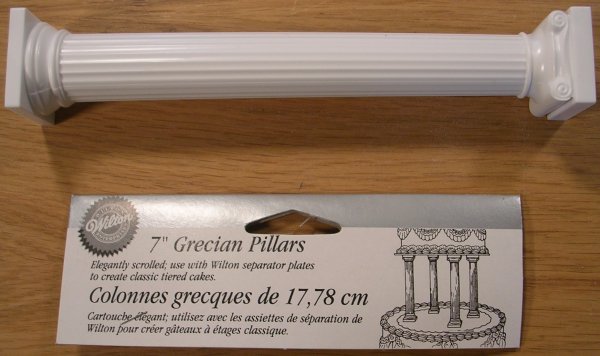 This is what they look like. They're intended for holding up a layer of a multi-level wedding cake, and are very lightweight--they're essentially hollow plastic. They are also very tall--seven inches high, which made them way too tall to use in one piece. I knew I'd have to cut them up, but that would look really ugly without some filler. That's when I hit on an idea: since I'd been doing a lot of casting with plaster recently, I tried filling them up with plaster of paris. This would have been easier had I thought beforehand to secure them to a flat surface--I had to spend about ten minutes holding them down tightly while the plaster set enough that I could let go without it leaking out the bottom.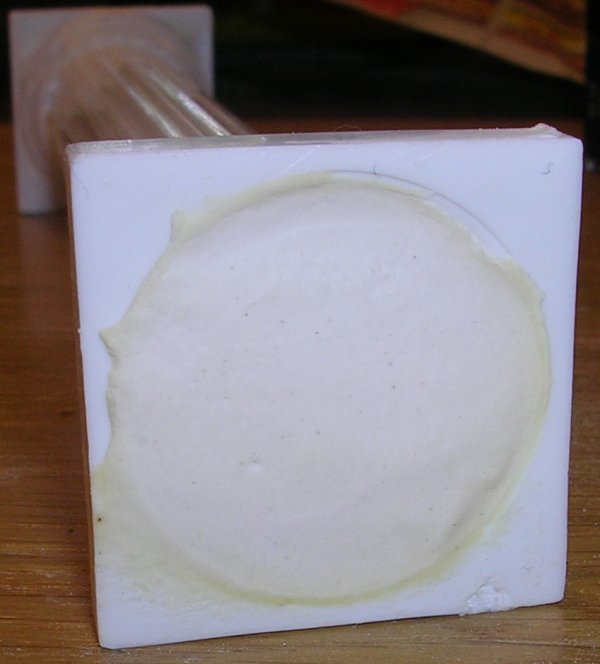 I then did some shallow sawing around the outside to cut through the plastic layer, and snapped them roughly in thirds. All three pieces got a black spray primer. The two end pieces I stood up and treated the flat square bases of them as if they were mini bases, which received a basecoat of Scorched Brown, followed by a few layers of Graveyard Earth, with sand, flocking, and static grass added. The middle piece I used as a piece of a fallen pillar. I cut a base for it out of MDF board, beveling the edges and basing it as above. I sanded one side of the pillar flat, drilled two 7/16" holes into it and the base, and screwed the pillar down in addition to using wood glue to secure it--I did not want this coming off, and it would have to stand up to repeated play and my friend's often haphazard way of storing stuff.
For the stone of the pillars themselves, I basecoated them in a 4:1 mix of Cold Grey and Chaos Black. They then received an extremely liberal and very watered down wash of Flesh Wash, Black Ink, and Chaos Black. Once that had dried (which took a very long time, given how much I used) I drybrushed them with Cold Grey and Bone White.
As a final touch, I dribbled irregular lines and pools of superglue where moss or vines might grow, and dipped the pieces in a bag of flocking. Once this had dried, I used a clean, dry brush to whisk away stray flock, except in a few places where I decided I liked where it had settled and fixed it in place with watered down PVA glue.
That's just from one pillar. There were four in the package--so from $5 worth of wedding cake crap and stuff most of us already have will come twelve pieces of scenery.