Hey people.
have just finished a new part of terrain.
I called it the mountain of words (parts of it are made of newspaper)
Its made of gypson and paper. I'll post some pics starting with its beginning to the end.
First pic is the naked mountain (by the way: it was my girlfriend to create it ;D )
second one: here we painted it with water time color (no idea if its the right translation, but what does it matter)
additional, we glued some stones on the front to give it the feeling of a "real" mountain (Actually I think its just a hill, but my girlfriend...ouch)
here is the final "mountain" with parts of my army plus some details. the part of the trophy isn't focussed, but shooting pics isn't a thing I'm very good at.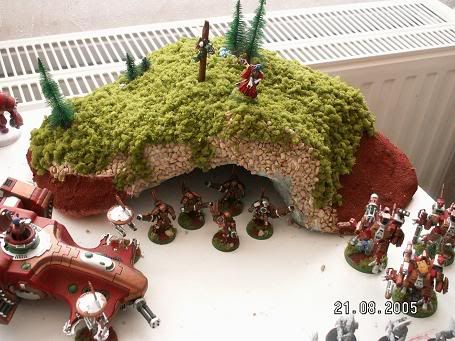 __________________
40K Orks: KOS(4000P), Footsloggers(5000P), Biker-Gang (120 Bikes --> ~4500P)
Tau(4000) Space Dwarves
Still waiting for their revival