Polystyrene packing!!!
The stuff you get when you buy a new TV or computer. It already comes in the right shapes and with a little carving with a bread knife you can make oodles of cool stuff...
*Gets Camera to take pics*
See first you need some polystyrene. This you can get anywhere for free, just go to an electrical shop and ask if you can have some of their spare packaging.
When you've got it. Decide what it looks like, often it won't be what you first think. Once you've decided what you are going to make, think about ramps and access points, if what your going to make doesn't have one of these when it comes to painting consider leaving an area to be an elevator.
Cut and shape your polystyrene how you wish, remember that if you do it carfully then you can use the offcuts for other things (as you can see in the last image, the tower piece came from another construction).
With this done it is time to give the whole construction a 'hard coat' the best way to do this is to paint it in 'plaster paint' or a thick paint (non waterbased, or it won't stick). I use a white paint because it makes later painting much easier. This stage will cover any dents or scratches you made earlier and give the whole thing a nice smooth surfface.
After this is dry you can add any extra features with matchsticks or metal wire, I have yet to do this in the picture below.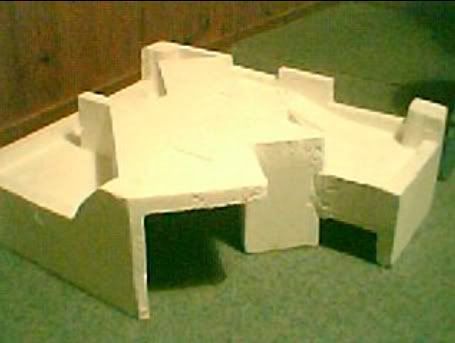 Then once you've done that, give the construction a base if you want and paint the construction the colours you want. In the picture below you will see a Shas'run which the Shas would use as tempory cover when defending an area, it is basically a set of firing windows and a lookout spot.
Genmotty