I went to my second Tournament last weekend with my Tau. Army format was 1500 Points, no Warmachines, no Superheavies, nothing requiring opponent's permission. Fullpaint and WYSIWYG were not required, unless you had some Imperial Armour or another alternative source units, in which case the whole army had to be fullpaint and WYSIWYG. There were 37 players in total and we played 5 games using the Swiss system. Three games were played on Saturday, two games on Sunday.
The winner was determined using Victory Points. There were 1500 VP in objectives (divided) and then the points for damaged/destroyed enemy units. In Annihilation destroyed units were worth double the VP.
The deployment and missions were as follows:
Game 1 - Pitched Battle, Seize Ground (Dark Angels - loss)
Game 2 -Dawn of War, Annihilation (Eldar - victory)
Game 3 - Spearhead, Capture and Control (Chaos Space Marines - victory)
Game 4 - Pitched Battle, Seize Ground (Daemons - loss)
Game 5 - Dawn of War, Capture and Control (Imperial Guard - draw with 13 VP in my favour)
I am not certain yet, the total result had not been published for those below top ten, but I seemed to be at 17th place out of the 37 players. The Tournament was won by Orks.
This was my army. The TL Missile Pod + Flamer combo proved extremely effective. The roster may not be too strong, but I liked it and it fitted my playing style.
Models in the army: 77
HQ:
Shas'El Commander (129 Points)
Airbursting Fragmentation Projector
Missile Pod
Fusion Blaster
Hard-wired Multi-tracker
Hard-wired Drone Controller (
2x Shield Drone
)
ELITES:
XV8 Crisis Battlesuit Team (1x Shas'Ui Team Leader + 2x Shas'Ui) (203 Points)
Shas'Ui Team Leader:
Fusion Blaster
Plasma Rifle
Missile Pod
Hard-wired Multi-tracker
Hard-wired Drone Controller (
2x Shield Drone
)
2x Shas'Ui:
Twin-Linked Missile Pod
Flamer
TROOPS:
Fire Warriors Team (6x Shas'La Fire Warrior) (60 Points)
6x Shas'La Fire Warrior:
Pulse Rifle
bonded Fire Warriors Team (1x Shas'Ui Team Leader + 10x Shas'La Fire Warrior) (125 Points)
Shas'Ui Team Leader:
Pulse Rifle
Bonding Knife
10x Shas'La Fire Warrior:
Pulse Rifle
Kroot Carnivore Squad (10x Kroot Carnivore + 5x Kroot Hound) (100 Points)
10x Kroot Carnivore:
Kroot Rifle
5x Kroot Hound:
Ferocious Fangs
Kroot Carnivore Squad (10x Kroot Carnivore + 5x Kroot Hound) (100 Points)
10x Kroot Carnivore:
Kroot Rifle
5x Kroot Hound:
Ferocious Fangs
FAST ATTACK:
Gun Drone Squadron (6x Gun Drone) (72 Points)
6x Gun Drone:
Twin-Linked Pulse Carbine
bonded Pathfinder Team ( 1x Shas'Ui Team Leader + 7x Pathfinder Shas'La + Pathfinder Devilfish Troop Carrier) (251 Points)
Shas'Ui Team Leader:
Pulse Carbine
Markerlight
Bonding Knife
7x Shas'La Pathfinder:
Pulse Carbine
Markerlight
Pathfinder Devilfish Troop Carrier:
Marker Beacon
Burst Cannon
Smart Missile System
Disruption Pod
Targetting Array
Multi-tracker
2x Seeker Missile
HEAVY SUPPORT:
Hammerhead Gunship (210 Points)
Railgun
Smart Missile System
Disruption Pod
Targetting Array
Multi-tracker
Target Lock
Sensor Spines
2x Seeker Missile
bonded XV88 Broadside Battlesuit Team (1x Shas'Ui Team Leader) (125 Points)
Shas'Ui Team Leader:
XV88 Broadside Battlesuit
Twin-Linked Railgun
Smart Missile System
Bonding Knife
Advanced Stabilisation System
Hard-wired Multi-tracker
Hard-wired Drone Controller (
2x Shield Drone
)
bonded XV88 Broadside Battlesuit Team (1x Shas'Ui Team Leader) (125 Points)
Shas'Ui Team Leader:
XV88 Broadside Battlesuit
Twin-Linked Railgun
Smart Missile System
Bonding Knife
Advanced Stabilisation System
Hard-wired Multi-tracker
Hard-wired Drone Controller (
2x Shield Drone
)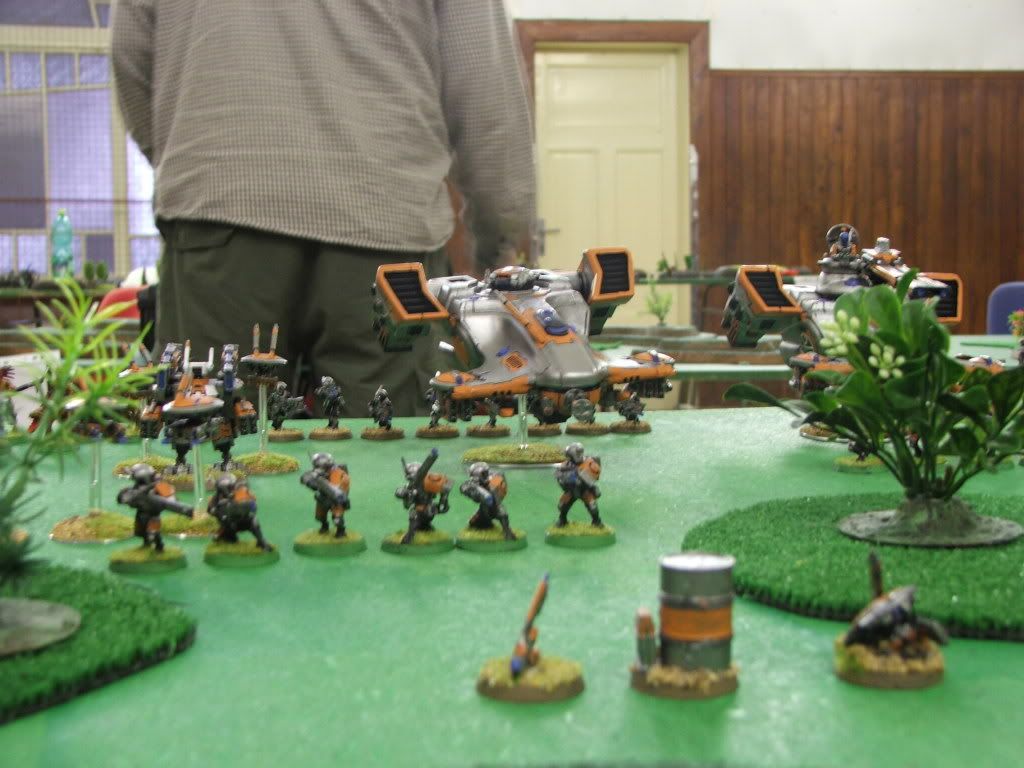 This was the tournament hall: