Went to my GW store today and managed to get a game in with a Space Wolf player. The point value was 1700 though I was still under point cost as I haven't repaired my two crisis suits yet.
My army was
Tau Army List
(1669)
1x Shas'el
-TL: FB, SG
1x XV8 Suit
-TL: MP, TA
2x Fire Warrior Squads (10 Fire Warriors)
-Warfish (DL, MT, TA, SMS)
2x Pathfinder Squads (8 Pathfinders)
-Rail Rifles (x2)
-Warfish (DL, MT, TA, SMS)
2x XV88 Broadsides
-Tl: RG, SMS, TA
2x Piranha (2 Piranhas 1 squad)
-Seeker Missile (x4), TA
2x Ionheads
-DL, MT, TL, SMS
Space Wolves Army List
(he said 1700)
1x Ragnar Character
1x Some other guy with a bird on his back
1x Blood Claws Pack (10 Marines)
-Power Fist
-Melta Gun
1x Grey Hunters Pack (10 Marines)
-Power Fist
-Melta Gun
1x Scout Squad (6 Scouts)
-Power Sword, Plasma Pistol
1x Venerable Dreadnought
-Assault Cannon
1x Landspeeder Tornado
1x Leman Russ Exterminator
1x Long Fangs Pack (5 Long Fangs)
-Lascannon, Missile Launcher (x2), Plasma Cannon
1x Bike Squadron (3 Bikes + Attack Bike)
Deployment
First off the board was set up by the GW staff and NOT me so don't say I cheesed the setup. In fact I refused to setup terrain in my games now anyways as I am biased to providing myself with tactical advantage.
The board size was 4x4 and the castle terrain was level 3 as was the forest in the middle. Other then that it was wide open.
I won the dice roll to set up so I pretty much countered my opponent using my devilfishes to screen the Ionheads. The Pathfinders were deployed one on each castle terrain piece in the corners. My Fire Warriors were mounted up.
He was facing a wall of AV 11-13 armor fronts.
Note: My Crisis suit on the middle tower was placed there as it was deep striking. It wasn't actually there
Turn 1: Marines
As is becoming the norm for me it seems I lost the dice roll to go first and the game began.
His entire army save the long fangs and the Leman Russ moved forward their maximum distance. In the shooting phase one of my pathfinder transports was immobilized by the long fangs and my broadside squad took 3 wounds leaving me with a single wounded broadside which passed its moral test. With no assaults his turn ended.
Tau Casualties:
1x Broadside killed
1x Broadside wounnded (1 wound left)
1x Pathfinder Fish Immobilized
Turn 1: Tau
I made my man alone test and all my skimmers moved 7+ inches forward to gain the skimmer rule. Shooting phase saw me marker light the Dreadnought with 2 lights and the Exterminator with 5. My shooting phase saw the single broadside destroy the Leman Russ with a solid rail gun shot. My piranhas launched 2 seeker missiles at the dreadnought and after penetrating it destroyed it in a super explosion, until my opponent asked me to reroll the dice as it was venerable. Luckily the dice gods were with me and I rolled another destroyed result with a 5.
My Crisis Suit shook the speeder preventing it from shooting next turn. My Warfishes and Ionhead on my right side completely destroyed the space wolf bike squad while my soldiers on my left managed to kill 4 marines from the Ragnar squad on my left side
Marine Casualties:
4x Marines
3x Marine Bikes
1x Marine Attack Bike
1x Leman Russ Exterminator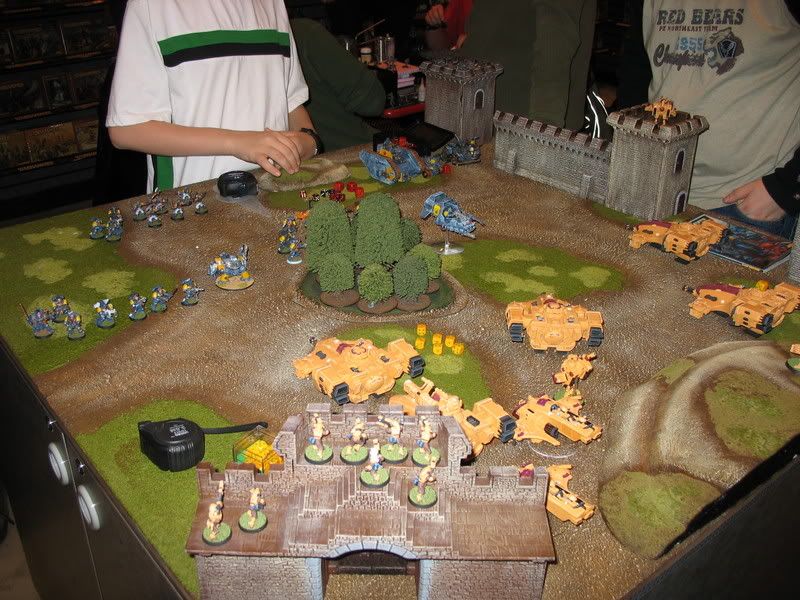 Turn 2: Marines
With my opponents reserves not showing up he moved his army 6" forward and his landspeeder sped 24" into my deployment zone.
The shooting phase was in effective with no damage being caused to my armored front. Ragnar and his squad charged my devilfish but failed to hurt the tank in close combat.
Tau Casualties:
None
Turn 2: Tau
My reserves also failed to show up and my broadside passed his man alone test. I moved onto my moving phase. My skimmers on the left surrounded Ragnar and his squad while my right flank moved 7" to get the skimmer rule. I dismounted one of my fire warior squad to add their fire power to the encircled marines
In the shooting phase I markerlit Ragnar and his squad with 4 lights and used 2 of them to pump my fire warrior BS to 5. My little ring of skimmers and rapid firing Fire Warriors eliminated Ragnars squad. Ragnar soon joined his fellow marines in death when the Broadside fired its rail gun and smeared the Space Wolf Commander, a red stain on the green grass. My missile pod crisis suit shook the landspeeder again. My right flank managed to kill 4 marines throught he use of markerlights to reduce the cover save of the psychic power from a 5+ to none and after failing their morale pushed them back 8"
Marine Casualties:
1x Ragnar
6x Marines
4x Marines right flank
Turn 3: Marines
Turn 3 began with the Space Wolf scouts showing up behind my lines next to the broadside. The landspeeder which could not shoot zoomed behind the pathfinders. Shooting phase saw the scouts glance the rear armor of the ionhead shaking it. The long fangs failed their target priority and poured their fire into the devilfish in front of the ionhead on my right flank stunning it as well. With no assaults the turn ended
Tau Casualties:
None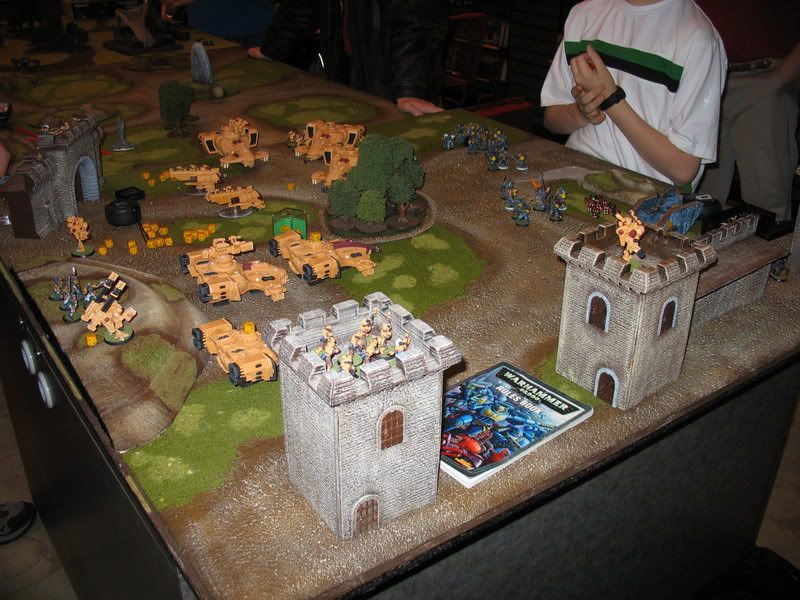 Turn 3: Tau
This turn saw my Fusion Shas'el show up, considering my opponent had no armor left I deep striked him on my right flank. I moved the shaken Ionhead back behind the wall cover on my right flank. My dismounted firewarriors remounted up and I brought the fire power of an ion head and 2 warfishes 12" closer to the last surviving grey hunter squad.
In the shooting phase I obliterated 2 grey hunters and caused them to fall back again and inflicted 5 wounds on the scout squad leaving the sergeant alive. My TL:MP crisis suit destroyed the landspeeder. After shooting the grey hunter squad failed morale again and fell back another 5".
Marine Casualties:
2x Grey Hunter Marines
1x Landspeeder
5x Scouts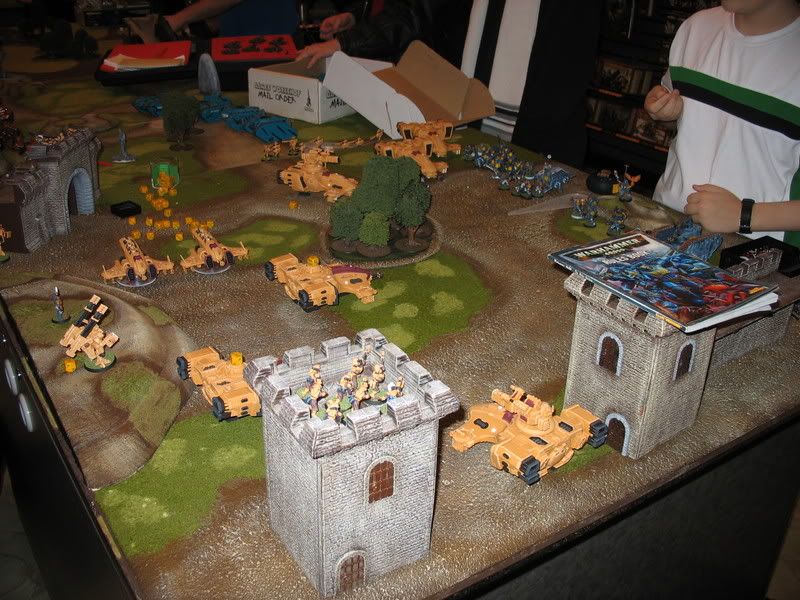 Turn 4: Marines
With the grey hunters auto-rallied and nothing in range to shoot they stood their ground. The scout sgt shot at my last broadside but I made the 2+ save, the long fangs wiped my Shas'el off the map with combined weapon fire though the plasma cannon gunner overheated frying himself. In the assault phase the scout sgt charged the broadside and with a mighty swing of his power sword destroyed the battle armored suit.
Tau Casualties:
Marine Casualties
1x Broadside Suit 1x Long Fang w/Plasma Cannon
1x Shas'el Crisis Suit
Turn 4: Tau
Once again ever skimmer that could move did to gain the skimmer rule. The shooting phase saw me the last remaining grey hunter squad on the board and the character. Next turn I would deal with the long fangs. The piranhas killed the scout sergeant
Marine Casualties:
3x Grey Hunter Marines
1x Character with a bird on his back and uses psychic for cover save
1x Scout Sergeant
Turn 5: Marines
With only the squad of long fangs left my opponent shot at my ionhead on my right flank shaking it again. With no other shooting or assaults his turn ended.
Tau Casualties:
None
Turn 5: Tau
The shaken Ionhead moved back behind the wall out of sight of the long fang squad. My shooting phase was not so good with no casualties inflicted on the 4 remaining long fangs
Turn 6: Marines
The lascannon long fang then fired on the devilfish lurking right below them destroying it while the 2 missile launchers fired at the fire warrior fish on the left flank and destroyed its SMS system.
Tau Casualties:
1x Pathfinder Warfish Destroyed
1x Fire Wariror Warfish SMS destroyed.
Turn 6: Tau
Being the last turn I moved everything out into the open and brought as much firepower to bear as I could on the 4 long fangs. The shooting phase saw me inflict 2 Casualties on the long fangs leaving 2 remaining marines. With a -1 penalty for being below 50% the long fangs failed their morale and fled 11" off the board.
Marine Casualties:
2x Long Fangs (remainder of squad fled off board)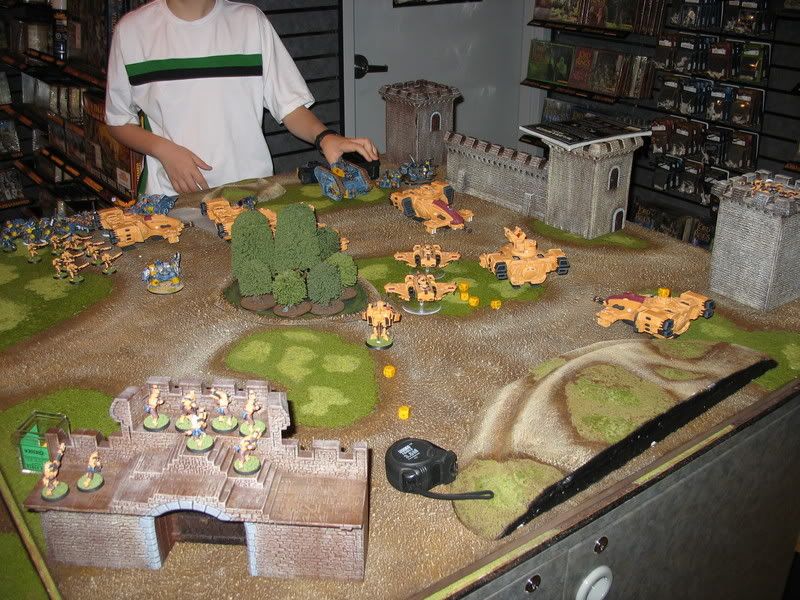 End Game
Total Tau Casualties:
Total Marine Casualties:
1x Pathfinder Warfish Destroyed - Entire army routed or dead
1x Pathfinder Warfish Immobilized
1x Fire Warrior Warfish SMS destroyed
1x Shas'el Crisis Suit
2x XV88 Broadsides
Looking at the pictures by turn 5 I think the look on my opponents face sums it up. It was the first time he and I had played and his army came in 7th at the last tournament. I would say the MVP for me were the Pathfinders. Their ability to reduce cover saves, put LD penalties for pinning and a source to guide the seeker missiles helped out a lot. Having a chance to have 10 fire warriors shoot at BS 5 is fun too. The rail rifles were nice as well, they inflicted about 7 casualties all game so for 40 points invested I managed to get 105 pts of damage out of them. I couldn't fire them in turn 5 and 6 because I had pushed my enemy so far back or had no LOS. I love my pathfinders.
Terrain was rather sparse but it was set up by the GW staff not knowing who or what army was going to play on the board. I feel that the open terrain benefitted him more then me. With the 8 SMS systems I don't even need line of sight to anything and the fact I only have 3 permanent AP 3 weapons and 4 one shots surprised him as he was used to facing Fire Knife crisis suits with plasma.
I had fun and my opponent was a good sport, a couple times early in the game he forgot to move things until his shooting phase and then I would see what he missed and give him the opportunity to move the unit. One thing he said is that he couldn't believe the firepower Mech Tau can bring to a board and though 90% of the weapons are AP5 it is the sheer amount of rolls he has to make that he fails his 3+ as a given
Thanks for reading it and hope you enjoyed it. Sorry about the pics, it was really crowded so I couldn't get a lot of good angles compared to the other store I play at.