Tau Vs Eldar 1500 Pts
Lists:
D'yanoi 20th Air Cavalry Suam'Sha Cadre
HQ:
Shas'O D'Yanoi Shas'Nan "Fireblade"
Fireknife
Shield Generator
HW Multi Tracker 132
Elites
Vre'Nars'Aloh
Fireknife 7
HW Multi-Tracker 78
Vre'Kais'Ka
Twin Linked Fusion Blasters
Targetting Array 63
6 Stealth Shas'ui 180
Troops:
12 FW
Ui'B'kak 130
12 FW
Ui'Law'La'Vazz'a
DevilFish
Multi-Tracker
Decoy Launcher
2 Seeker Missiles 245
Fast Attack:
8 Gun Drones 96
8 Pathfinders
Ui'N'au
DevilFish
Smart Missile System
Multi-Tracker
Decoy Launcher
2 Seeker Missiles 241
Heavy Support:
Hammerhead Gunship
Railgun
Burst Canons
Target Lock
Multi-Tracker
Decoy Launcher 170
Skyray
Smart Missile System
Target Lock
Multi-Tracker
Decoy Launcher 165
Total : 1500
Eldar
HQ:
Avatar of Khaine
Autarch
Fusion Blaster, Power Sword, Jump Generator
Elites:
9 Fire Dragons, with Exarch (Firepike)
Wave Serpent with TL Bright lances
Troops:
20 Guardian Defenders,
Warlock with Conceal, Missile Launcher
10 Wraithguard, with Spiritseer
5 Eldar Rangers, with Warlock
Heavy Support:
Vyper Jet Bike, with Scatter Laser
5 Warp Spiders,
Exarch with dual Spinnerets
Heavy Support:
4 Dark Reapers,
Exarch with Tempest Launcher,
Waveserpent ???
with TL Starcannons
Fire Prism
Falcon with Scatter Laser
Wraithlord with wraithsword and brightlance.
So... the eldar player was not fielding a legal army (one too many heavy support...) and I'm not sure he even know how many points he had... (anyone want to check?). In any case, we began the battle...
Set up and Deployment: We rolled for missions, getting an Alpha Level Recon as our mission. I also had to deploy first. The board was set up with 5 large buildings around a central square with a fountain, and a smattering of other cover. I chose to create a refused flank, deploying the bulk of my army in and behind the buildings on my left. I deployed Ui'B'Kak , and my 2 Shas'vres in the building in the center of my deployment zone, and finally, the drone squadron to my right flank, for harrassment purposes. The Eldar deployed his heavy skimmers to the center, along with his wraithbone wall, dark reapers, and Spiders. His pathfinders deploy deep into the building to my right, while the Fire Dragons and their Wave Serpent deploy to my extreme right. The Guardians, Avatar and Vyper deploy to my left, in and around the building in his deployment zone. After my Pathfinder scout move, we roll off for turns. I win, and decide to go second.
It had been barely two weeks since the Tau, under the command of Shas'O D'yanoi Shas'Nan had taken Hive Tertius from the Imperial Forces. However, the Gue'la had been quick to counter attack, and now a new threat had arrived surrounding O'Shas'Nan and his cadre, and cutting them off from the rest of the Tau forces. This new threat, it seemed was much more potent than the Gue'la, as several cadres had already fallen under the onslaught. It was now imperative that he and his cadre breakthrough, and get out of the city, to regroup with the rest of the Tau contingent. His battle plan had been barely formulated when his communicator squawked: "O'Shas'Nan, we have spotted enemy forces, approaching from the west. They don't appear to be Gue'la... I can make out the silhouette of.. that must be a Wraithlord sir." Very well then, though Shas'Nan, I was hoping to strike out against the Gue'la, but if the Eldar approach, then I suppose I have no choice. "Ready the cadre for battle!"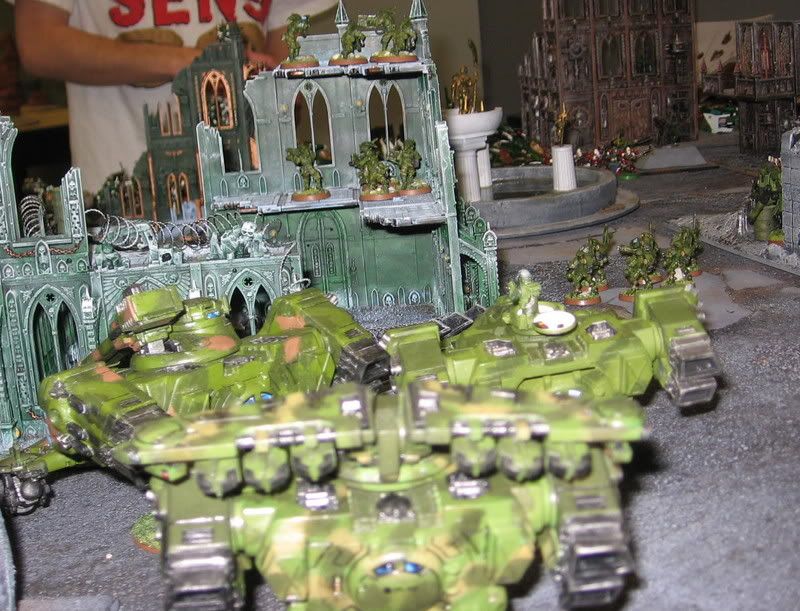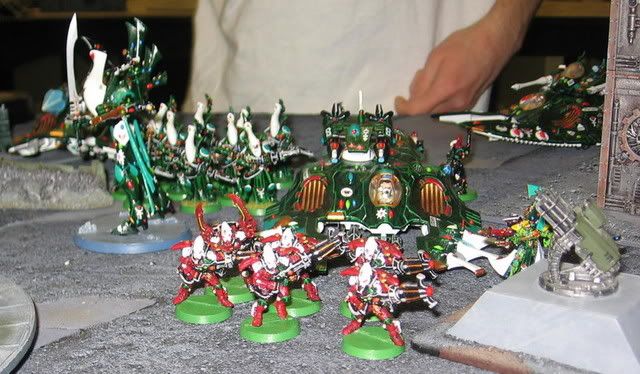 First Turn:
Eldar:
General advance of the main body of Eldar troops, as well as everything else.
Seeing as little is in range, the eldar take potshots at my crisis suits, causing no damage.
Tau:
My gunships pop out from behind cover, and I JSJ my suits, and drones. Shooting is so-so, scoring 4 markerlight hits on the wraithlord, I manage to cause one wound with seeker Missiles, while my stealth suits, static fire warriors and gun drones all take aim at the advancing warp spiders, killing them outright. To my left (south), the hammerhead, with the help of the pathfinder devilfish, and skyray SMS, stuns the vyper with a torrent of burst rounds, and then kills load of Guardians with a devastating submunition round. The Skyray, locking on to the Wave serpent, shakes it, while the crisis merely manage to Stun the advancing wave serpent.
As O'Shas'Nan peered through the morning haze, he could not help to be amazed at the size of the Eldar force. He could make out a monstrous Wraithlord, at least one troop of wraithguard, and numerous heavy skimmers, hovering low and slow between buildings. What's more, is that they seemed to have just noticed his cadre, deeply in cover, as the eldar grav Tanks began blasting his positions. "All units, engage enemy forces!" Within moments, the sky was filled with trails of smoke, as seeker after seeker, and numerous other missiles streaked towards their targets. Soon, streams of pulse fire lit up the streets, in what was to become a withering hail of fire. However, it seemed as though the Eldar were immune to their weapons, as little to nothing could be seen to fall, and the phalanx of troops and tanks kept marching closer. However, on the flank, the armoured thrust began, as the hammerhead and devilfish gunships unleashed a hellish torrent of fire on the Eldar entrenched in a building, though from his position, he could not see just how effective it had been.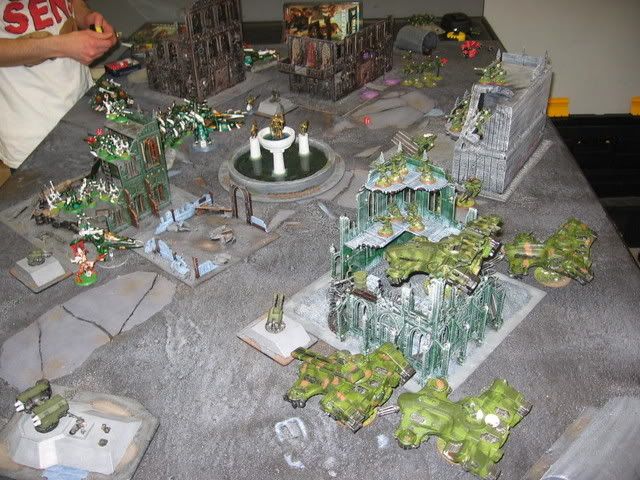 Turn 2:
Eldar:
The Guardians reposition themselves, wanting to minimize future pieplate death, while the main body of the eldar army continues to advance. All skimmers move up, aside from the stunned wave serpent.
Shooting is a little more effective, as the Falcon and Wraithlord each manage to claim a Crisis suit, the guardians and avatar shooting at my hammerhead, but failing to do anything.
Tau:
I continue to manoeuvre my skimmers around, with my skyray and Fire warrior Devilfish just to the left of my center, between two buildings, while the Fire warriors dismount and move into the southeastern building. My hammerhead and Devilfish to the south continue to advance westwards. My shas'O and stealths jump forward, to get whatever targets they can, and the drones jump northwards, hoping to take some shots at the advancing fire dragons.
The drones prove useless this turn, failing priority, and shooting the wave serpent in front of the Fire Dragons. However, my Pathfinders light up the wraithguard, and my Skyray lights up the Wraithlord. The hammerhead, with a clear line of site to the wraithguard, drops a submunition on their head, killing one, while the remaining seekers claim another, and my firewarriors and stealths kill some more. All told, there are only 3 left, with a warlock. My Shas'O targets the unmoved Wave serpent, hoping for an easy kill, but fails completely to even glance the armour. To the south, my skimmers manage to knock out the viper, and kill a couple more guardians.
In the assault move, I move my remaining suits out of harms' way, and the drones into cover, though two crash into the wall and die.

Suddenly, the Grav tanks zeroed in, scoring hits on both Vre'Nars'Olah and Vre'Kais'Ka. With a scream, Nars'Olah's suit was shot from the sky, while Kais'Ka's suit sustained heavy damage. O'Shas'Nan could just barely make out the shape of his Shas'Vre clambering out of the wreck. His troops began shooting back with a vengeance, and once again a hail of missiles streaked across the sky, though this time, they at least manage to utterly destroy one of the silent Wraithguard. To the south, the gunships began to take heavy fire, and they had to manoeuvre wildly to avoid the incoming eldar missiles and beam weapons. All the while, they maintained their incredible rate of fire, punishing the eldar infantry below them, and even taking down a small Eldar skiff with a hail of pulsefire. Just then, a most terrible creature walked out of the ruins. Seemingly made of living lava, this beast added its own brand of firepower against the hammerhead, though yet again, the pilots where able to jink at the last moment, narrowly avoiding a devastating hit.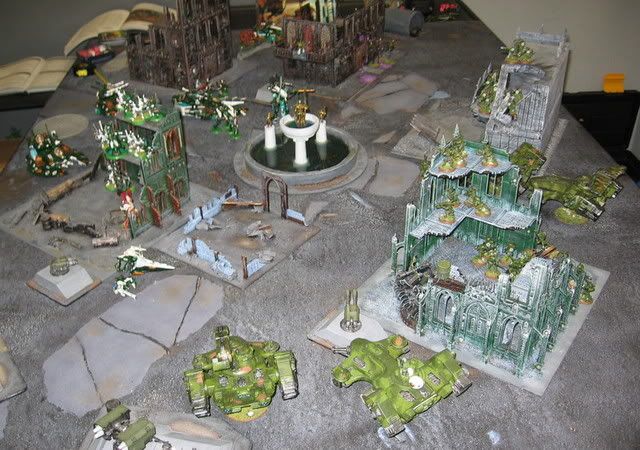 Turn 3:
Eldar:
The avatar advances towards my exposed skimmers, and the remaining wraiths keep advancing on my static warriors. The rangers and reapers, since they are finally in position to shoot, sit tight, while the fire dragons and their serpent continue their advance, turning onto the street that leads to the central square. The Fire Prism and Star canon wave serpent stay still, while the Falcon moves southwest, hoping to deal with my skimmers.
Shooting, with the rangers and reapers kills off four of my Fire warriors, while the Falcon, wave serpent, missile launcher, and even the starcanon serpent only manage to shake my Warfish. The wraithlord tries to shoot my stealths, but fails to see them, and the fire dragons only manage to kill 2 of my harassing drones.
What does the autarch do in all this, you may ask? He moves up.. moves back, takes a shot here and there, and does nothing in the end. He does take a wound, but that's only to dangerous terrain. So, from now on, I'll just ignore him, though if you see a lone eldar model around, it's probably him.
Tau:
The fire warriors of Ui'Law'La'Vazz'a advance through the southeastern building, while my skimmers jockey for position around the same building, my warfish taking cover for a turn, and my devilfish deploying my drones. However, I'm careful to not venture too close to the furious avatar. To the north, my harrassment force moves in close against the Fire Dragons, and in the center, I continue to JSJ as best as I can.
Shooting is alright, though in the center, I only manage to kill off one wraithguard, despite the support of my Skyray's Markerlights. The pathfinders fail their priority test, and have to light up the avatar. My skimmers then all combine to cause a single wound. My Crisis commander manages to shake another eldar skimmer, the Falcon. My suits the jump out of harm's way. To the north, my four remaining drones shoot and assault the fire dragons, hoping to keep them busy for a round or two. Charging in, the Dragons manage to down one Frisbee of death, though the remaining 2 bludgeon 2 fire dragons to death. I won the combat, though the eldar don't budge... understandable, since they outnumber the Frisbees almost 3:1.
As the Fire Warriors of Ui'Law'La'Vazz'a scurried through the building behind him, the troopers under the command of Ui'B'kak found themselves hard pressed. They had begun to take a formidable hail of long range fire, and while their cover protected them, they could barely slow the advance of the oncoming wraithbone wall, despite the support of the stealthsuits. However, O'Shas'Nan would have to ignore their cries for reinforcements, for the moment, as he found himself far too busy with the enemy armour. He fired his missiles at the nearest enemy skimmer, and soon heard the satisfying crunch as they detonated on its hull. The surprised skimmer began to manoeuvre quickly and gracefully, hoping to avoid any other incoming attacks, though it was otherwise unaffected. With that skimmer busy, the Shas'O ordered his gunships to engage the flaming monstrosity that had exposed itself. Within moments, his gunships, always on the move, began to pour constant streams of pulse fire at the beast, and volleys of smart missiles pummeled its armoured body. It bellowed in rage as one of the missiles seemed to find a crack in his armour, which seemed to kill its confidence.