That's the meal ticket man. It's what I ended up doing. I originally was inspired because of the following new Pathfinder Blisters: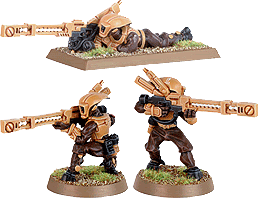 One of them actually looks just like the spotter, minus the contraption. And the sniper on the ground is just perfect. And who doesn't have spare gundrones?
Just use the railrifles that come with the 'finders and make some sniper drones!
Cheers!
__________________
[table][tr][td]

[/td][td][table][tr][td] [/td][td]Apocalypse is the
only
way to forty-kay.[/td][/tr][/table][/td][/tr][/table]