Aggresive drone placement: Or how you can save you fire warriors from meeting a grizzly chainsword-related death!
With the new codex, we get some nice new units, and most of these have been looked at, including their combinations (see tonkas stealth-skyray article). I was doing some thinking and i think i may have found another unit combination that might work quite nicely.
Aggresive Drone Barrier Dropping (ADBD)
is the practise of using 1 (or 2) piranhas to "escort" devilfishes as they come in for the landing. Once the devilfish has released its cargo (standard FoF), it will, along with its flanking piranhas (keep them about 4"-5" apart) release their gun drones. This will give you 4(or 6) gundrones, seperated from their vehicles.
In the shooting phase you can then let rip with 12 FWs, 2 burst cannons and 4 twin-linked carbines. Not only does the inclusion of the piranha increase the punch of the FoF, it also helps to protect against assaults.
Here's how: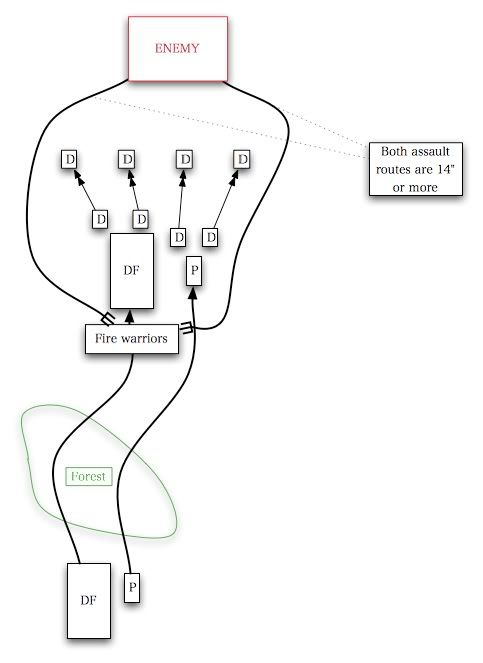 By using the drones' jetpack move after the shooting to move forward and create a barrier line between the firewarriors and their target you get 2 advantages:
1)
-Against a shooty unit, they will be force to take LD checks to
not
shoot the drones, and if they do then they have achieved 0VPs (vehicle drones are not worth any VP's on their own) and saved your firewarriors from any heavy weapons the enemy might have.
2)
-Against an assault unit, you have now spontaneously created a 10"-12" wide barrier, which they will have to walk around. The unit will not be able to shoot at the drones, unless he wants to charge them, in which case he will kill 2 drones and not have anyone to charge in the assault phase.
-If the enemy unit wishes to assault you then he will still have to walk 14" with his FRONT models to even stand a chance of charging you. If however you caused any casualties this will be more like 16" and thats a hard charge to make, even for fleet of footers.
Essentially what you are doing is using a maxed out unit coherency and the 1" rule (no enemy models may move within 1" of any of your models, unless they are charging it) to create a barrier to shield your firewarriors, and buy them enough time to re-mount and zip away from the (failed) charge.
It's also one of those tau tactic that really annoys your opponent, letting them get within inches of chargin you, then mounting back up, racing away and letting the heavy guns finish off the job.
O0