I've been a bit busy, but I've finally gotten around to posting up my Battle Report from Saturday's casual gaming.* I started working with a different program to do the graphics, but it was terribly cumbersome, so this week will still be using MS Paint....which means you'll need to use your imaginations a bit to make sense of everything.
My list:
Shas'el
TL Plasma, Fusion, HW Multi
Shas'el
TL Plasma, Fusion, HW Multi
3 Deathrain Suits
4 Stealth
4 Stealth
6 Firewarriors
16 Kroot
16 Kroot
16 Kroot
Railhead
Multi, Decoy, Disruption, Target Lock
Railhead
Multi, Decoy, Disruption, Target Lock
Ionhead
Multi, Decoy, Disruption, Target Lock
My opponent was using Ultramarines, with a list along these lines (not 100% accurate):
Chaplain (3 wounds, I think) with bionics and meltabombs
Tigurius (special librarian character)* with some vortex and wrath powers
Venerable Dread with Assault Cannon, extra armor
5 Assault Terminators, 2 with hammers, 3 with claws
5 Terminators, 1 with Assault Cannon, with with cyclone missile launcher
1 Landspeeder with HB and Assault Cannon
10 man tac squad with flamer, plasma gun
10 man tac squad with plasma cannon
5 man scout squad with BP/CCW and teleport homer
1 Predator with TL Lascannons and (I think) HB sponsons
Mission was Take and Hold, Gamma, with a small crater in the center serving as the objective.* Board looked like this:
And after deployment:
He had his termies and landspeeder in reserve.* I won the roll for first turn, and took it.
TURN 1: TAU
Not a lot for me to do, unfortunately.* Almost wiped out his scout squad, but I couldn't quite jump out far enough to get a bead on the last guy.* Blew up his predator with an across the board shot.* Nothing spectacular, but a solid round's work.
TURN 1: Ultramarines
Most stuff moves forward on the marine side.* Plasma cannon misses.* Dread kills a few kroot, Tigirius sucks a kroot down the vortex.* Not sure why he moved that independant character up all alone, but he did.*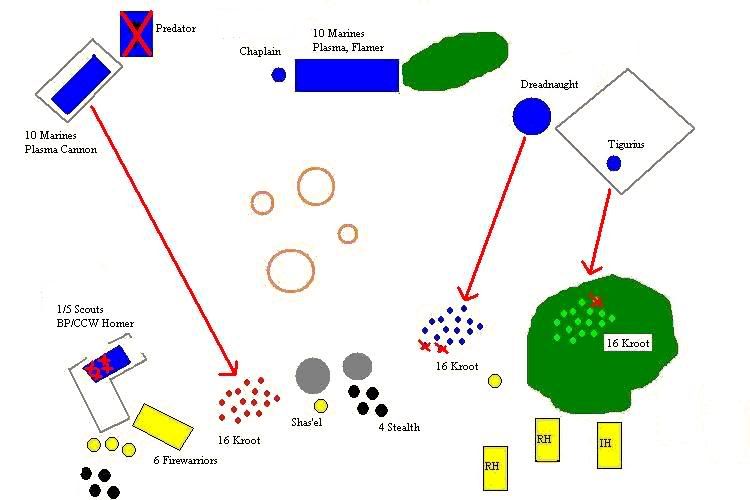 TURN 2: Tau
I figured this would be the perfect oppotunity to nuke Tigerius, so I move LOTS of stuff up into position.* 58 kroot shots, 12 stealth shots, a plasma shot and 2 railgun shots later, Tigerius still has a wound left.* WTF?* My Ionhead kills a tac marine, and the deathrains are out of range.* Meh.* Time to see what drops in....
TURN 2: Ultramarines
Terminators and speeder come in.* Kills a bunch of kroot, forcing one squad to flee off the board.* Great.* Assault cannons and cyclone manage to shake a Railhead.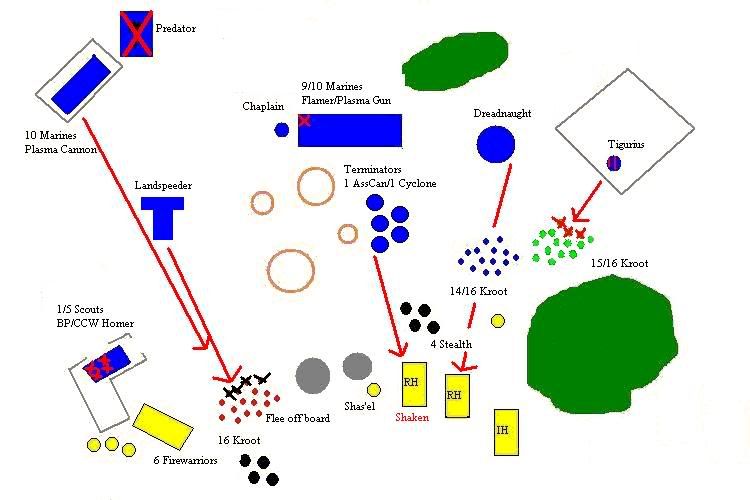 TURN 3: Tau
The mass of kroot finally bring Tigerius down.* I figure the dreadnaught will be the easiest assault cannon to silence, so I'll take it out first.* Not great overall, but I immobilize it and stun it for a turn, at least.* Not too great at killing the termies.
TURN 3: Ultramarines
Assault marines come in.* Plasma cannon kills himself shooting at my railhead.* Good times.* Not sure how, but my notes mention the chaplain killed a stealth suit with a bolt pistol shot, so he must have been fairly close...hence his amazing movement on the map.* The remaining terms stun the Railhead.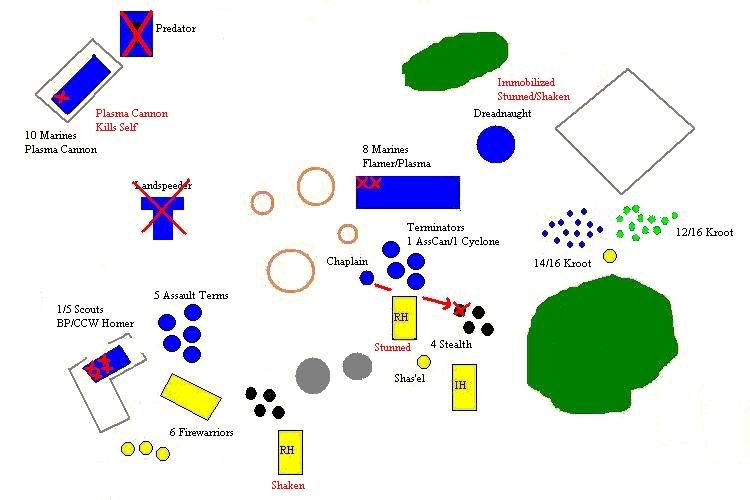 TURN 4: Tau
Lots of shooting this turn.* Submunition kills two assault termies, massed fire brings another down.* Fusion blaster misses the chaplain, rosarius saves both plasma wounds.* *:
* Massed fire brings tactical and terminator squads down a bit more.
TURN 4: Ultramarines
The dreadnaught is no longer stunned.* He and the remaining tactical marines butcher some kroot.* The terminators miss the hammerhead, while the chaplain and assault termies easily tear their targets apart in melee.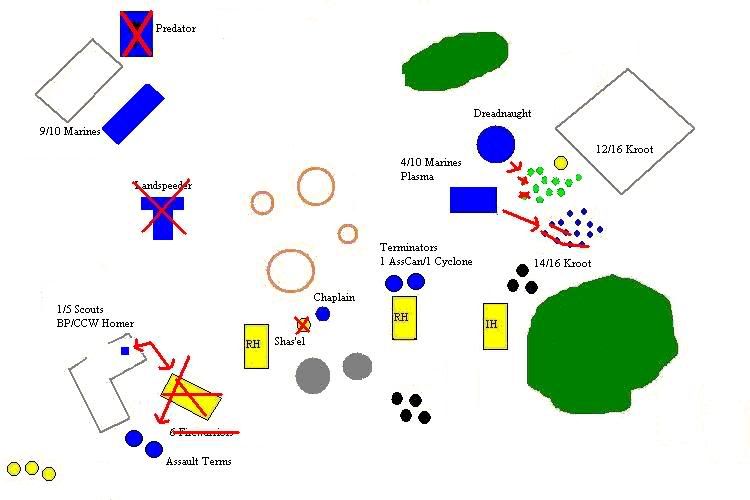 TURN 5: Tau
Starting the mop-up operations at this point, and consolidation towards the middle.
TURN 5: Ultramarines
Blows the railgun off of a hammerhead.* Tacs moving in.
TURN 6: Tau
Dang.* Couldn't get that tac squad below half.* Will still remain outside of target.
TURN 6: Ultramarines
Yeah....they wipe out the 3 man stealth team with rapid fire.*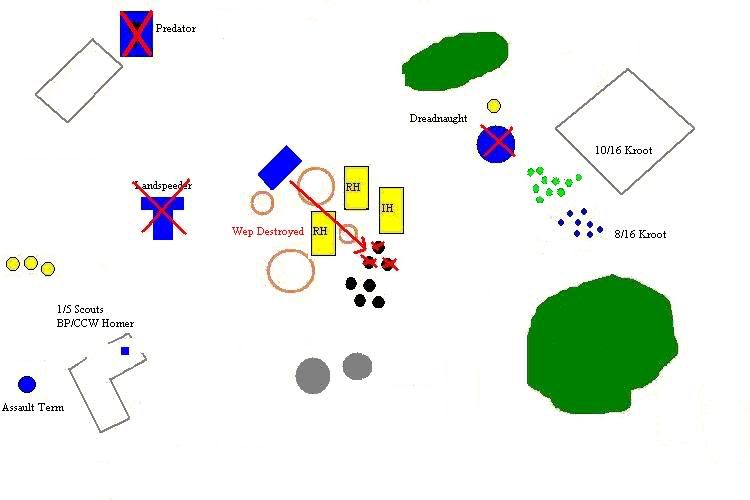 We didn't tally up the points, but considering I had 3 hammerheads and a stealth team on the objective, I think I won pretty decisively.
Thoughts:
Command suits.* Man, I missed several fusion shots with these guys.* When you have them, you want to use them, but if they miss, you're awfully vulnerable.* Still, I found the HQ suit configuration pretty handy overall.* Not so useful against non Meq armies, as I found out from my tourney, but nice to have when you do bump into them.
Kroot.* Once again, great troopers.* The mass of fire these guys can put out is incredible, and infiltration is great.* I still can't believe Tigerius took so long to kill.....
Hammerheads.* Great as always.* I found target locks very useful on these guys...it certainly allowed me more freedom in targetting, which helped greatly (couldn't fit in all the different firing lines on the diagrams, so you won't see how often I used this.* Believe me, it was lots).
Deathrain:* The inverse of my HQ suits.* Proved great against non-Meqs, not so great against them.* Weren't in the greatest postion, so they didn't get a real chance to shine.* Still, did well overall, and I'll certainly keep them at this points.
Firewarriors: about what I expected.
Stealth suits:* Pretty handy overall.* Man, though, what is it with me and their saves?* That squad took four total wounds....1 from the chaplain and three on the last turn, and they failed them all.* They failed all their saves at the tournament, too!* I always hate when people complain about superstitious stuff, and cursed units/dice, but man, I'm documenting this stuff....it's not selective memory, these guys just die!
This was my first time facing multiple dropping termies.* They were tougher than I expected (and I expected them to be tough), but still pretty easy to deal with.* The assault guys, especially, weren't much of a threat.....much too slow.* I think my opponent's list wasn't quite as efficient as mine was, and some of his tactics were questionable (why didn't he take Fear of the Darkness, for example, to scare off my kroot?* Why did he run his characters up all alone?).* Still, a clean victory that shows how mobile Tau units can outmanuever and outgun slower marines.