As I mentioned in my Battle Report last week (
http://forums.tauonline.org/index.php?topic=12696.0
), one of the players who was watching (well, everyone in general) mentioned that they had never seen a Tau army even come close to winning, let alone demolish an army. A particular player said he'd show up a little earlier this week to get a game in against me to see if Tau could beat his orks, which had apparently never happened (?).
I used a similar list to last time:
Shas'el with TL plasma/fusion/HW multi
Shas'el with TL plasma/fusion/HW multi
2 Firewarriors
4 Stealth
4 Stealth
12 Firewarriors
16 Kroot
16 Kroot
14 Kroot
Railhead with burst, multi, disruption, decoy
Railhead with burst, multi, disruption, decoy
Ionhead with burst, multi, disruption, decoy
His orks looks something like this (I don't know orks well, so use common sense in figuring out what kinda gear they might have)
Warboss in truk (Big Shoota) with several Nobs, all in mega-armor. Various scorchas, burnas, klaws, etc.
Mad Dok(?) with klaw in truk (big Shoota) with cyborks
17 Slugga Boys, 2 big shootas
17 Grots with herder, squig hound(?)
8 Tankbustas, 3 rokkits and nob with rokkit
3 Buggies with TL rokkit launchas
3 Zzap guns with various grot crew
3 killa cans, all with big-shootas and klaws
He rolled up Take and Hold, Omega for the mission. I mentioned I had a tourney coming up that was all gamma level, so we could go gamma if he'd prefer. He wanted to keep omega, so we did.
Same caveat as last time....I'm using MS paint here, so my graphics won't be great. Need to use your imagination a little with unit facing and such, as simple tasks like rotating pictures are a real pain.
After infiltration and such, setup looked like this:
He got first turn and took it.
Turn 1: Orks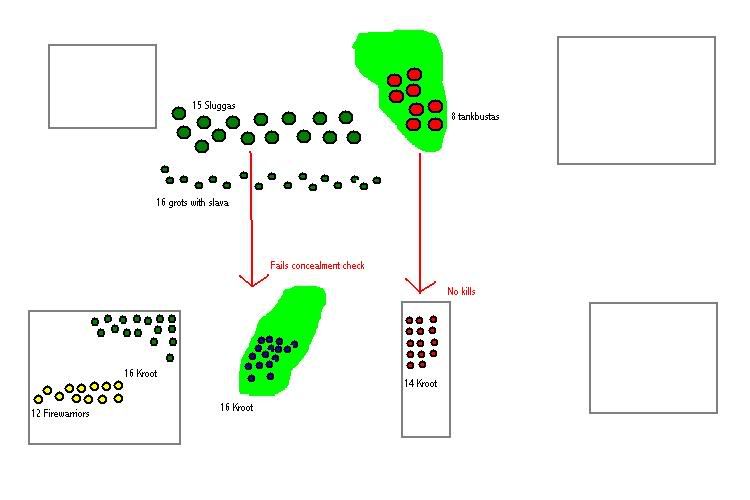 No surprise, everything moved up. Rokkits shot at the middle kroot squad, but he failed to spot them due to concealment. Got a wound on my rightmost Kroot, but cover saved them.
Turn 1: Tau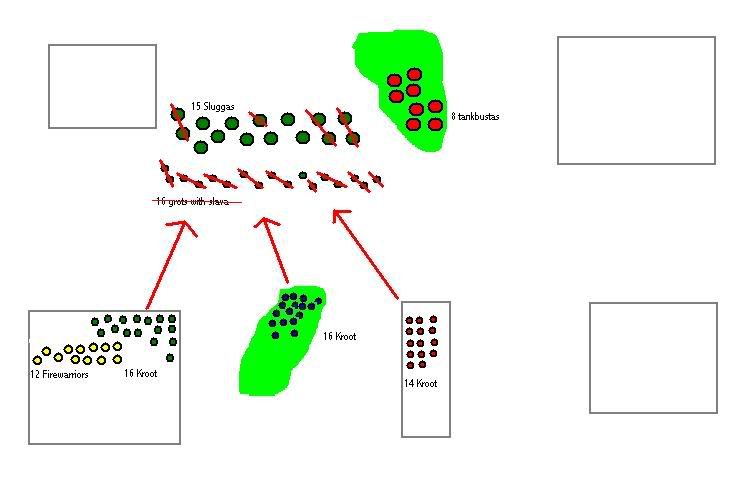 I've been trying to get a little more aggressive, so I moved my central kroot up instead of hanging back and plinking away. Figured striking from cover, they could put the hurt on orks. Firing went pretty well, grots went to ground (slava was killed due to range issues from firing kroot), killed several orks.
Turn 2: Orks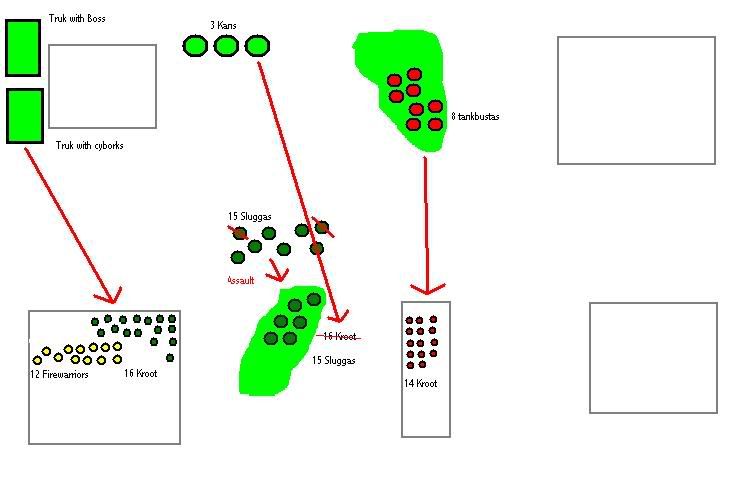 Both truks come in….just what I didn't want. Kans come in, too. Shooting kills 3 kroot from the center kroot, then orks charge. Despite 20 or so attacks from my kroot, I kill 2 orks. He kills 5 kroot. We run, get away 3 inches. He consolidates into us. We fail our leadership test (rally for melee while broken) and are cut down. Sigh.
Turn 2: Tau
Ionhead, Fireknives, 1 stealth team, 1 shas'el all arrive. Blast the Mad Dok's truk, killing 2 cyborks. Shooting hurts the slugga boy squad, but they hold. Pick off a tank busta.
Turn 3: Ork
Buggies come on, blast into ruins, but make it. The Boss' truk blast through the ruins, troops dump out, and flame firewarriors, catching several kroot in the process. Seemed like a LONG 12" drive, but I didn't really argue it at the time. Both units break and flee after his shooting, so he can't assault them.
Turn 3: Tau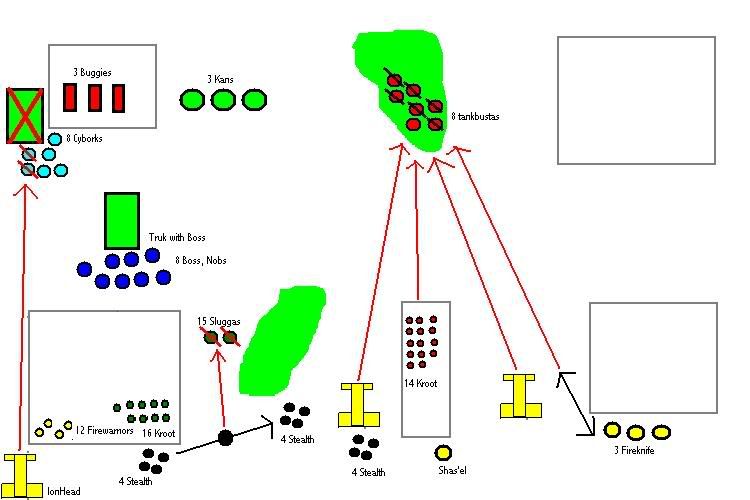 Ionhead moves back (the Boss and friends scare him a bit), kills a few cyborks. Both railheads and the other stealth team come on. The firewarriors and kroot on the left are too close, so they continue to flee. Tankbustas knocked down to wounded nob, who proceeds to pass all sorts of morale tests.
Turn 4: Orks
Zzap guns come in. The Boss and retinue make a major mistake (I think) and chase the FW and kroot, attempting to kill them and pin the ionhead, I think. Would have hurt me more, I think, to mount up on the truk and head for the center? In any case, kills a few more, but can't get into assault. Rest of shooting is pretty minimal.
Turn 4: Tau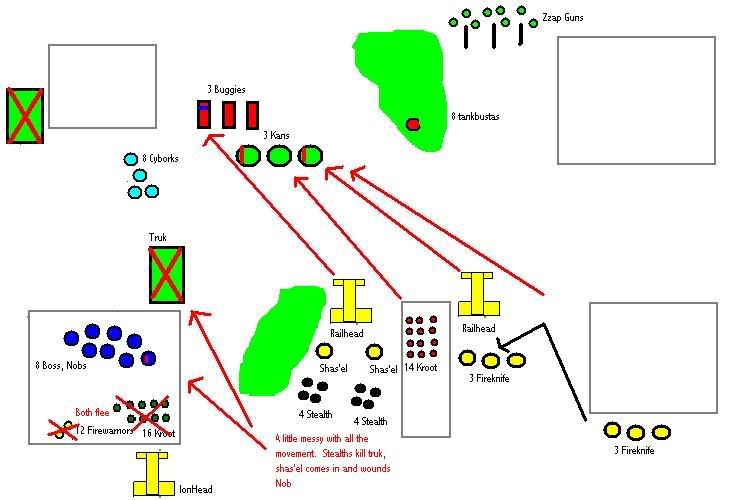 Last shas'el comes on. Stealths kill Boss' truk, buggies and kans suffer all sorts of stunned/shaken/immobilized/weapon destroyeds, but no kills. My stuff is being gradually pushed into the center from pressure on my left.
Turn 5: Orks
Warboss and friends charge ionhead. After about a million attacks, he manages to shake it. I got a little too close to the zzap guns, and they shake it. Not much else.
Turn 5: Tau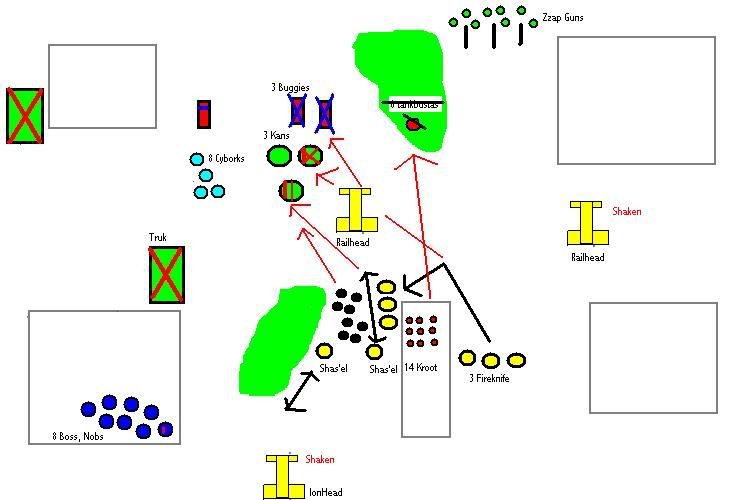 Shooting starts killing the harder stuff. 1 Kan goes down, 2 buggies as well. Tankbusta Nob finally goes down. Shaken Railhead move to the side to reduce exposure to zzap guns while allowing for a shot next turn.
Turn 6: Orks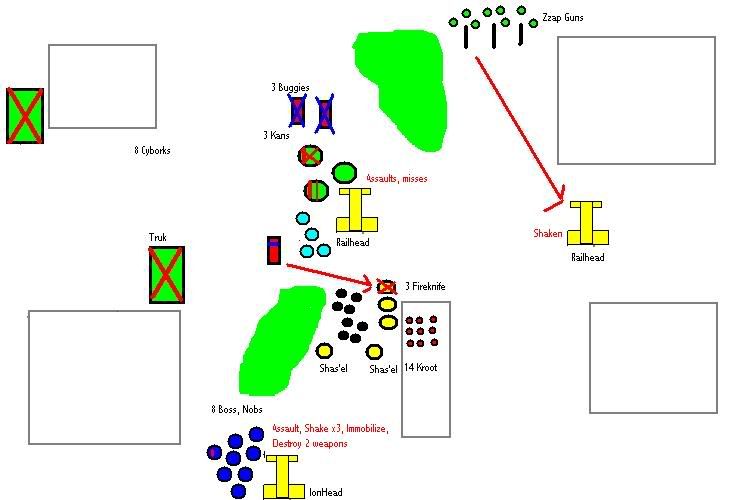 Warboss's burna friend immobilizes the ion head first…..somehow it got stunned (turns look a little off at the end of the game here) so it crashes down but isn't destroyed. Because it crashes down early in the assault, all the powerklaws don't have to roll 6's to hit……resulting in LOTS of hits. Despite all the whacking, the thing survives. Mad Dok and 2 kans (1 with no arms) assault center railhead. Nothing happens.
Turn 6: Tau
Center railhead tankshocks maddok. He fails to stop it and is crushed. Shas'els kill several nobs, everything else clears out the center.
Pretty much called at this point….after saying so, he rolled and the game ended anyway, so it all worked out. Didn't tally up points or anything, but remaining units looked something like this:
Me:
Both shas'els
2/3 fireknives (in center)
4 stealth (in center)
4 stealth (in center)
9/14 kroot
Railhead (in center)
Railhead
Ionhead (immobilized, 2 weapons missing, crew with soiled suits)
Him:
Boss and enough nobs to make 50%
All three Zzap guns and crews
After the very beginning, my opponent was kicking himself for not taking my offer for playing at Gamma level. I still think he'd have made things much more difficult for me if he'd have moved his Boss and friends to the center after flaming my firewarriors and kroot. As it was, they got tied up chasing some fairly unimportant units.
Thoughts on my units:
Troops did ok. Firewarriors did a number on the truk…I was pretty pleased. Kroot were very helpful, too, despite several fleeing early. Again, the squad on the left getting flamed was a little iffy, and the kroot in the center getting 2 kills out of 20 attacks was pretty poor, but shooting alone cleaned out quite a few baddies that first turn.
Stealths didn't get much chance to shoot at stuff, but they did well at what they did shoot.
Fireknives….those missile were pretty handy. The plasma didn't help much against the AV11 kans, but if he had moved his Boss to the center, those plasma guns would have been invaluable.
Hammerhead/Ionheads: Always winners. The ion cannon was pretty handy for shooting at the truk on turn two, despite the failure to kill/immobilize it. Got two damage rolls…can't ask much more than that.
Commanders: Fusioned a kan at one point, killed quite a few nobs in one round of firing. Not too important considering how the fight went, but would have been my only hope if I needed to kill the Boss and his buddies.
Let me know what you think. It was a fun game overall, and I was pretty pleased with the list overall.