Some of you may remember my (occasionally quite forceful) ranting about GW's policies regarding marines, hell I've probably complained more about them than almost anyone I can think of. I think my only negative karma around here was for that in fact.
However, over time I have come to realise that although GW may show marines more favour than I believe they should recieve, it does not mean that marine armies are inherantly bad. In fact they can be quite good. It is not some multinational company's marketing schemes that make an individual army good or bad, it is the players themselves. Those who fall into the trap of playing the army for the wrong reasons are those who give the army a bad name, but those who take the time to create something truly magnificent and fluffy are just like any other gamer who does the same, marine player or not.
Many of you may have noticed that I've actually made a few posts on this board in the past few months, and it's because of this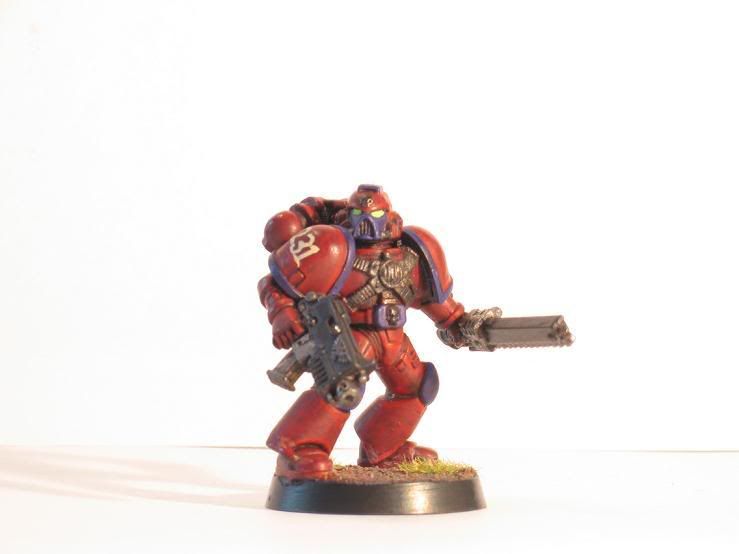 Some of you may remember this fellow from the showcase board. Well, it seems that he was only the beginning. It seemed that following my realization all I needed to start my first marine army in over 7 years was a good idea. And a good friend of mine gave me that idea.
The Stonecutters. Yes that secret society from The Simpsons. But before you label my efforts a "joke army", listen to what I have to say. The Stonecutters can actually be made to fit in well with established 40k fluff! Surely their belief in the "Chosen One" is downright Thorian
. So the chapter and the Stonecutter cult it recruits from are distinctly pro-Thorian and actively seek a "Chosen One" so that the emperor may personally lead his people once more. This fluff-ification made (and the fact that my friend went with a different idea for his current army), I was able to start work on the Stonecutters chapter. An IA-type article is currently in the works, 11 more models have joined the ranks, with a good 20 re-inforcements on the way.
So call hell and ask what the temperature is because Fish Ead actually has a marine army in the works!