Lately, I've noticed a lag in my furvorous opponent's record that I cannot fail to miss. In fact, beat him the last 5 times straight (not counting that time he had double the points I had). In an attempt to solve this, I have recorded our latest battle (just this evening) in hope that one (or more) of you would be able to give him some worthy advice (and maybe me too!).
To begin: Cleanse, Gamma, My opponet has first turn, 1000pts.
Let's first identify the units (cause if you can tell from up here, you are a sanctioned psyker). The top left unit in the blue is a unit of infiltrated Scout squad with Sniper Rifles. Top right is a unit of five Scouts w/ CC weapons and pistol. Unit behind (or in front of) the land raider thing is Scouts w/ CC weapons and pistol, while the farthest down is Scouts with Bolters. The IC you see hiding is a Librarian, Ademantle, Jetpack, Lighning bolts Assault 1 blast marker thing, Ray power that causes d3 hits on unit(s). Deep striking Assault squad and Drop Poddin' Dreadnought in the works.
Red top is Devilfish (9 man Fire Caste w/ Disiple of the Greater Good (currently a washer the same size as a base)), elbowing with a Crisis Squad w/ TL plasma rifles, Missle pod. Lower unit is Shas'el with FB, MP, PR, HW multiT, HW droneC, x2 Gun Drones which is attatched to a Gun Drone Squad (need to make more Gun drones). Yes, I later realized that the assault squad could have made mince of me if it had been in play at this time. Lowest red unit is infiltrated Commando Fanatics. 3 man Helios squad in the Deep Strike works.
Turn 1: Opponent lets loose with Scout's snipers, blowing two Drones. Librarian's psychic power to take out another Drone. Bolter Scouts rapid fire the Commando Fanatics, but a +3 cover save makes no casualties. Gue'vesa retaliation is fierce, with five Snipers dying, as well as three of the uppermost bolt pistol/hand weapon squad via the TL Plasma doom and a few to the Commando Fanatics.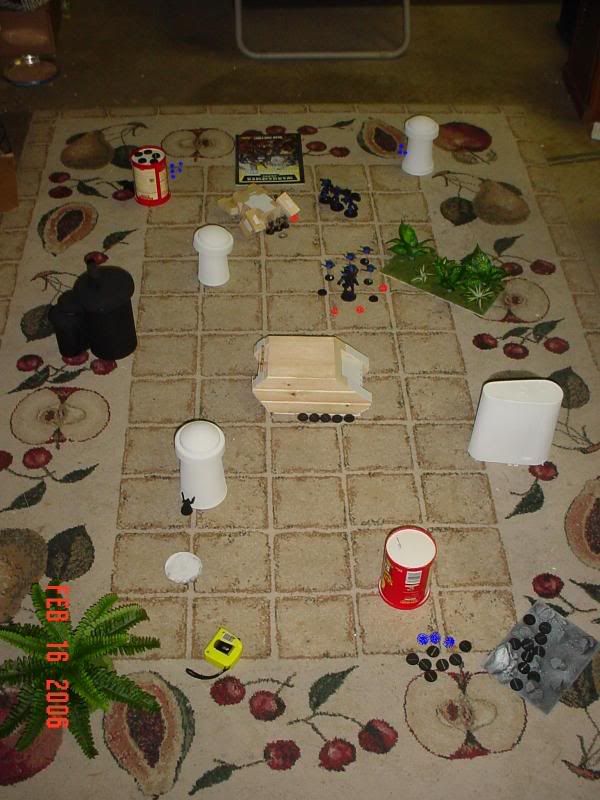 Turn 2: Opponent fails both Deep Strike rolls, and attempts to rapid fire the Commando's with his Bolters again, but fails once more, taking casualties to knock it to 50%, while his newly fleed and recovered Scouts in the upper right shoot twice at the Crisis's, and fail to do anything. Fire warriors load up, while the TL Plasma with rapid fire goodness fails to take out either of the two threatening Scouts. The Shas'el's Missle Pod does the trick, however, and flanking movement begins. Snipers are safe behind Lv 3 terrain (though not a threat and at 50%). Helios's which deep struck had unloaded on Mr. Books and downed him to 1 wound with plasma.
Turn 3: Bolter Scouts and Librarian charge Helios (which took no casualties to Mr. Book's psychic blast marker, thank goodness for Sheild Generators). Managed to take out two crisis's, but the Shas'vere Team Leader landed that last wound on Mr. Books, taking him out, and even though his Assault Squad just landed (the blue) he forfieted.
Whew. Any questions? Any suggestions for future play (especially on my opponent's behalf)?