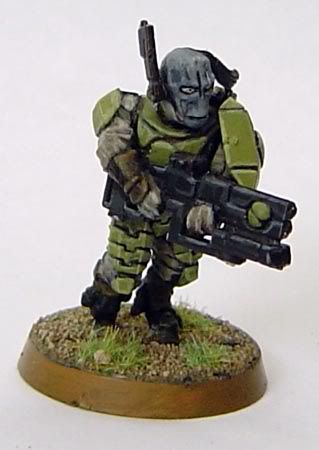 It was put together with old parts (previously painted), and on a slottabase, which is why there's the gap. The base rim's a bit shonky but meh.
This was certaintly a bit different for me, because i'm used to painting everything with nice blends etc etc, but i just wanted a solid tabletop standard miniture. I plan to play with my Tau army, not just paint it (like my DG - over a year and i still don't have 1500 painted
). More work will be done on the suits etc, but i think this looks pretty effective off the bat.
The one thing i have an issue with is the colour of the fatigues being too close to the green. What other colours could i paint it? I really want to keep the camo green armour, as it looks like a green version of Vomit brown, so it looks very similar in brightness and saturation to the Codex scheme.
Thoughts?
__________________

Favourite Bands: Ayreon, Dream Theater, Symphony X, Blind Guardian, Spock's Beard, Rhapsody, Sonata Arctica, Porcupine Tree, Phish.