Springfield: Awesome. I think I might have to write that on his base rim.
GWIZZ: Yeah, that seems to show up a lot on photos. Another thing to sort...
Jais: Glad you liked the idea behind the squad - it was one I had months ago, and decided that one day I would have to make a squad of it - he didn't turn out as well as I'd hoped, but ah well. As for the guy on the left, I must admit that looking back through the archives, it seems somebody else did the exact same thing a little while ago. And a few other people did on other sites as well - I did actually think it up myself, but it's hardly original. Great minds think alike, eh?
kailore: Thanks. From an amazing painter such as yourself that means a lot. My Tau painting is hardly up to the standards of the average ATTer, but I must say they're about my favourite army to paint, and I find it much easier to attempt more advanced techniques on them.
Slave: Thanks for your support in the comp (I must say I was suprised I got as far as 4th - to think I was only 1 vote behing that amazing Deathwing command squad
), and as for the pictures, "Asketh and lo, ye shall receive!"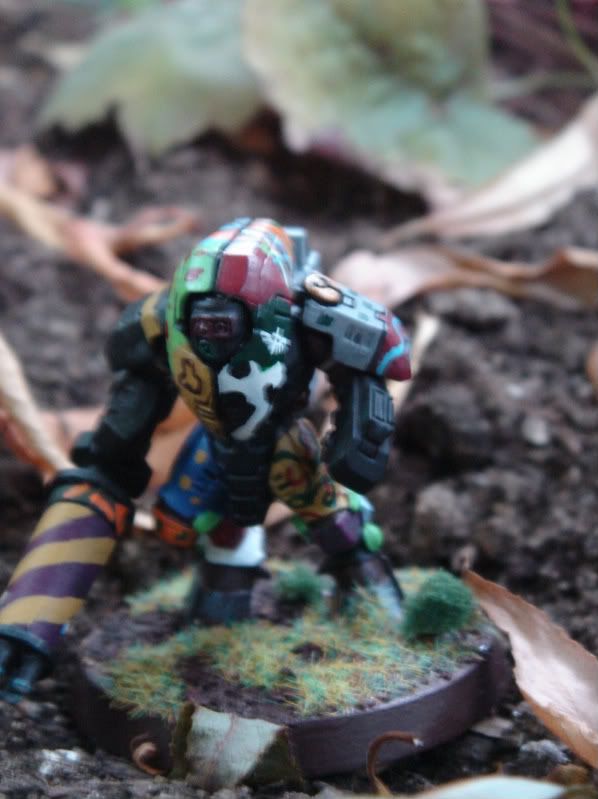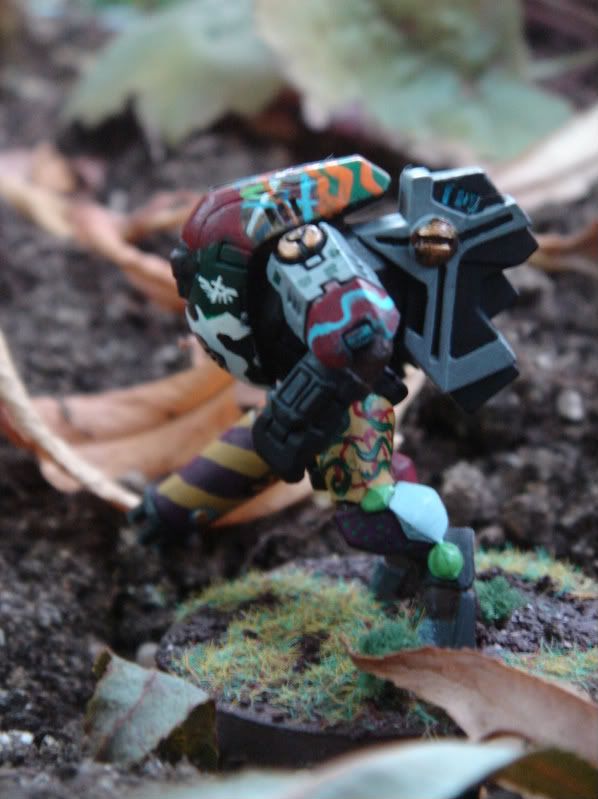 That Dark Angels freehand symbol took a few tries to get right - probably one of my favourite bits of him, along with the random cow markings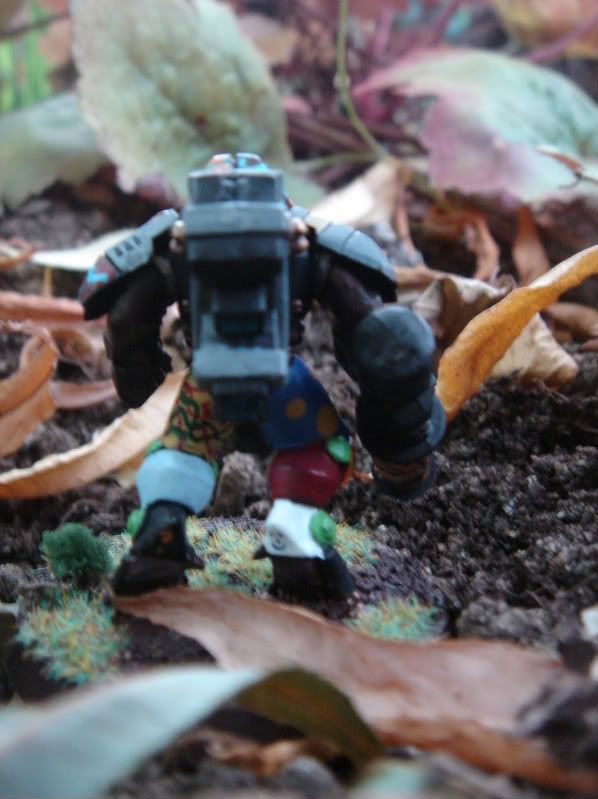 Not the greatest of shots, but it gives a nice view of his upper left leg, another of my favourite bits, as well as the tiny smiley face and question mark on the back of his heels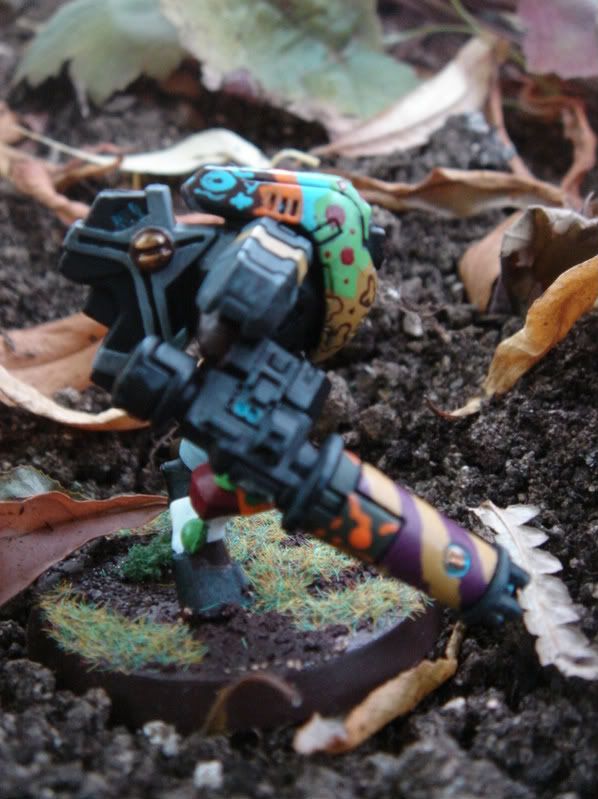 And a few closeups of the guy on the left, because I like him:
A nice view of the little bits of yellow freehand writing on the legs, as well as the highlighting there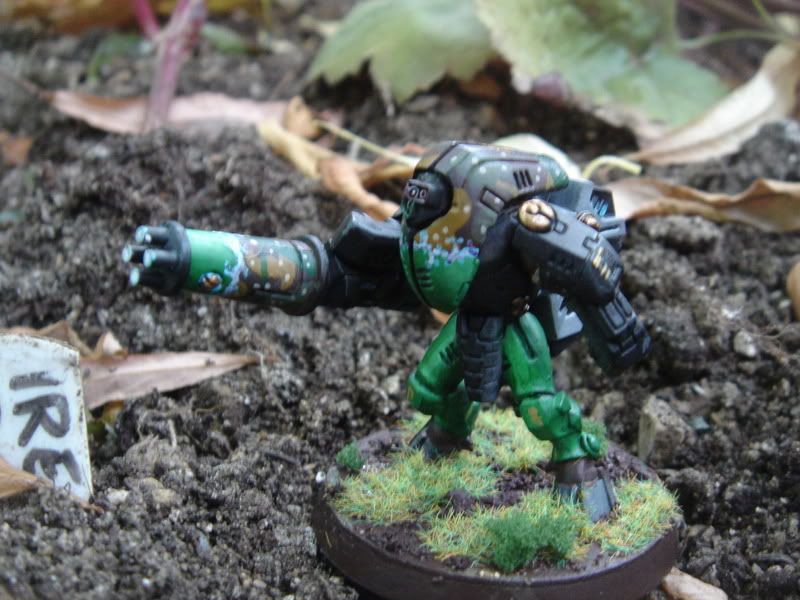 This guy seems like a bit of a poser - it's like he's pulling a Superman pose and proudly declaring in his most manly voice "Activate cloaking field!", much the chagrin of his long-suffering 'Vre. ;D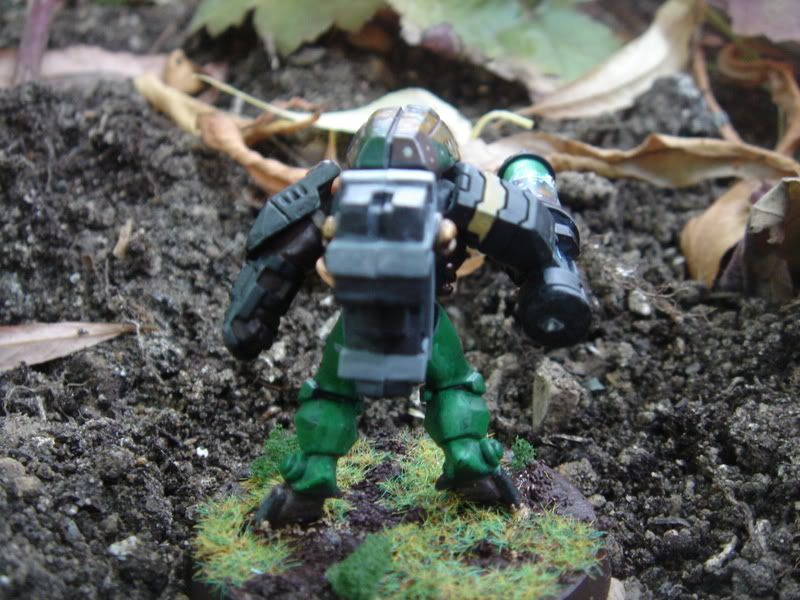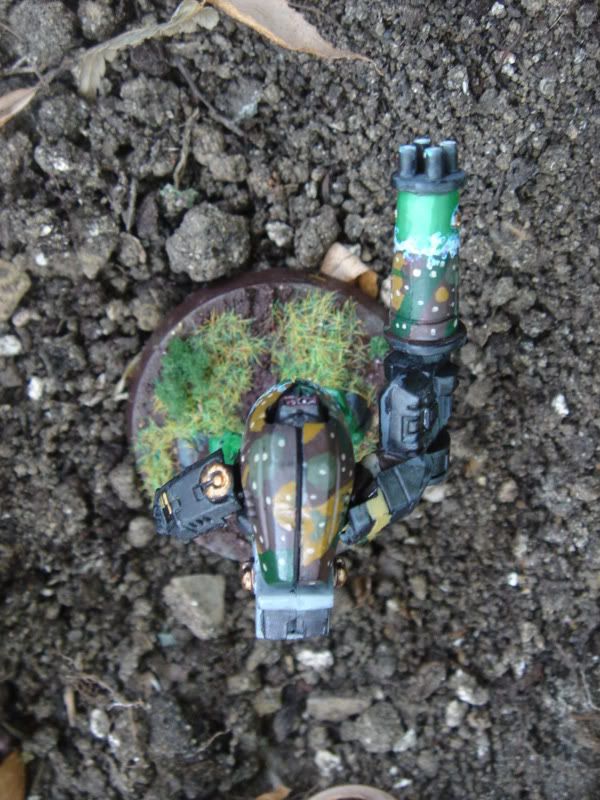 The dappled woodland camo (partially inspired by kailore's oa'k scheme) is, again, one of my favourite bits - I'll definately be using it on other models. And BTW, the lighter band of colour on the "uncloaked" bit of the BC isn't just the light hitting it, it's part of the highlighting.
By the way, I have one question - I've always hated the codex Au'taal scheme, but always wanted to collect the "lazy sept", so this is my interpretation of the Au'taal scheme. However, there's not a trace of Scorpion Green on it, despite it being the sept colour! Is there any way I can justify this fluffily?