Ok, this model originally started off life as a taloned horror, a smallish monstrous creature capable of leaping. Here is a pic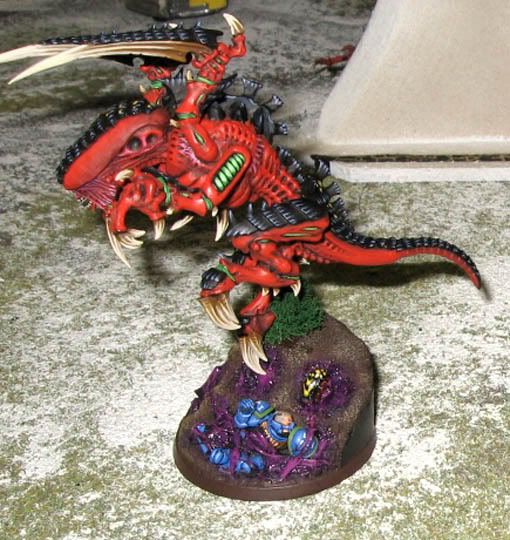 The original taloned horror rules were written for the Second Tyrannic Campaign last year and after the event I was left with a non legal model, and with Apocalypse released, I saw the potential for a 2nd winged hive tyrant (I have a forgeworld one).
The original taloned horror came about from left over fex lower torso, tail and legs, basically the left over parts from my red terror conversion. This mean't I had to sculpt the entire upper torso and back carapace myself. I used the Battle for Macragge hive node for the tail extension and I used dex scything talon forearms to extend the legs then used greenstuff and fex spikes to create taloned feet.
When it came to the tyrant conversion, it needed a more recognisable tyrant head, so I greenstuffed a fex tusked head to a 3rd edition tyrant crest. I also greenstuffed on some new extended carapace to make it look like it had a 3+ save. I chopped off all the limbs and added some balrog wings. The balrog wings have had devourers and greenstuff nid like vents worked into them, I also filed off some of the lava like scales.
The offensive front arms, feature scratch sculpted upper arms, and then warrior barbed strangler with 2 devourer heads blended into the main weapon body. I used monstrous creature rending claws to get a predator mouth style to the devourers, this really helped them because they were pretty flat and boring.
When it came to painting, I had to step back and re-evaluate the scheme. The green wasn't working, its too much contrast. Its the problem with coming up with your own scheme you don't know what it looks like until you have something tangible in front of you. I'd done a test stealer (seen on the right, old scheme on the left).
Well I've waffled on enough with the reasons, so here are the pics...