So our LGS had a painting competition. First one I've ever entered. The store owner let us each choose a bunch of bits from a chaos space marine sprue. We then got to build and paint each model however we wanted.
I was a tad skeptical, but then after looking at the bits this model sort of built itself. I added some stuff from my own bits box. The camera work is horrible and seems to show up every mistake I made on the paint, but I'm still proud of it, mainly because this piece was a labour of love. I really didn't expect it to win first place, but it did.
If you can't see clearly, the Dark Angel (my faction) on the ground is firing a bolt pistol into the chest of the chaos marine standing over him. His right hand is swinging a melta-bomb up and is about to smack him with it (I figure they're both toast after that). the other side of his head has a bloody gash from a glancing round (not too much blood) it came out well.
He was supposed to have a damaged looking helmet on the ground next to him, but I felt at the last minute that it would just be too much. So I'm going to stop blathering now and show you the model.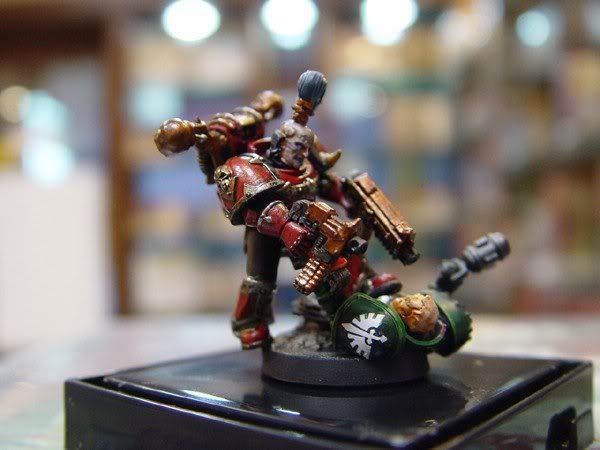 And a closeup of chaos dude showing all my painting mess ups:
Left side view:
Lastly a view from the back: