In the painting competition Nick (Krakgrenade on here) won best painted 40k vehicle!! With his awesome Wraithlord!
This is a major event, and i'm well chuffed for Nick (i had my furioso dreadnought in the same category and he beat it).
I was then announced as winning best 40k squad for my BA terminators. My Chaplain then won best single 40k figure! I was buzzing i couldn't believe it.
Me and Nick had single handedly won the entire 40k painting category!
And if that wasn't enough I then go onto win OVERALL WINNER with my BA Chaplain. I don't think I stopped grinning all last night.
I only entered because i wanted to see where my gaming models stood against people specifically painting to win a comp. Nick only entered as it was in his bag and he thought "why not"! lol.
A few pics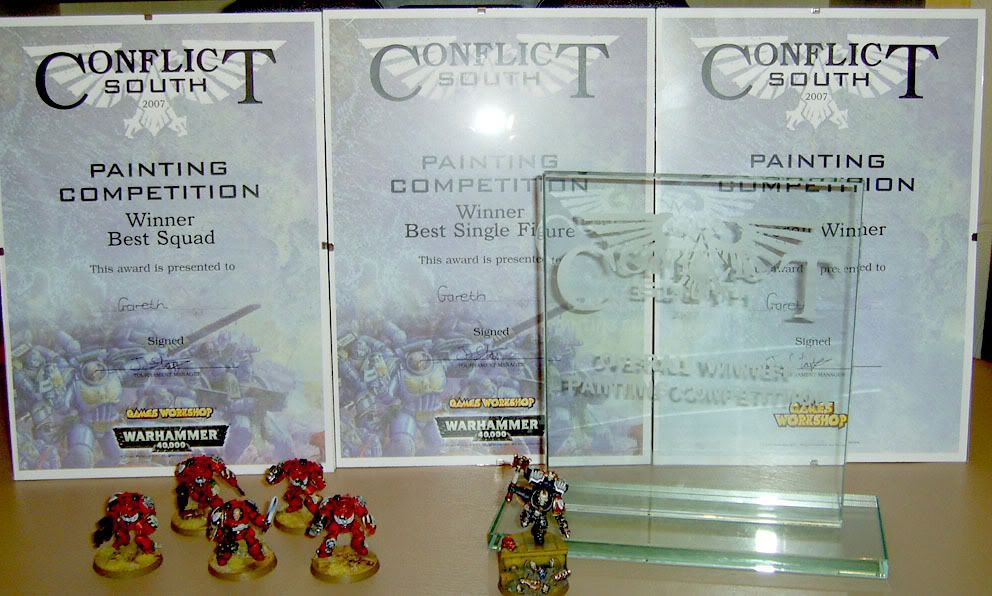 Nick's Wraithlord Conflict 2007 best painted 40k vehicle
My BA terminators. Conflict 2007 best painted 40k squad
Winner of Best 40k single miniature and Overall winner of Conflict 2007