Quote:
Originally Posted by Scizor
lol. i had this idea like a year ago, but never made it, yet. i have my progress on a glowing Avatar currently. you did a great work on the monolith!
Haha yeah i saw a dude do this a couple of years ago, theres heaps of glowing necron armies around these days
Quote:
Originally Posted by the execution of all things
Pretty high tech for an ork. :P It's really awesome, I can't wait to see it painted.
Youre pretty low tech for an uumie ;D
Quote:
Originally Posted by Nightmare
You reckon you could do a tutorial?

I may have to start necrons for this!
A short one..
Lighting up monolith guns
Ingrediants:
monolith kit
4 basic LED lights(available from DickSmith Electronics in Au)
wire
battery pack
blue tak
tape
putty
super glue
soldering iron
soldering wire stuff
washers
How to:
First take each monolith gun section and cut out the gun ends so light can come through from the ball joint(cutting lines marked red in pic). Then glue the two peices together.
Then cut the ball joint almost halfway...as marked.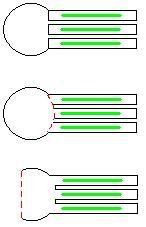 Now the silly eletronics part.
Im no electronics wiz, so anyone can do this.
Remember: its good to check youve got the connections right regularly while you do this!
Basically the battery pack has a positive and negative side with a wire coming from each(black is negative, red positive in the image). You need to solder 4 wires to each the negative and positive sides as pictured, then solder each black wire to each short end of each led. Then do the same with the red wires, but on the long end of each led.
Now place a washer(the flat grey rectangle the led is poking through in the pic) onto the ball joint hole, and superglue it in place. Now putty the led into place(its a good idea to have all the LEDs on while you do this so you can check how the guns look with light flowing through them).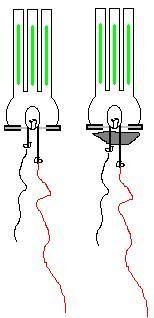 And once youve puttied the lot of the LEDs into the guns you should be good to go, simply assemble the monolith as you would usually