Bronson Twist as in 'round the twist' from abc. I totally bought the entire show, all 52 episodes for fifty bucks the other day
I can never get enough side projects.
Been convinced finally, after much nagging by matey Danny to start a path to glory warband, and hopefull get the rest of our gaming group in on it too.
I figured id do nurgle since ive done 2 40k nurgle armies so far, and theyre easy and fun to convert and paint. The rules are free to download, so i figured "why the hell not?!". So last night i rolled up my random warband.
Here it is in all its....pants.
Bronson Twist, champion of nurgle
chaos armour, sheild, hand wep, great wep, +1 ws
1 chosen knight of chaos
5 marauders with flails
1 chaos warrior with extra hand wep
1 plague bearer
3 chaos warriors with sheilds
I figure ill just do these in my spare time, the small model count is great, so i can get a warband happening quickly. The only problem is that i have no chaos warriors of any kind, so theyll have to be converted from marines.
Anyway, last night i was painting necrons and wraithguard, and between layers drying i converted up my flail totin' marauders of nurgle. I had to scrape for the bits, but im pretty happy with the weird look i got from the models.
They look pregnant!
I was/am in a pathetic state of 'lack of fantasy bits' so this whole thing is going to be a challenge getting decent looking models out of the scraps of my 40k bits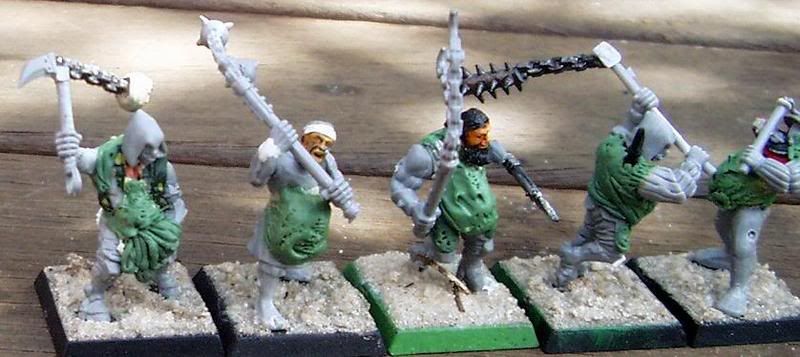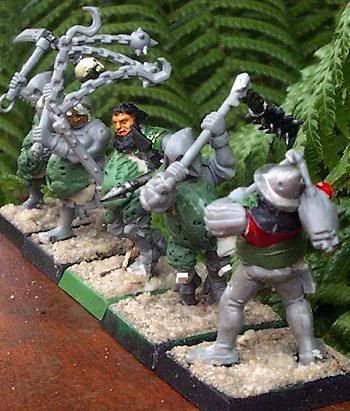 undercoated