anyway by reading the title most will probably think "isn't that just death guard?". well it isn't and here is the explanation.
as the ____ chapter( have yet to name them) chased a crippled death guard ship through space attempting to board it because after their battle there generator was badly damaged and couldn't sacrifice enough energy to power the weapons, the ____ chapter was readying there boarding ships. but then the death guard ship opened a portal to the warp and the ____ chapters ship didn't have enough time to stop so they were transported to the warp too. when went through they realized they were in the warp! oh no!
anyway as this was a great day for them grandfather nurgle decided to have some fun.... he proposed a deal: if they can get pass his challenge, he will transport them to imperial space. before they ____ chapter even though it through, thousand upon thousand of decaying mutants and unarmed traitors boarded there ship! realizing that this was there challenge, they started slaughtering them all. after they did, there armour was stained in blood and decaying flesh. little did they know grandfather nurgle wouldn't let them go without a little "gift". anyway the "gift" was eternal armour and flesh decay and melting, forever being stuck to there weapons and armour. after being transported to imperial space they discovered that all their vehicle had been destroyed!! now, in the 41st millennium they go looking for battles anywere, aiding the imperium when they are in trouble, greeting death with open arms, as an old friend.....if it comes...
anyway on to the models!!!
here was a test model from battle of macrage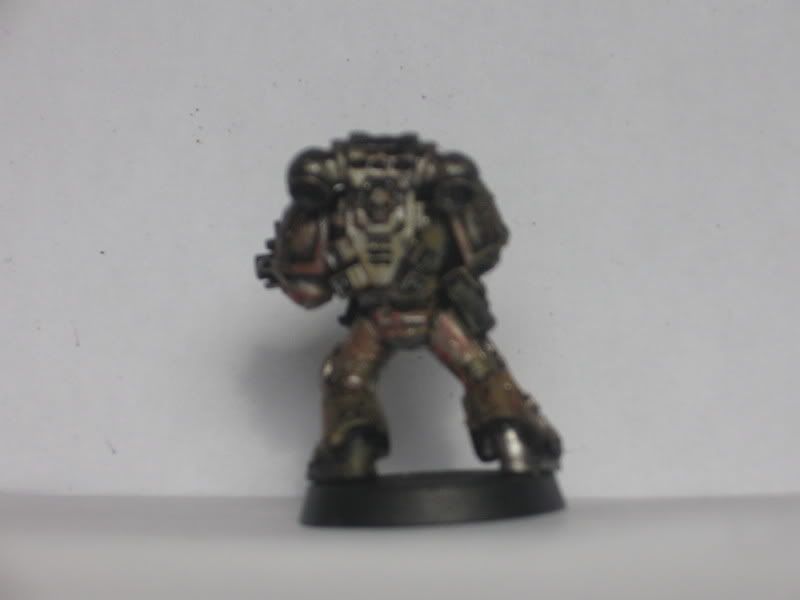 and a commander( he started this whole idea after putting him in paint thinner, bad idea then, but turned out pretty good now;D)