The Cadre so far
I'll Start with the stuff that was painted during Summer '05, they're finished, but... well, not the greatest.
Firewarrior Team 1
Kroot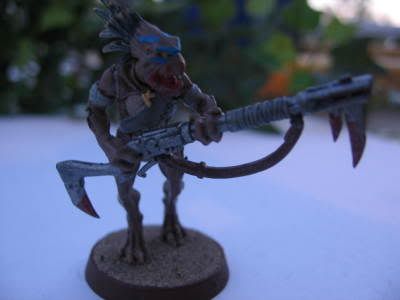 Gun Drone
Crisis Suits
Commander
And now, for the newer stuff... which isn't finished (awaiting detaling, highlights, and some camo). Unfortunately, i still have a Skyray and devilfish to paint before the end of the summer, and little time to do this, and once i get back to my engineering courses, i'll ave even less time to finish up my models.
Stealth Squad
Hammerhead
Firewarrior Team 2
Pathfinders
Sadly , by the time i got the chance to take my pictures, it was already well into the evening, and not really bright enough to really show my models. I guess this will have to do for now, but tomorrow morning I'll try to retake the pics, if i have time... if not, it will have to wait a week for my return from vacation. Near the end, for the last few, it is far too dark to even make out the basic colours... let alone the camo scheme...