Hey guys,
I was scouring through the history of the Serious Roleplay board when I found an RP named Tribes. Now although I'm new, this sort of stuff could probably kill some of the spare time that I'm sitting around with, and hopefully some of yours too.
So anyway, here's the general gist of it. You take the role of a tribe in an area, and basically just RP against each other. Each tribe's got four characteristics, population, military skill, morale and diplomacy.
Population
: hopefully self-explanatory. Starting off at about 250 fighting men, but if the fluff's good enough then that can change.
Military Skill
: how skillful your men are at fighting. Note, this isn't the tactical skill, as that relies on you and your wit.
Morale
: how happy your men are in your tribe. If your morale is high, more men will come and you'll be harder to break in battle, and vice versa if it's low.
Diplomacy
: how skillful your tribe is at negotiations. This wouldn't apply to when you are dealing with other players, but more with NPC's.
For the latter three characteristics, you've got 15 points to spend between them. You can distribute them evenly, with 5 each, or you can personalise them so that they fit with the fluff of your tribe. However, these characteristics don't mean everything. For example, you can have more military skill than another tribe, but if the rivaling player comes up with a better plan than you do, then common sense comes into play.
[hr]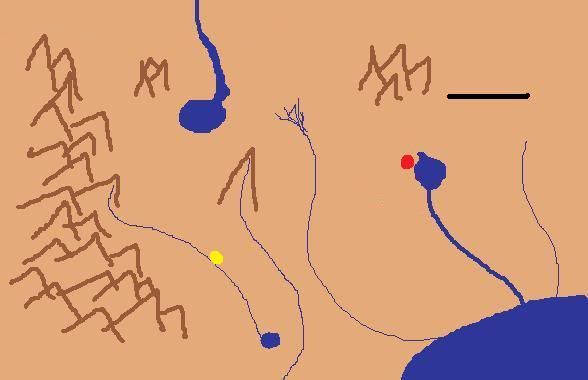 The map above shows where it'll all be played out. the terrain is meant to be mountainous and rugged, with a sort-of rocky expanse between mountains. The blue is water, and the large mass of blue down the bottom is the sea. Black line represents the maximum amount a tribe can travel. Hopefully you can all download the image and position yourselves on the map.
The red dot represents the Enhyera tribe, whilst the yellow shows the position of the Alliance of Jed. The Enhyera are a fishing tribe, lacking much military skill but making up for it with the morale of their men. The huge supply of food and relative comfort of their environment has led to them becoming complacent, yet their diplomats are well trained in dealing with the Alliance of Jed. The Alliance, led by Jed himself, worship their leader as a god, and devote their existence to him. Jed is known to be very aggressive, and it takes much pacifying from the Enhyera to keep them from engaging in war. I'll control the Alliance and Enhyera, just to add some RP'ing devices.
Well there it is, hopefully we can get some people together. As a final note, can we please submit tribes in the following format...
Tribe Name
Population
Military Skill
Morale
Diplomacy
Background
Looking for about 5-6 people before starting up,
Cheers
,
Charlie