Turn Index (This page is Spring 1901)
Fall 1901
Winter 1901
Spring 1902
Fall 1902
Winter 1902
Spring 1903
Fall 1903
Winter 1903
Spring 1904
Fall 1904
Winter 1904
Spring 1905
Fall 1905
Winter 1905
End of Game
[hr]
Start map.
Spring 1901 (link for a larger picture)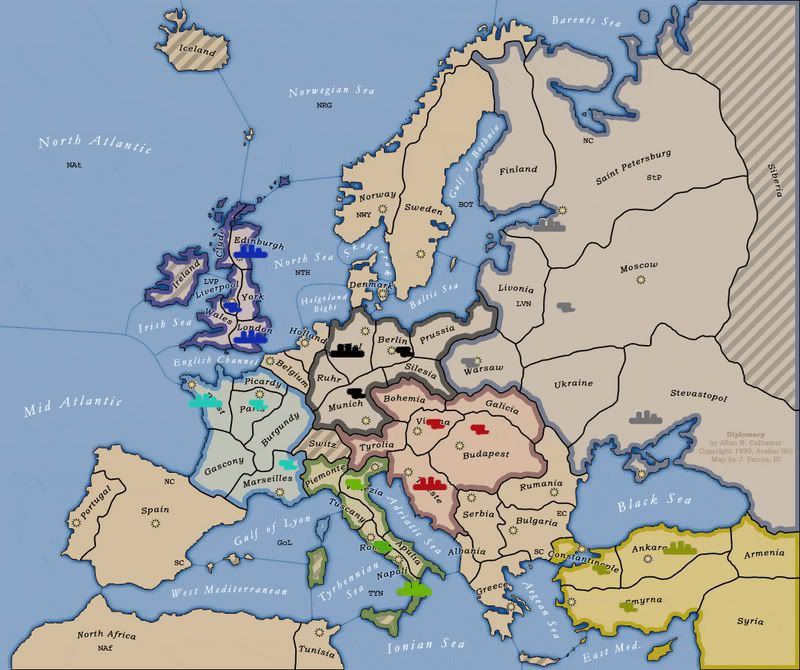 Countries +Starting Points.
France (light blue)-Darkblader
Army on Paris and Marseilles
Fleet on Brest
England(Dark Blue)-Johnnyboy
Army on Liverpool
Fleets on Edinbrugh and London
Italy(Green)- Ravager Zero
Army on Rome and Venezia
Fleet on Napoli
Germany(Black)-AD
Army on Munich and Berlin
Fleet on Kiel
Austria(Red)-Ults
Army on Vienna and Budapest
fleet on Trieste
Turkey(Gold)-BurntEskimo
Army on Constantinople and Smyrna
Fleet on Ankara
Russia(Silver)-Tau-killer
Armys on Moscow and Warsaw
Fleets on St.Petersburg (south coast) and Sevastopol
[hr]
Rules Overview.
General
The game Works in two turns, each make up a year. We start on Spring, then go to fall, then spring etc..
The Objective is to capture 18 supply Depots.
You can only 'Capture' Depots in the fall, you never loose Depots in the Spring.
At the end of the fall you either gain/loose units so that the number of units you have = number of depots you have. You can only build on your starting depots.
Supply Depots are territories with Stars on them!
Units
You have Armies (cannons) and Fleets (boats) they are exactly the same besides two things.
1. Armies cannot move or support into sea spaces
2. Fleets cannot move or support into inland spaces, but Fleets
can
support into coastal territories. (For example. A Fleet in the North Sea could support an Army or fleet in Norway, or a move into Norway. But A fleet in Kiel could not support an army, or a move into Munich.
In your turn each Army and Fleet can do one of the following;
Move- Move the army/fleet to one adjacent territory
Support-Support any other piece, or a move into a territory. You can only support a territory which is Adjacent.
Convoy-Fleets in sea can convoy an army on an an adjacent coastal territory to any other adjacent coastal territories. You can also combine fleets to increase the distance you can travel, But you cannot convoy in support, only to move. Also if another Nation lets you, you can convoy with their fleets as well...But unless they write it in their orders it wont happen. Convoying takes up the fleets turn.
(example: England has a fleet in the North sea, and the English channel and an army in Norway. He can 'convoy' his army with both fleets to Brest)
Conflict.
No more then one army/fleet may occupy a single territory
Units cannot 'swap' places.
If two armies/fleets enter the same territory, they bounce back. If an army/fleet enters a territory containing another army/fleet the moving army bounces back.
In order to 'win' a conflict you need numerical supreamicy, AKA support. For example, If two armies move into the same territory, they bounce back, if one army's move is supported by another army (regardless of country) then the supported army gets in, the other bounces back.
For Example If an army moves into a location occupied by another army with more support then the defender, the defender needs to retreat to any adjacent territory besides the one the attacker left.
If the Defender cannot make a legal retreat move, the unit is destroyed.
Players Can Support each other with, or without the other player knowing.
If an army/fleet which is giving support is attacked. Support is cut.
Orders
Each Player Should PM me their Orders before the next Update. The Orders should include whether the unit is a Fleet or Army, where they are, and where they are moving/supporting. Or if you are convoying state where the fleet is, and the armies start and destination.
Example Orders.
Army Rhur->Holland
Fleet Kiel support Army Rhur-> Holland
etc..
[hr]
Note.
I, As Gamemaster will resolve Orders. Players can ask me any questions they want about the rules, or anything else. All players Orders are shown at the same time, so don't post them..PM them to me so they are Private. You can talk amongst the other players for alliances and such by any means.
So Your Orders should be in to me by Next Saturday, If all orders are in sooner, I'll update sooner.
This map, Helps show all the Territories and how they connect. It's a good refrence.
Good luck.
Plese PM me for Rules Questions, or post
here.