Another silly modelling diary.
This is a project log detailing the process of turning a friend's ramshackle space marine collection into a decent tournament army, and then selling it on ebay and splitting half the profits. So production-line style painting will be the order of the day, while trying to retain a certain sort of a quality that mass drybrushing or dipping cannot provide.
The army contains many iterations of the space marines, from 2nd ed 'frozen' poses, to 3rd ed techmarines, to more recent templar and chaos additions. So a simple paint scheme will be used to unify the different armour.
The army includes:
Captain w/ plasma pistol and sword of some variety
Chaplain w/ jump pack and usual goodies
6 'veteran marines' (can work as either bolter tacticals or vanguards)
3 tactical squads (enough specials and heavies to switch around, or even run as 4 tac squads with the 'vets' standing in)
5 or so veteran sergeants with varying weaponry for mixing around
command extras - apothacary, standard bearer, techmarine
5 assault marines
10 assault marines without jumppacks
So yeah, its a marine horde. should be fun. *slaps face*
Heres the test model: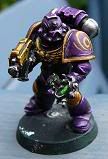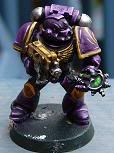 And the boyz: