Long time no tauonline! I started playing privateer press's Hordes game, which i can still say is faaaar more sophisticated than 40k, and probably better supported by the company. That said, Ive decided to enter back into 40k for the lulz of it all. While Hordes is a great game, 40k is a good 'beer and nachos' sorta game and has more modeling scope - which is the fundamental reason ive returned.
I noticed a thread in the 40k armylists section on wargamerau.com not long ago asking about 'daemonzilla' lists, which sorta hit me hard in the balls with the 'obviously cool' hammer. From a modelling perspective, the ability to basically make anything I want, only vaguely restricted by size is such a great open playing field. That, and with daemonzilla I can basically just sculpt 5 big cool monsters and not worry about ruining my eyesight further on tiny little models.
So Im just gonna try and scratch sculpt the majority of it. Im not gonna do straight 'different versions' of the GW daemons, but definately take the basic idea and try to make it my own, ie: my bloodthirster will still be a big mass-murderer, but not necessarily a minotaur with wings and an axe.
My girlfriend has expressed some interest in the project, so she'll probably help me with the slaanesh DP and possibly some 'fat hooker' daemonettes. If the models turn out divergent enough from the GW equivalent, while still being able to 'count as', we will seriously consider doing resin castings of the whole set.
The stuff im looking into making are:
bloodthirster
lord of change OR great unclean one
nurgle DP w/ wings
slaanesh DP w/ wings
nurgle DP on foot OR tzeentch DP w/ wings
plague bearers
bloodletters
daemonettes (or seekers, whatever is more practical)
whatever the tzeentch ones are - the ones with 'rokkits'
Aesthetically, ive only firmly decided on a few things: all will be fat bastards of varying degrees, all will have awkward non-organic looking organic parts, and all will have fusions of metallic bits used in an organic way. Hopefully. If I dont suck.
In terms of influences(stuff to steal!
) im going with: Blake etchings, Crumb comix, select few Dali and Gleeson paintings, mignola Hellboy, Tool videos and some picasso/braque
klkn
.
Some reeaaally cruddy sketches I was doing to figure out just what sorta thing Im gonna go with.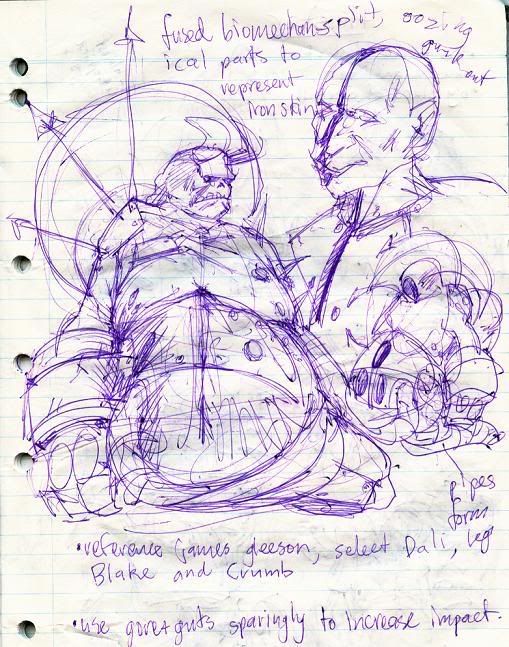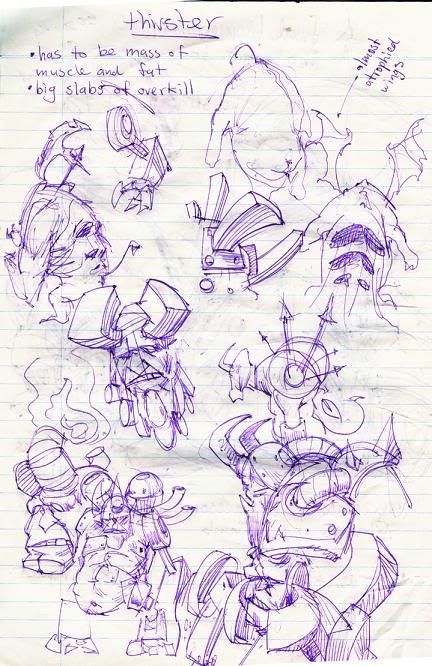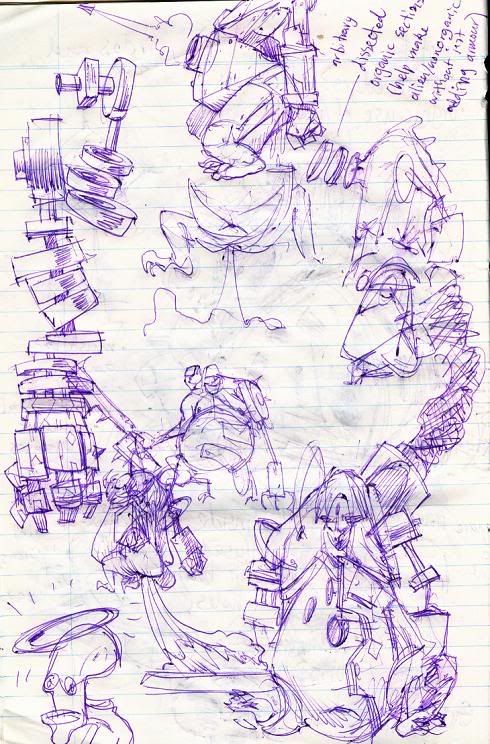 notice the dude here being propelled by a huge blast of diarrhoea? totally solved 'flying nurgle DP' problem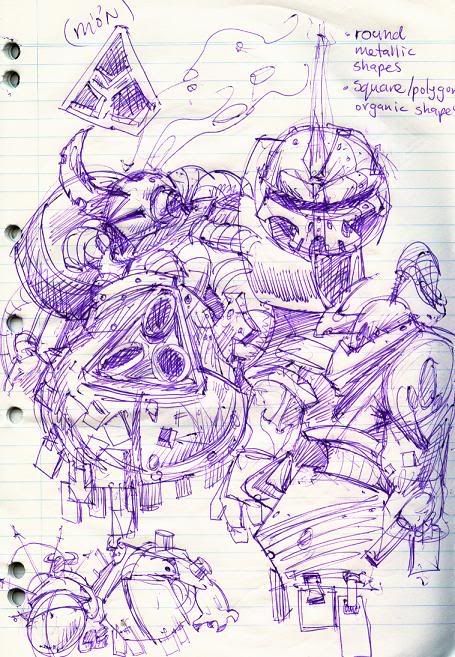 So yeah, I imagine this project will take a year or so to do, and itll be done gradually if at all while ive got time between uni stuff. Hopefully itll all come together by christmas and Ill have another friggen 40k army!