Hi all.
Been a very long time since I was on here.
Hanen't touched my models since i was, but now i have vowed to get started on the painting.
First up, this holiday season i want to fully paint one 6 man squad,
And finish modeling my etheral.
Here's is a pic of the squad i wish to paint,
They have been primed, and one of them has had the armour finished, minus backpack and fitigues. This was done to test my colours.
Please bear in mind this is the first models i have ever owned, so this is my first stab at painting so be nice please!!
And painted:
And now here is the Etheral i want to finish. He's my first go at green stuff: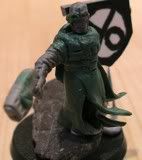 So now to knuckle down and get painting.
Wish me luck guys. All comments are appreciated
Magfire
p.s. What happened to Red Dog??