Quote:
How do you paint ultras like this?
Firstly u take a space marine mini and fail to clean off all the flash.
Then spray it with chaos black atclose range with a spray can so you clog up alot of the detail.
Follow that by undercoating the armour in regal blue which you havent watered down enough, in one thick coat.
Drybrush over ultramarines blue only paing attention to certain areas.
Paint the details in one heavy coat of syrupy paint and paint freehand with a cocktail stick.
Sorted. (yeaa ima bastard when drunk >
)
In all seriousness, paint 2-3 layeres of regal blue then apply watered chaos black to the recesses. Try your drybrush methd if you like. and id reccomend paintin on varnish as you have more control over it. Spray varnish fails because people spray it in too hot ro cold environments. Or simple people use too much.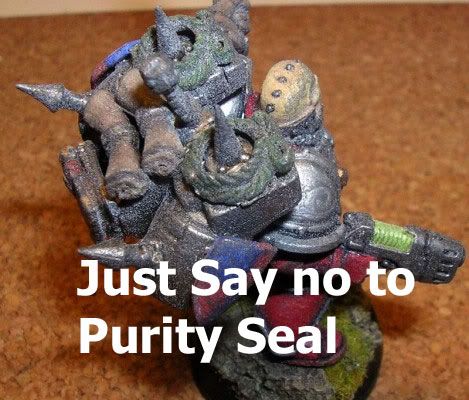 But varnish blends the colours together and gives a smoother finish. varnish doest maker the colours more vibrent it protects your minis from annoying 11 year olds who have the urge to pick up and drop your force commander >=(