Hi everybody. So i was browsing the other day and came across the old dipping tutorial on Dysartes.com again. I remember a while back trying to dip some figures but could never get that same look as on the web especially with Kroot. Then it hit me that I was using the wrong wodstain to dip the minis in. I was using a Minwax water based stain. What i noticed was,after finding other articles I should have been using Minwax Polyshade( a kind of stain and polyurethane seal all in one). And then I realized i had just recently bought 2 cans of antique walnut polyshade and some thinner for a furniture project . >
Now the fun started. So here's a blow by blow of what transpired next....
First I dug up some Kroot that i had assembled and black primed and dry brushed them with skull white paint. I then basecoated them with the main colors (something close to desert yellow) blood red and a few shades of brown) as seen here...
My next step was the staining. I preferred to brush it on so I thinned the Minwax Antique Walnut polyshade down a little with some odorless spirits. After a few hours ( usually at least 6 but faster if thinned) It looked like this.....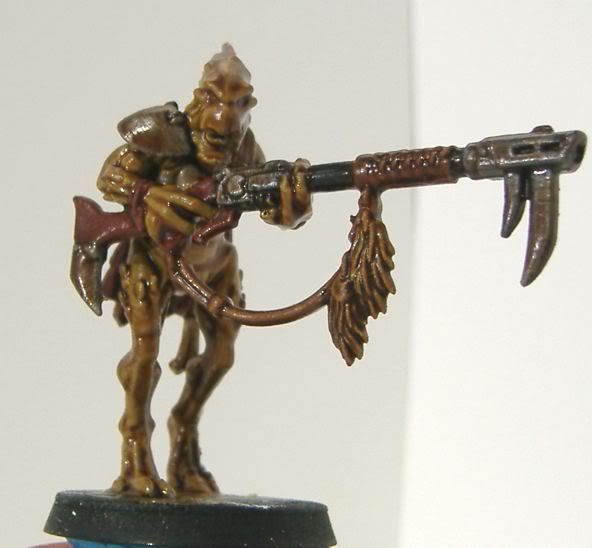 Pretty gruesome I admit, super glossy but the shading was looking good. Ok now is where it came together. after spraying on two light coats of testor Dullcote I ended up with these beauties...
I was going for speed and hopefully a decent playing standard but I was really suprised at how much I liked the way these came out. Here's a shot of the almost comleted squad with a converted shaper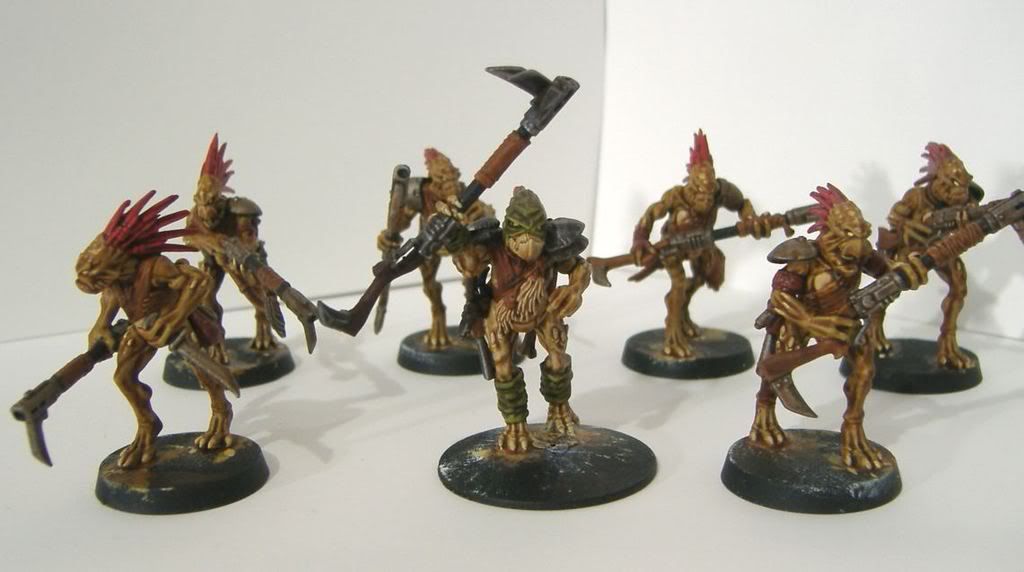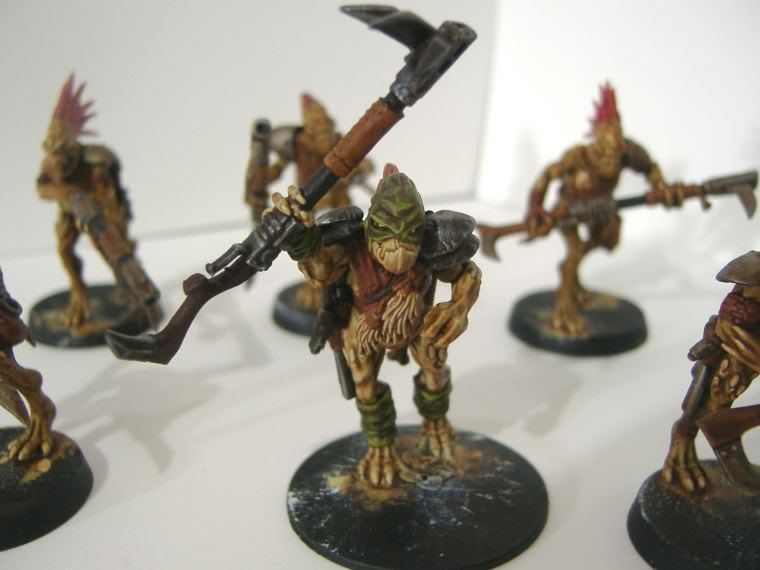 So there you have it, Not true dipping in the sense that i brushed the stain on for more control but still , a fast way to get some satisfying Kroot on the table at super speeds. Those 7 represent about 2 nights work. Just have to Base them. I can go back and pick out more details or add more highlights later but for now this is pretty good for table top quality speed painting. Next experiment... Red fire warriors with mahogany stain.