After my Burna Boyz tutorial some people wanted to see a similar topic showing how to make Tankbustas. Well here it is. This could also be filed under poorhammer as well. Now for what you will need to convert:
One shoota boy, a Bic pen, and a straw. Not sure where I got the straw, it was in my kitchen.
Cut the straw to 1.5", or more or less depending on how big you want the launcher. Then take the tip of the pen off and the plastic piece that secures it to the tube. I'd keep the tube for later use, as they can make great smoke stacks.
Now pull the ball point off the ink tube, and throw that away. I'd wipe up any excess ink, so you don't get covered. Then cut the plastic piece rougly in half just below the flared edge. You should end up with the following pieces:
I filed off pen name from the plastic piece, and filed out the interior of that piece so the straw would fit inside. Depending on the diameter of the straw this can take a while, or fit right in. After that glue the boy and all the pieces together, and you are done.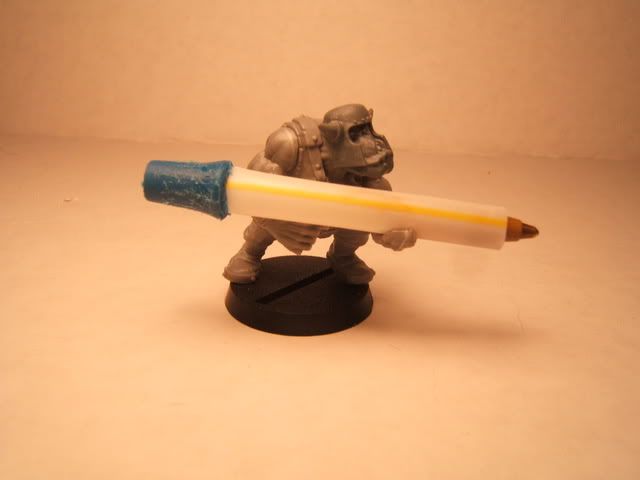 Here is the new boy next to the one I created months ago.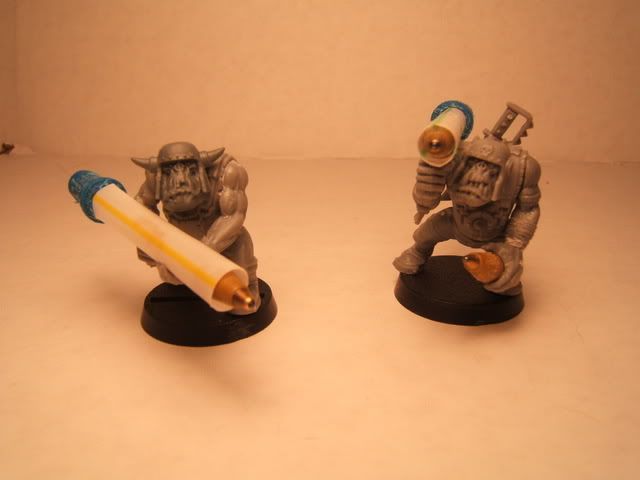 You can add all kinds of gubbins like the front sight post, a blast shield, extra rokkits, or whatever you want to add to the model. I think I am going to put some plating on the rokkit tube to give it a little more detail. Hope you liked this quick tutorial and I hope I saved you some money. The new boy's rokkit looks a little out of proportion, but he's an Ork so who cares.