Awright; a while ago I saw the question pop up how big exactly the new Trukk is compared to the old version (I think it was somewhere on the rumours board).
Well, I received my Spearhead today for Christmas (we had a green AND a white Christmas where I live...
), and I`ve worked until half past one in the morning to put the Trukk together. After some digging in my Bitz Box, I´ve found an old Trukk (from Gorkamorka).
A couple of minutes later, I had these pics (sorry for somewhat bad lightning; they were taken half an hour after midnight... ;D):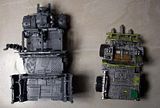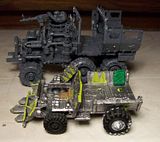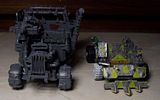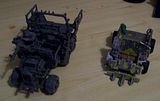 As you can see, it is nearly possible to transport the old one in the new one! Definitely a great model.
Aw, dang; I´ve forgotten to test how many of da Ladz can take a comfortable (if somewhat bumpy) ride in this thing...
No matter, building this beast was great fun; you start with the carriage and build your way up. It took me some two hours to get this far - the model itself is incredibly detailed, with loads of small gubbinz which serve no other function than looking cool - and it is still not finished! I could go on and add boarding planks, and other various bits and equipment! Lots of work for a 40-points-ish model, but worth it.
My worst nightmare is actually dropping it during a game, since it looks very fragile (and it probably is, too)... Well, it IS AV10 around...
Here a couple of further detail shots - one showing the gunner (unfortunately, again, there is only a Big Shoota in the box; no Rokkit Launcha available...), the other a further close-up of the Trukk itself.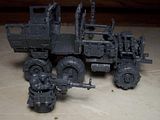 Enjoy.
Cheers,
-Bone
PS: If you want more pics of the new beasties, just ask; I think I´ll build the new bikes sometime tomorrow, and the Lootas/Burnas will follow soon.