This is basically copied from what I posted over at Kompletely Kroot:
[hr]
Hey guys,
So this weekend I participated in a Tournament at my local store. This was my first outing with 1850 points of full Kroot, and I had a great time. 18 players showed up and some how I made out with one of four awards...Best Army!
This next bit is copied and pasted for the most part from my club's website. We have dirty mouths and I hope I've edited out everything offensive! Oh and I've added pictures...just for you guys
!
I'll post up a link to my list in a few...
Edit: Here it is:
Army List]http://z8.invisionfree.com/KompletelyKroot/index.php?showtopic=401&st=0&#last]Army List
[hr]
My first game was against Jamie on the Feral town world. It was tough. He was using a Nurgle dominated list and that T5 was an uphill struggle. It was a nicely composed list though, so kudos to him. From what I can remember: Daemon Prince, Greater Daemon, two 7 Man marine squads with Icons of nurgle in Rhinos, one 14 man Deathguard squad, Missile Havocs, Dreadnaught, Predator and a Defiler. The mission was 'Suicide squads'. One unit is nominate do die but take out as much of the enemy as possible... and Victory points...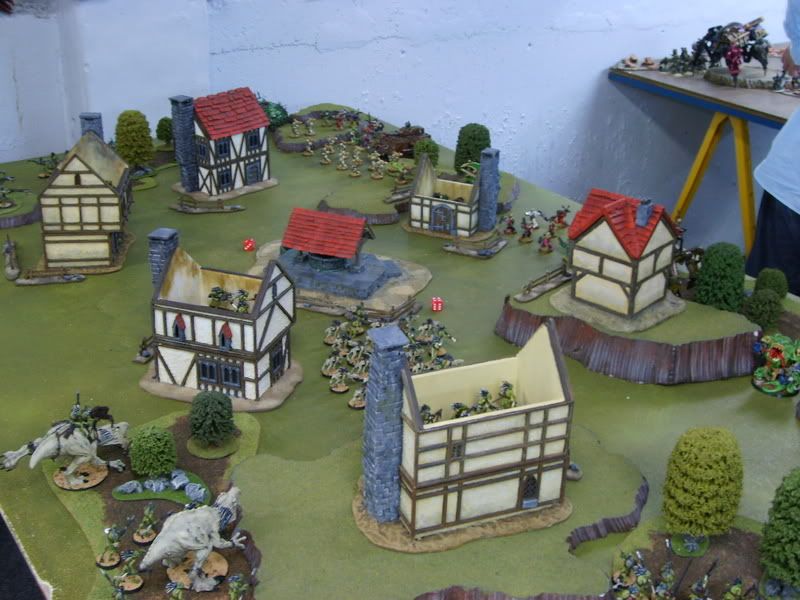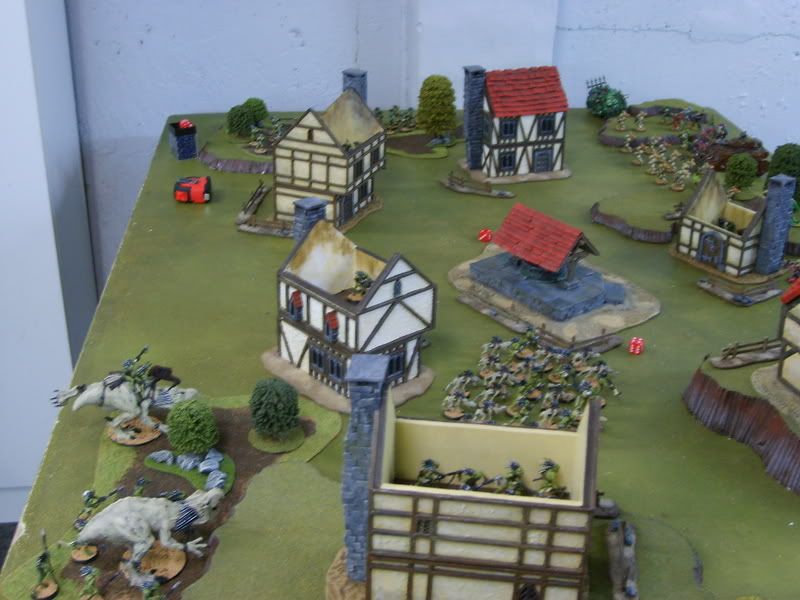 We completely forgot about the Suicide Squad special rules, and I feel like that might have changed the game outcome a bit. My hound squad got a first turn charge but hit on fours and failed a morale check and got chased down...something that shouldn't have happened because suicide squads always hit on 3+ and are immune to morale. Oh well. I played conservatively because I couldn't get close to his static bolter firing line without losing 80% of my troops on the way there. I stuck for the most part in buildings and woods trying to find a good point of approach. All his units could support each other and so I had to stick in cover and take rifle shots at his squads to conserve points...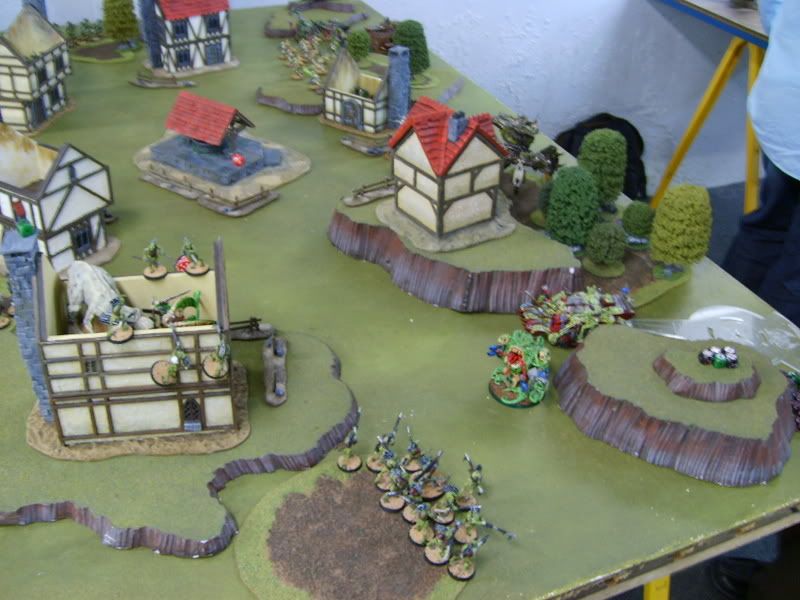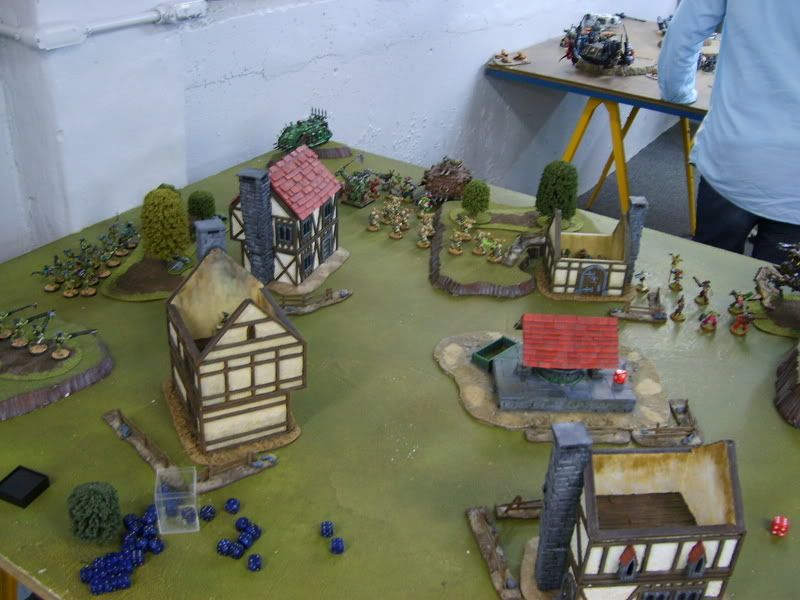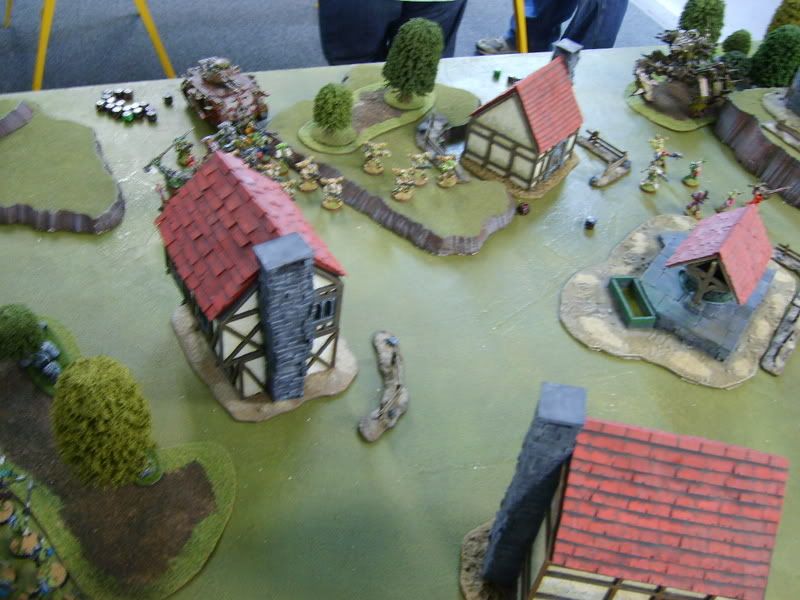 Highlight of the game was my Goaded Knarloc eating Jamies Daemon prince (after he mauled over half my army...). Also a funny moment was when one of my carnivore squads was vaporized because I rolled a six to pen against Jamies dreadnought and he rolled every to wound roll. Bye Bye Krootses!
Game One = stomped.
[hr]
My second game was against Mark and his Grenadier Guard. This was another tough match up but terrain made it a bit better. There was a bunch of size 3 terrain in the middle of the table and he couldn't draw LOS to much of anything. The objective of the game was to capture objective markers in locations that we decided. Because of a stupid L deployment zone, and lack of infiltration most of the game was six inch moves attempting to get anywhere near him.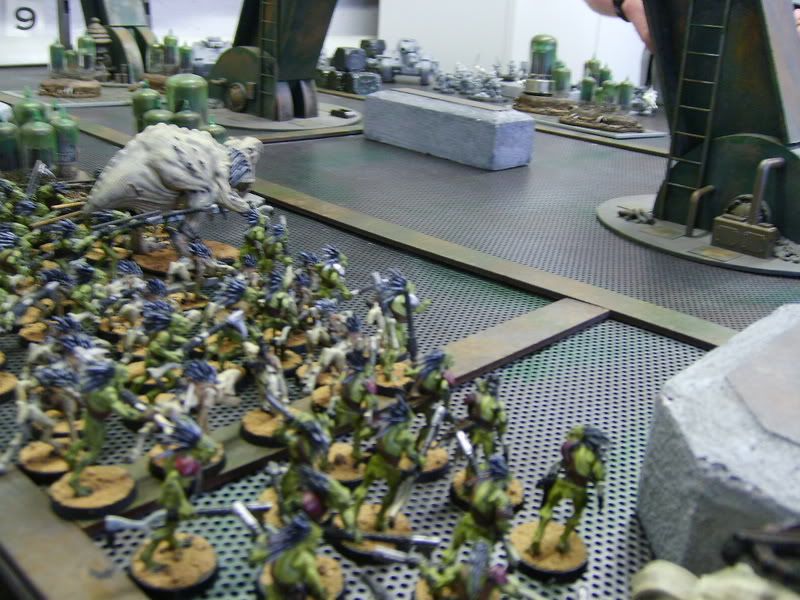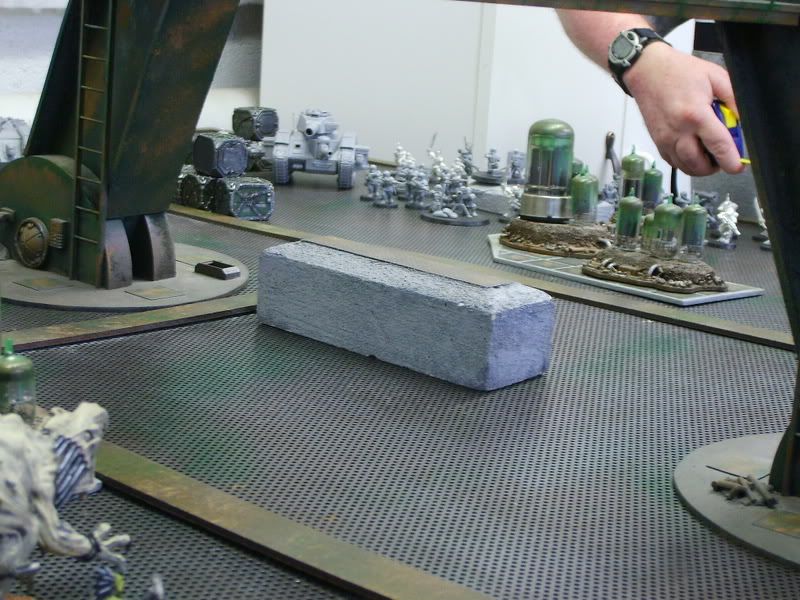 The entire time I had Heavy Bolters and a damned Russ blowing away chunks of my army. Cover saves didn't help either! The game could have changed when my Hounds charged a Storm Trooper squad that got to close but naturally the four guys that could attack wiped out the squad and then I got shot to one man under half and to my complete annoyance proceeded to flee 3 inches a turn without being able to regroup. Oh and my Master Shaper was attached... The game ended in a tie because I was an jerk and stuck the objectives in some forests a few inches from my deployment zone.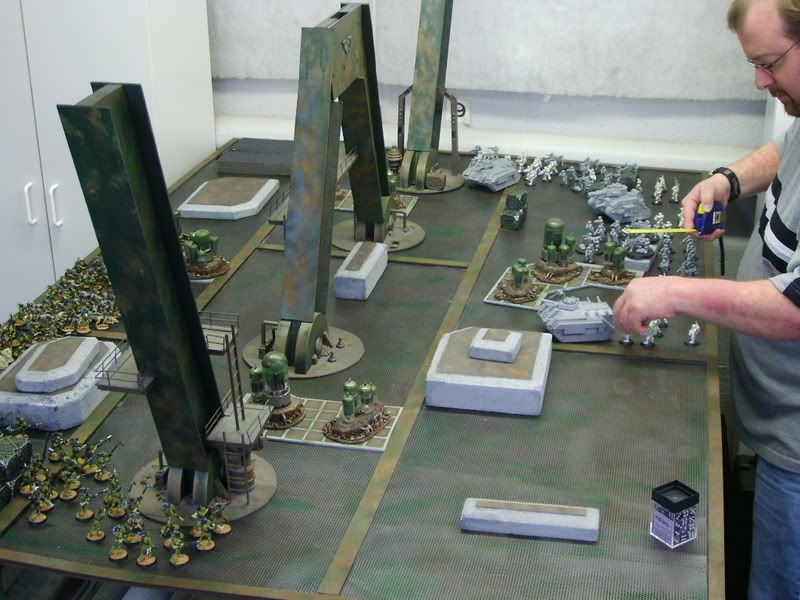 Highlight of the game was a Shaper and two buddies that were left after eating heavy bolters proceeding to wade through unit after unit of Guard. But too little to late...
Game 2 = Tie, if it had gone to six, or victory points were involved...I would have been stomped...
[hr]
Game three was against and footslogging Ork player, Jack. The set up looked great, and I had a huge advantage but gambled it all on a first turn charge/ first turn rapid fire of death. And to my luck, I missed it even with the reroll.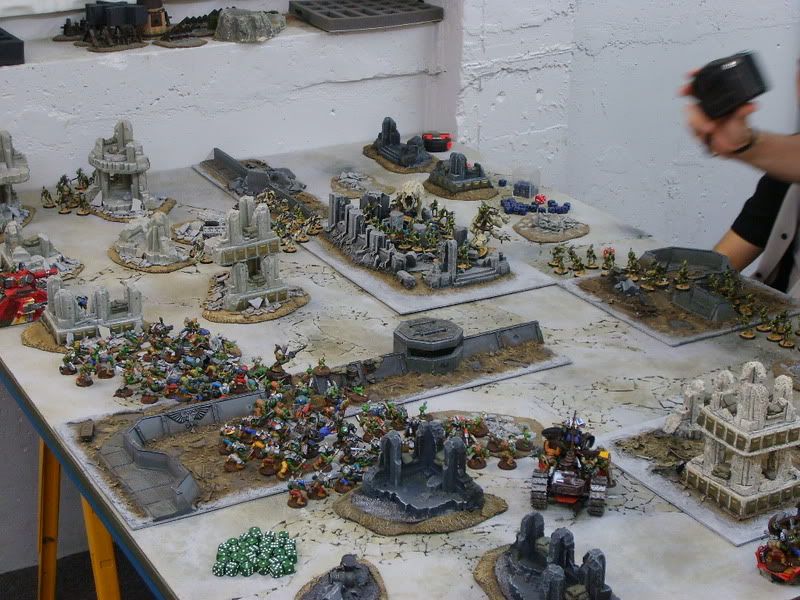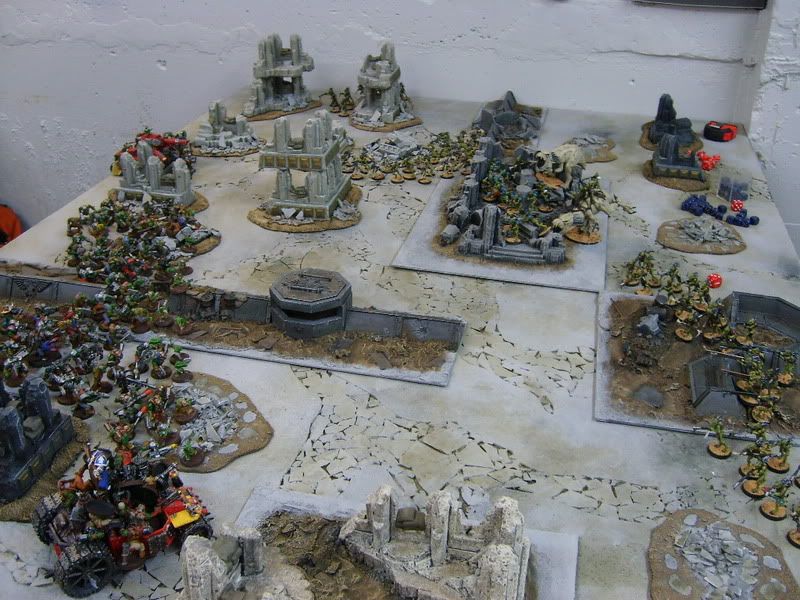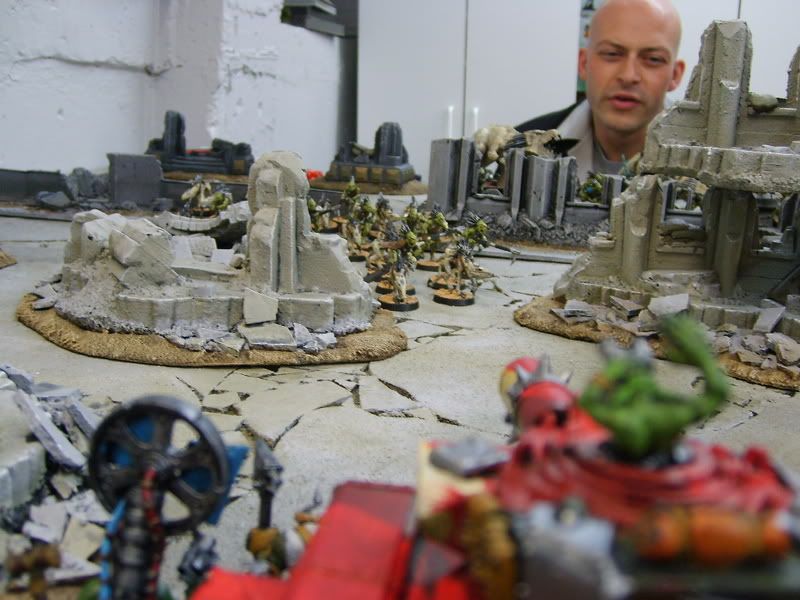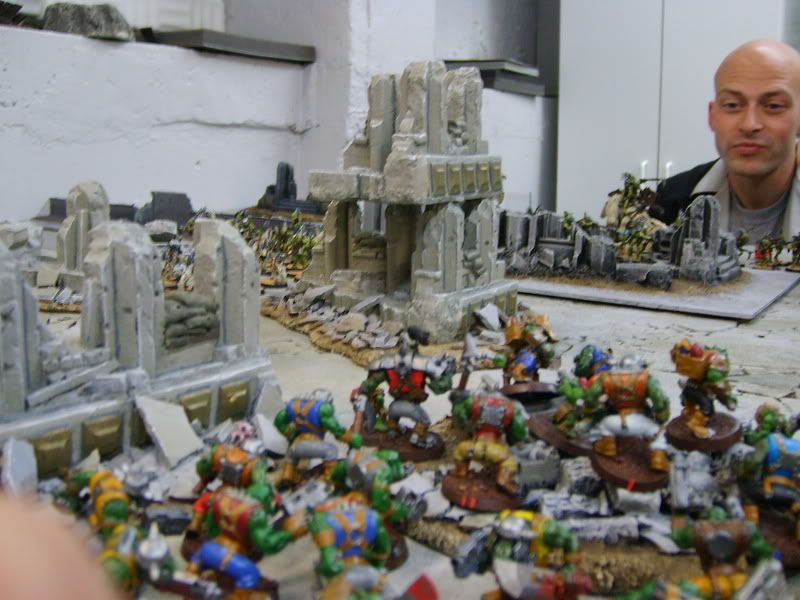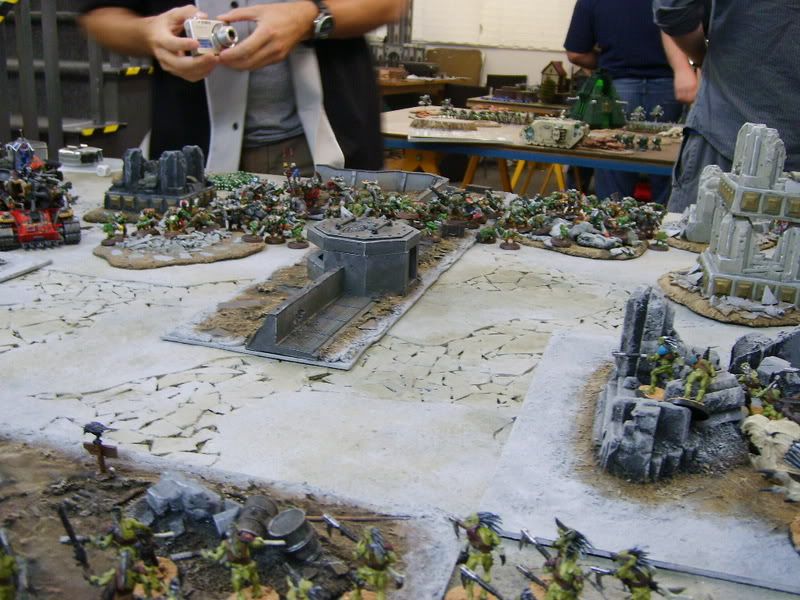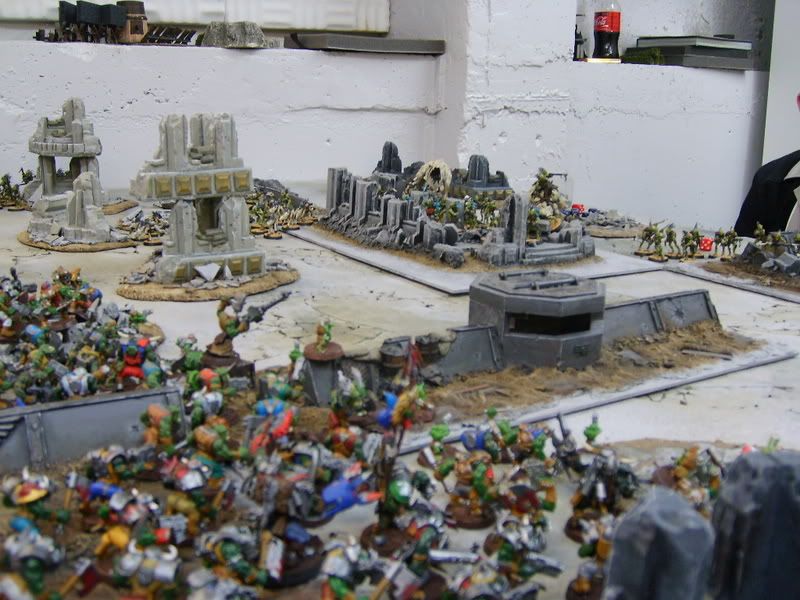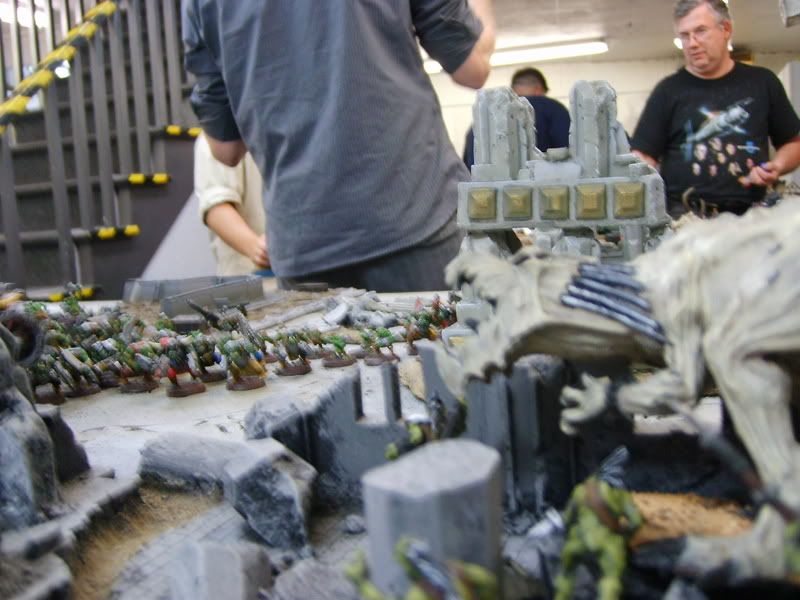 Things looked great for Jack in the beginning but slowly I started getting lucky. Still, too little too late, and by the time we stopped playing (turn 4) Jack still had a ton of Boyz left to smack my poor Space Chickens with. The game officially ended after turn two which was pretty funny. We both approached it as a fun game knowing that it was the bottom of the barrel match.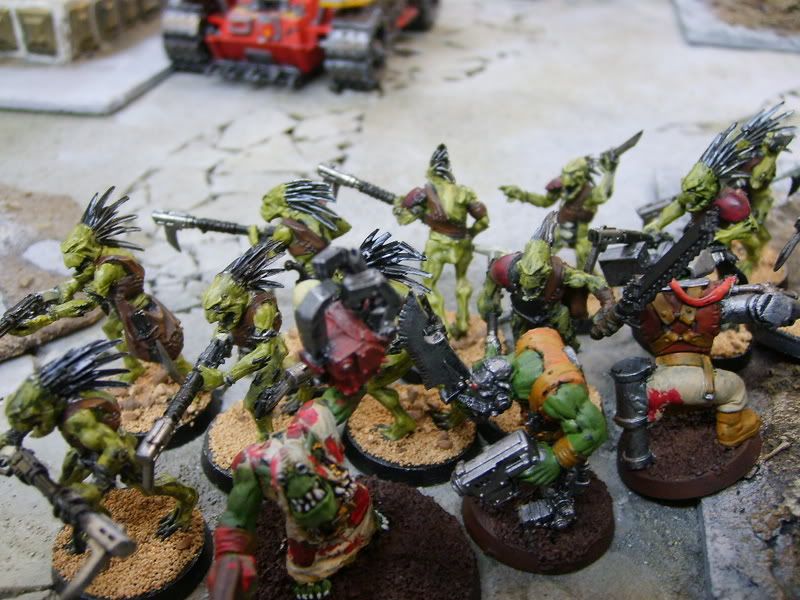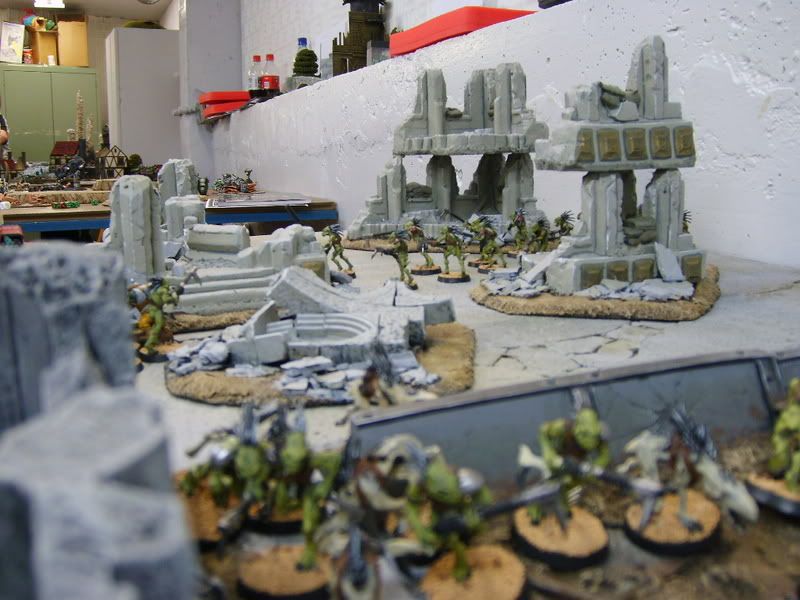 Highlight of the game was 'Dino', my Goaded Knarloc, womping two boyz squads and sticking until the end of the game.
Game 3 = Stomped big time by the Boyz in green.
[hr]
Even with my loses I had a great time and walked away with an award. It's nice playing the underdog army and I got a lot of respect for bringing them into a competitive setting. I really approached this event with the idea to have fun and meet new players, and I think everyone was pretty receptive to that fact.
Anyways maybe next time I'll have better luck... We'll see!