Hey Frisbee. I am going to make some fluff/real life comparisons to your list, if you do not mind, and then I'll relate that to how I can hep refine your list.
Firstly, swamps and APCs/Tanks.
A lot of Armored Personnel Carriers are amphibious today (And yes, I know the Chimera is too) but that means that they are good in open water. With such wet, muddy locations like swamps, the weight of the vehicle ranging anywhere from 40-65 tons will cause the wheels (In the case of LAV-3, Strykers, Infantrie sturmwagons etc.) and the tracks to get stuck or thrown. What this basically means, is wet land is an infantry land.
For fielding Chimeras in your list, go for it! However, if you are planning on conversion, I can give you several ideas for easy conversion if you want. Firstly, is a fording plate. This is like a reverse cow-catcher on a locomotive. Basically, the vehicle deploys this, and it pierces the water infront of the vehicle, making it easier going. Secondly, water jets/proppelers. Yes, I know the chimera is amphibious, but water jets are very useful in sticky situations, as they can give you some extra torque to get out of problems. And thirdly, just as a nice features, a tow cable on each one, so that background wise, if one gets stuck another can pull it out.
Valkyrie: Eh... I disagree with everyone else. I don't like valkyries in a swamp scenario. Sure, it can go into VTOL and hover several feet above the water (Assuming it can get through the foliage.) but that leaves the troops inside having a several foot drop, into at least a foot of water. Not fun, from personal experiance. Also, hovering a helicopter several feet above the ground is damned hard, and it is a lot easier simply to put it down, which tou cant do in a swamp.
Conversion ideas: Extended skids. Buoyant skids, so that the valk can set down like a sea plane, and bob on the water while infantry dismount. Either that, or rappelling cables for the troops.
Leman Russ: yeah, one of the only non-combat non-friendly fire tank loses the US took in desert storm was a mobility kill, when an M1A1 got stuck in the mud, and the crew had to abandon it for two days. Swamp land really isn't tank country, and I don't know what I can say as per conversions.
Veterans: Great! Be sure to convert them with some sort of re breather, just so they look cool :P
Hydra and hellhound(variants): Same as a chimera, but without amphibious special rule. Maybe give them buoyancy tanks on the side. The problem i see with the hydra is if it is buoyant and not getting stuck, the recoil from those guns will push it back.... Again, I'd recommend water jets or propellers, maybe they can be synchronized so they activate when the guns fire, so that the vehicles are not pushed back as much?
Carapace in general: Good for your list, bad for your background. I know first hand that weight is your enemy, and when I go out, I might bitch about the extra 20-30 pounds of body armor I have to wear, but imagine being encased in it, in around a foot of water! Ick. If you can convert it so that it's a water friendly, but bullet proof armor system, more power to you!
And by the way:
Water plow: The square piece of metal jutting out from the M113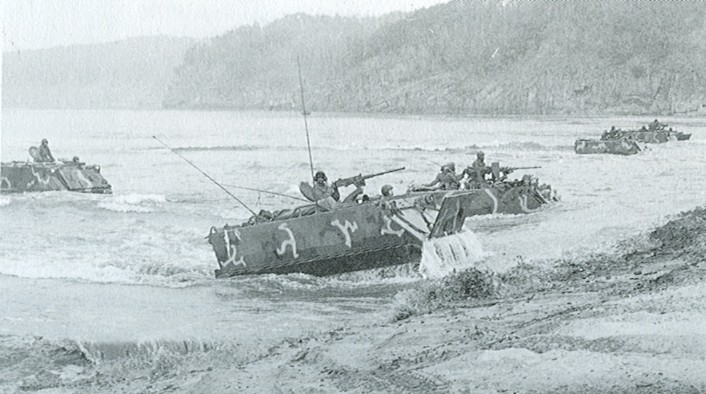 This is a great website for finding inspiration on your amphibious vehicles!
http://images.google.ca/imgres?imgur...a%3DG%26um%3D1