Hey All. Having wrapped up my first guard Army, the 55th Romonovian, I decided to start a new this summer. It wouldn't be too competitive, as there are no other gamers nearby and I like the modeling and painting aspect better. But I have basically three ideas.
1.
26th Romonovian Air Cav
I would be basing this army off an Air Cavalry theme, with heavy influences from the Vietnam-era United States Army, and movies such as "We Were Soldiers."
For the troops, I would mix and match Catachan and Cadian parts to get that basic look, with lots of extra gear and bits. The vehicles I would use would be converted Hueys with 40k bits and plasticard. There would be a jungle heavy paint scheme (Obviously).
2.
17th Romonovian Mechanized Battalion
This army would be a mechanized desert reconnaissance detatchment, with heavy influences from both the WWII Afrika Korps and the Desert Rats. The soldiers would be Cadians with Kolony Militia heads: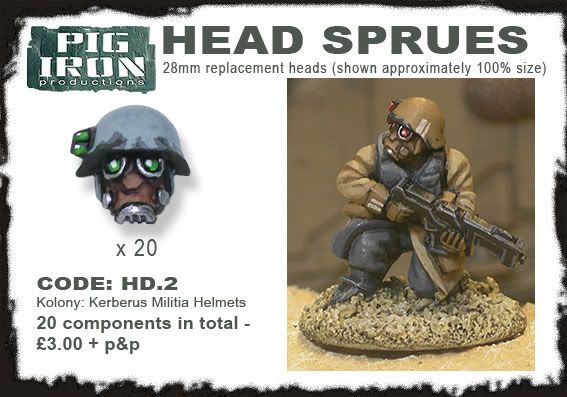 I would, however, still use Chimeras and Leman Russes as usual.
3.
206th Romonovian Mountain Division
This army would be a more typical Romonovian regiment. They would be a mountain regiment with a snow or alpine camo color scheme. I'm not as concrete with this idea, but I would conceivably use the Vostroyans as Storm Troopers, and these heads for the regular infantry: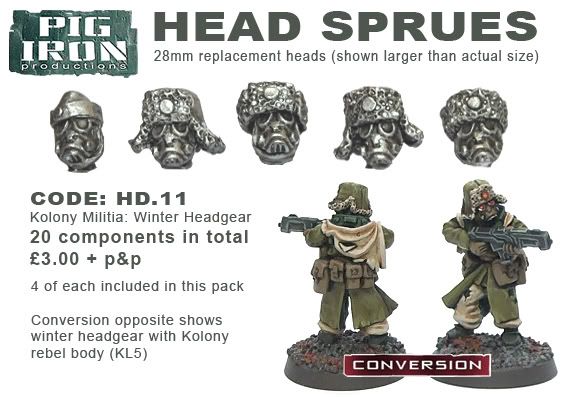 I'm not quite sure what body would be best to use. I would prefer something easy and my sculpting skills are not advanced at all. Any thoughts or ideas will be appreciated.
[hr]
These are just a few initial ideas. I would be happy to hear any feedback or other thoughts you guys might have. I've not had experience with the Pig Iron company, but they look to be roughly compatible with 40k scale. And they seem to fit the bill as far as these concepts go. Thanks for looking.