A First Look at the 5th Edition Imperial Guard Codex
By Zenai a.k.a. Colonel-Emir Zenai "Power Klaw" Dxakurnain
[hr]
It is the 41st Millennium. For more than a hundred centuries the Emperor has sat immobile on the Golden Throne of Earth. He is the Master of mankind by the will of the gods, and master of a million worlds by the might of his inexhaustible armies. He is a rotting carcass writhing invisibly with power from the Dark Age of Technology. He is the Carrion Lord of the Imperium for whom a thousand souls are sacrificed every day, so that he may never truly die.

Yet even in his deathless state, the Emperor continues his eternal vigilance. Mighty battlefleets cross the daemon-infested miasma of the warp, the only route between distant stars, their way lit by the Astronomican, the psychic manifestation of the Emperor's will. Vast armies give battle in his name on uncounted worlds. Greatest amongst his soldiers are the Adeptus Astartes, the Space Marines, bio-engineered super-warriors. Their comrades in arms are legion: the Imperial Guard and countless planetary defence forces, the ever vigilant Inquisition and the tech-priests of the Adeptus Mechanicus to name only a few. But for all their multitudes, they are barely enough to hold off the ever-present threat from aliens, heretics, mutants - and worse.

To be a man in such times is to be one amongst untold billions. It is to live in the cruelest and most bloody regime imaginable. These are the tales of those times. Forget the power of technology and science, for so much has been forgotten, never to be re-learned. Forget the promise of progress and understanding, for in the grim dark future there is only war. There is no peace amongst the stars, only an eternity of carnage and slaughter, and the laughter of thirsting gods.
[hr]
Welcome to the first of my Tacticas for the Imperial Guard. The 5th Edition Imperial Guard Codex has changed for the better including decrease in point-cost for Guardsmen as well as giving them some fancy new rules here and there. Today, I'll be discussing the Codex as a whole.
[hr]
HQ
Company Command Squad
– Probably one of the cheaper HQ options (if you don't take any upgrades, of course) and one that we're very familiar about. But instead of a Command Platoon, we just have a Command Squad. Good or Bad? It can go either way but overall, it should affect you very little. One of things; you would probably noticed is that the Company Commander a.k.a. Officer doesn't have the Leadership Special Rule but the normal Infantry Squad comes with a Ld8 Sergeant but we will discuss that later in the Tactica. So, it isn't a bad thing. 2 things about the Company Commander; 1) they're not Independent Characters and 2) They can issue Orders. 1) Your Company Commander can't join another squad if his/her entire Command Squad is dead thus leaving them more vulnerable so one advice to protect them by keeping them out of sight. 2) Orders can range from making your weapons count as Twin-Linked against Monstrous Creatures and Vehicles to making your opponent re-roll his successful Cover Saves. But most if not all, Orders require your Company Commander to be within Line of Sight of the target which means your opponent will be able to see the Company Command Squad and might want to get rid of him which contradicts when I said about keeping them out of sight. Nothing much has changed for the Company Command Squad; you still got Medics (Veteran with Medipack) and Standard Bearers (Veteran with Regimental Standard). And you can arm them all with whatever Special Weapons and one Heavy Weapon. You can armed your Company Command Squad with both Carapace Armor and Camo Cloaks as well as have a whole new range of Regimental Advisors; Astropath, Master of Ordnance, Officer of the Fleet and Bodyguards but I will discuss them later. With all these new toys to play with, I got one advice; choose a role and keep them cheap. At most, you're going to use them to issue Orders which is what makes the Guard almost as potent as Eldar. Company Command Squads can also be given a Chimera and it can both protect the Company Command Squad and still allow the Company Commander to issue Orders.
Regimental Advisors
– 1) Astropaths; Very useful when playing a Guard army that is heavily reliant on Reserves and especially Outflanking e.g. Air Cavalry and Captain Al'rahem's Desert Tigers. 2) Officer of the Fleet; good against those opponents who relies on Reserves. The Officer of Fleet can disrupt their Reserve and Outflanking Rolls e.g. Chaos Daemons and Space Marine Drop Pod Assault. 3) Master of the Ordnance; one thing I don't like about him; the Ordnance Barrage
WILL
always scatter much like the Inquisition's Orbital Bombardment meaning your opponent must be bunch up together or you're very lucky to have hit something with it. I feel that a Basilisks or any other artillery units can do a better job. If you're looking for a cheap Ordnance Barrage, Master of the Ordnance can do it. 4) Bodyguards; another useful 'advisor'. Gives your Company Command Squad more bodies to allocate the wounds as well as able to take up to 2 wounds from the Company Commander thus keeping him safe.
Lord Commissar
– One of the new HQ options, the Lord Commissar is a decent HQ if you feel Company Command Squads are too fragile and/or Orders are overrated. It also comparatively cheaper if you're going to go for an all Mechanized or Air Cavalry army as you don't have to buy another Valkyrie or Chimera and can easily attach him to any of the squads already in any of the transport. Lord Commissar can be combined with Company Command Squads to allow Orders issued to use the Lord Commissar's Ld10 instead of the squad's, which the Oder have been issued to, own Ld within a certain distance from the Lord Commissar. They still retain their infamous
It's For Your Own Good!
Special Rule but on the Primaris Psyker instead.
Primaris Psyker
– Lo and Behold! Our Psyker has become more useful somewhat. The Primaris Psyker comes with 2 Psyker Powers; Lightning Arc and Nightshroud. Lighting Arc is a buffed up version of the 4th Edition's Imperial Guard Sanctioned Psyker's Lightning Arc. It's good for adding more firepower against horde or giving additional protection against those who wants to shoot at the Primaris Psyker and his unit. And like the Company Commander and Lord Commissar, he comes with a Refractor Field thus giving him a 5+ Invulnerable Save as a minor protection against Perils of the Warp. And as the trend goes, they come with a Force Weapon. Nifty against multi-wounded models.
Ministorum Priest
– Strangely, enough they've more control over themselves e.g. they don't have that rule that they must assault anything within reach like in the 4th Edition. Instead they come with a 4+ Invulnerable Save and can be armed with a Shotgun and/or an Eviscerator. They're also Independent Characters so you can attach them to any unit but preferably, a unit with Counter-CC in mind so it can take advantage of the Priest's Special Rule to re-roll Rolls to Hit but this doesn't include Ogryns though.
Techpriest Enginseer
– For those who play Mechanized or general bring a lot of Armored Support, Techpriest Enginseers can be of huge help especially repairing Leman Russ's main weapons. For those who have been using this unit as Fire Support, you might want to think again as you're now limited to 2 Gun Servitors although you can have 2 Plasma Cannons. And like the Space Marine's version, the come with the Special Rule
Mindlock
but that's only a minor concern.
Elites
Ogryn Squad
– Noticeable change? They're T5 and that means they can ignore Instant-Death attempts from Space Marine Power Fists. Doesn't sound like much but most often than not, you will find more Strength 8 stuff than Strength 10 (Being from Railguns, Demolisher Cannons, Ork Warboss's Power Klaw, Wraithlords etc.). Again, why are they wasting their ammunitions on Ogryns? Keyword here; Fire Magnets. If your opponent suddenly got jumpy over a few 3-Wounded T5 models, then take advantage of it; use them to draw your opponent's fire while the rest of your army do their duty unmolested. On a related note, they make great Meat Shield to protect the Rank-and-File from Outflanking units such as Striking Scorpions and Kroot Carnivore Squad as well as direct fire from your opponent's gunline; either soaking up the wounds or giving your more precious units Cover Saves. Ogryns comes with the Furious Charge and Stubborn USR thus making them great counterattack units as well as tar-pits as your opponent will find it to wound your Ogryns as well as your Ogryns will probably stay in the fight as long as you keep rolling that Leadership Test on 7 or below. Even their Ripper guns are not bad; being Strength 5 and Assault 3 for some close range shootouts. With all these benefits, they're unable to take any Power Weapon of any kind and they're horrifically more expensive than in the 4th Edition! They're not a bad unit overall but I advice taking them sparingly.
Ratling Squad
– They're the same as they are from the 4th Edition except they're one point cheaper and don't have the Special Rule that allows them to be pinned instead of taking a Morale Test. It wouldn't be so bad if they weren't Ld6 to begin with. And in line with 5th Edition Snipers, they come with both a Sniper Rifle and a Pistol; a laspistol. Could be useful for taking potshots as your Ratlings run for their lives. They're a cheap source of BS4 Snipers as well as more abundant in numbers as their alternative; Veteran Squads and Special Weapons Squads but their Toughness leaves something to be desired.
Psyker Battle Squad
– Apparently, GW decided that we should buy more Psyker models thus giving us a Psyker unit who's powers depend on how many models you have in a squad. Despite this, they do seem to give a fairly good amount of fire support for the cost-point but this depends how many models you have in the squad. They have little defensive capabilities other than their Flak Armor and whatever cover they're in. One way to use them is to make them reduce the Leadership of a certain unit then followed by a weapon that causes pinning e.g. Sniper Rifles, Mortars etc, this will effectively pin the unit. Good against those Assault units like Assault Marines but of course, they won't work on Fearless units. Another would be using their Large Blast Psychic Powers against anything within range but due to their AP of D6, its better, in general, to target GEQs. Against vehicles is not out of the question but who have to contend with the Scatter Dice like any Blast weapons.
Storm Trooper Squad
– One of the most notable changes to the 5th Edition Imperial Guard Codex, is the fact that Storm Troopers have an AP3 weapon; 'Hot-Shot' Lasgun. Pretty much an Anti-MEQ weapon but the weapon's strength still leaves something to be desired. Preferably, I would have wanted Bolter stats for Hellguns but I guess you have to play with the hands you're dealt with. Like I said, the Hot-Shot Lasgun or HS Lasgun for short lacks the proper strength to make it an effective anti-MEQ so Special Weapons like Plasma Guns can never be replaced by a HS Lasgun. They come with the Deep-Strike USR so they're good for flushing out Marines or Crisis Suits and killing them. If you feel Deep-Striking is a tad too risky, Storm Troopers have the
Special Operations
Special Rule thus giving them some benefits you can choose from before deployment. One of them can make Deep-Striking slightly safer by allowing you to re-roll your Scatter Dice fort Deep-Striking. Two of them allow your Storm Troopers to Outflank along with one benefit. A word of caution; a 10-men squad with Special Weapons will quickly be too expensive to be worth it as each Storm Trooper is, more or less, as expensive as a Space Marine. So, a 5-men squad with 2 Special Weapons will be enough to take out any desired targets.
Troops
Platoon Command Squad
– A downsize (or should I say rightsize) version of the Company Command Squad e.g. less impressive Orders and BS3 Guardsmen. Orders from a Platoon Commander is more of a utility unit than from a Company Commander; Going to Ground gives a +2 to Cover Save instead of +1, Running is made on a roll of 3D6 and choose the highest etc. Like I said for the Company Command Squad, keep them cheap and give them a role.
Infantry Squad
– The core of any Infantry Regiment and my personal favorite unit. One of the most noticeable and most welcomed changes is to reduced cost-point to 5-Points per Guardsmen. There's also a cost reduction for Heavy Weapons as well as Sniper Rifle is introduced as a new Special Weapon. Despite Armory has been eliminated, Sergeants and their Commissars can have Power Weapons and Plasma Pistols. Bolt Pistols are available to the Sergeants too while Commissars already come with it. Very little has changed since the 4th Edition but Infantry Squads are given a Special Rule; Combined Squad. In short, you're able to combine all your Infantry Squads in an Infantry Platoon into a massive 50-man (Without Commissar) Squad. There're the Pros and Cons to this. Pros; 1) You don't need to individually designate each squad, 2) You can make the most of the Orders by issuing to ONE 50-man squad and maximizing the effectiveness instead of issuing 5 Orders to 5 10-man squads, 3) You can tar-pit any unit especially when you got a Commissar attached to the unit (
Stubborn
USR and the
Summary Execution
Special Rule) and 4) They need to kill 13 Guardsmen just to make them take a Morale Test and kill 25 Guardsmen to make them unable to regroup but this can be remedied with a Commissar
Cons; 1) Clumsy and unwieldy to move, 2) If you so happen to fail your Morale test despite having a Commissar in Assault, you might find your 50-man Infantry Squad wiped out by
ONE
Assault Squad, 3) If your Infantry Squad is sitting on the objective, your opponent can pull you away from it by assaulting the Infantry Squad and unless you defeat them in CC, your objective is free game and 4) It's kinda hard to give cover to a 50-man squad. However, the Cons can be remedied; 1) Don't move at all. The Guard pretty much play a
Sit and Shoot
game. 2) Nothing much you can do other than having a Commissar and some Power Weapons in your Combined Infantry Squad. 3) Have another Scoring unit close-by to fill the gap and claim the objective. 4) Give one Combined Infantry Squad proper cover then use that Combined Infantry Squad to hide another Combined Infantry Squad e.g.: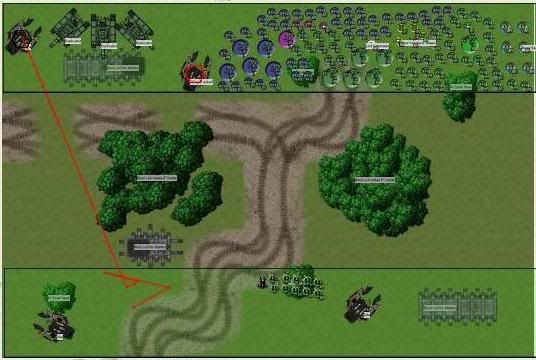 I would highly recommend having Commissars especially when you combined Infantry Squads because the
Stubborn
really comes in handy against Barrage Pinning and Close Combat as well as carrying an extra Power Weapon.
Heavy Weapons Squad
– The age old debate between Heavy Weapons Squads v Infantry Squad shall always haunt us despite the fact that Heavy Weapons Team are considered a 2-Wound model. Bad? Not unless a Strength 6 weapon so happens to be aimed at them. Heavy Weapons Team has somewhat become more fragile and Heavy Weapons Team means we have to put them on a Large (60mm) Base instead of treating them as separate models. However, Heavy Weapons Squad gives more firepower-per-point than an Infantry Squad but it lacks the body to soak up the wounds.
Special Weapons Squad
– Like the Heavy Weapons Squad, it consist of 6 Guardsmen (Heavy Weapons Squad consists of 3 2-Wound Heavy Weapons Teams) and lacks the 5-Point increase for Special/Heavy Weapons that used to come with it like in the 4th Edition Imperial Guard Codex. However, difference is, of course, decrease in point-cost as well as Plasma Gun being available to them and you can take 3 Demolition Charges. A good counterattack unit that can pump out a lot of Special Weapons firepower for just under 100-Points but for offensive uses, Guard players will either use Chimeras or, now in the 5th Edition, Valkyries. But in the 4th Edition, a more cost-effective would be using the
Drop Troop
Doctrine and deep-strike the Special Weapons Squad. But Drop Troop is dead and has been replaced by Air Cavalry. If you so happen to use Captain Al'rahem, you can outflank those Special Weapons Squads.
Conscripts
– As their Guardsmen brethrens, Conscripts has gone to 4-Points each thus making them even cheaper but they lack the Special/Heavy Weapons that used to be available to them. They're also attached to Infantry Platoons thus can't be taken as a cheap Troop choice. But do they still function well as Objective-Sitters as well as Tar-pit units. Attaching a Lord Commissar can also boost their ability to this as well especially when Conscripts have an Ld of 5 thus the Lord Commissar's Ld of 10 and Stubborn as well as Summary Execution will help them stay in place where you want them.
Veteran Squad
– Unlike the above Troop units, Veteran Squad is a separate unit that takes up their own FoC. A relatively cheaper Troop choice especially for small games or those who prefer to just fill the minimum 2 Troop choices but of course, lacks the body. Like it was in the 4th Edition, they still retain their BS4, 3 Special Weapons and 1 Heavy Weapons thus able to dish out a good amount of fire power especially at close and medium range. They also retain
Doctrines
or a form of it. They can be made into 'Heavy Infantry' (4+ Armor Save), 'Light Infantry' (Camo Cloaks as well as Defensive Grenades) or 'Tank Hunters/Bunker Busters' (Melta Bombs and a Demolition Charge) thus can do a variety of roles but they lack the
Infiltration
USR they used to have back in the 4th. In its current form, they're best mounted on either Chimeras or Valkyries to protect from lethal anti-Infantry fire as well as compensating the lack of numbers with mobility.
Penal Legion Squad
– Gone were the days of Colonel Schaeffer's Last Chancers and now replaced by a more generic unit. From a first glance, they seem to be of little use. They're only armed with Lasguns and Flak Armor. So, the only use I see they can perform is Objective-grabbers as their
Scout
USR allows them to outflank or move, at most, 6" before the first turn. Furthermore, their
Desperadoes
Special Rule allows to have one of 3 benefits but all of them involving close combat. They can also perform as a sacrificial unit but an Infantry Squad is both cheaper and performs the same.