Hi,
I'm thinking of doing imperial guard when the new codex comes out, but I don't want my force to look like everybody else's. I though a Swamp Mechanized Company was a cool idea, and I found some minis I think will go very well. I'd like to recieve some CC on my idea's, so here goes:
Chimera
The armies vehicles will be hovercraft, as this fits the swamp theme really well. The Chimera's amphibious rule works excellent here, and I have 3 turret options to choose from. At 4 1/2" long, it ought to be the ideal size for a transport, and not to long for a Chimera.
Leman Russ Executioner
Agan a hovercraft, with what looks like a Twin-Linked autocannon, this make an excellent LRE. Unfortunately there are no sponsons, but it may be possible to model some onto the vehicle.
Leman Russ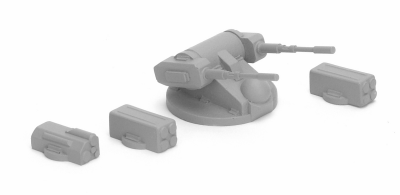 Again a hovercraft, Standard turret caters for normal, heavy 20, and possibly another mode, with a pintle Heavy Stubber. Missile mode I'm not sure about, but I'm sure there's something it could do. I'm not sure about the mixed turret, other than that it could be a Leman Russ Annihilator, if the guns were railgun type-things. Comms version works well as a Salamander command vehicle.
Allied Inquisitorial Land Raider (maybe)
The support Turret option allows both a LR and rusader to be built, with advanced targetting systems representing the fact the Lascannons are twin-linked. This probably won't be used in most games, but it is an option and the model is cool, as welll as being as cheap as the rest of the force. (LR = £9, CHIMERA = £10, this = £21)
Autocannon Sentinels
Light Scout Vehicles, these represnt Sentinels with Autocannons. The CC ability is represented by the fact only trainees who need to be punished drive these, and they are usually mad and will run people over! I thought the weapons best represented Autocannons, but maybe they should be something else?
Valkrie
Just to cool to pass up, this huge aircraft represents the command squads Valkrie. It has a nose mounted Lascannon/Mini-Railgun and I think I'll buy some rocket pods to go under the wings.
Basilisk
I needed some self-propelled artillery, and this looked as similar to a Basilisk as I'd get. A bit of converting will be required for the hull Heavy Bolter, but otherwise it looks fine. I'll be attaching accesirries to this, as with all the vehicles, but this will probably be quite heavily upgraded, with chains, ammo boxes, fuel drums and grab handles.
Transport Truck
This is a really coll model, so I don't want to pass up, but it'll obviouly be a house rules unit. I might also give it the equivelent of a pintle-Mounted Heavy Stubber, so its at least armed.
Tank
Not sure what to use this for, but i like the model so I thought i'd put it up here anyway.
I'll probably add rivets and bolt to all my models, to make them look more Guardish, but there won't be any major changes otherwise. So, what do you think?
Cam
P.S All of these models have a Tracked/Wheeled version, and most have an anti-grav version to, so they're ideal models if you looking to cheaply expand you armoured force.