I locked this thread because you cannot simply ask for information to be lifted directly from the Codex. This is a breach of Games Workshop's IP policy and can get Tau Online in serious trouble. Tauruler1, if you ask again, you will be punished.
Brownknight, although I know you were trying to be helpful, I'm going to delete your reply just to be safe.
Tauruler, purchase the Codex as soon as possible if you are serious about collecting Imperial Guard.
If you have any other questions send me a PM.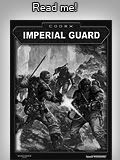 __________________
We are what we repeatedly do. Excellence, therefore, is not an act, but a habit.
-Will Durant