Thanks! a few things:
Quote:
Originally Posted by Johnnyboy
They can be used together but your grenadiers still couldn't deep strike. the drop troops doctrine states that only guard infantry without a transport and sentinals can deep strike. And storm troopers, grenadier or otherwise are not guard infantry.
Good point, but that's not what I'm planning on doing. the drop troops is going to be used for a regular platoon of the army that I'm making. Overall, the army is going to be a fluff-oriented army that's like a very small version of the US army in WWII. there'll be 2 full platoons of regular static infantry (US army divisons) to make a large firebase and center. then there'll be a full platoon of drop troops (paratrooper division). lastly, there will be 3 Grenadier squads with meltaguns in Chimeras working alongside Leman Russes (Armoured Divisons). I'm still working out the kinks, but that's my general idea.
Quote:
Originally Posted by Johnnyboy
depends on what you want to do with the squad. that said I think flamers and meltas become a whole lot more effective when deep striking, where the weapons' shorter range is less of an issue
I was thinking somthing around this, but whenever I pictured a trooper jumping into a fight, i saw the Grenade launcher as his weapon beacuse of it's easy portability and easiness to maintain and reload. But, again I wasn't necessarily looking for anything besides character. I'll keep it in mind.
Quote:
Originally Posted by Johnnyboy
Unless your playing Kieg using IA rules you can't(which using IA rules it's a twin linked heavy stubber btw). I wish you could take one as a special weapon but because you can't I think it's just a weaker heavy bolter.

I think that as a pintle weapon it's alot better then a storm bolter. But as a squad heavy weapon it would be worthless compared to the heavy bolter
Yet again, I pictured this a fluffy choice for a droping squad of guardsmen. I know they have special boxes for droping in heavy bolters and the like, but i wanted the feel of the WWII paratroopers, coming in with only what they could carry. i could always count the models as heavy bolter but i just liked the look. Take a look for yourself: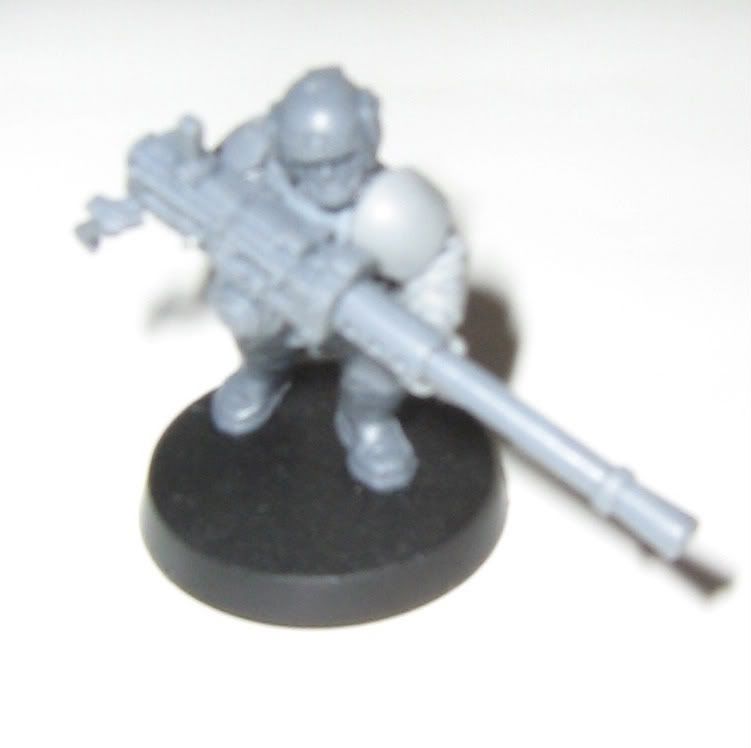 (I recently added a pack for him with gear)