Hey there!
Welcome to the Imperial Guard board! I'm
Pocketgrim
, and my co-moderator is
JD
; we're your moderating team. Hooray! Click on our names anywhere in this thread to go to our Profiles and from there you may send us a PM.
The purpose of this thread is to give members (new and old!) a chance to get introduced to the Imperial Guard and to have any general questions answered. For some, this will be a review of the basics, but hopefully this helps someone!
Imperial Guard FAQ Version 1.0
Hi there. I just registered here at Tau Online, is there anything I should check out before I start posting?
Welcome to the forums! Please read the
Forum Rules
before posting. This can potentially save you a lot of grief in the future. By reading the forum rules, you also help prevent Tau Online from getting in trouble from Games Workshop[sup]TM[/sup] and Tau Online's website host.
Of course, The Imperial Guard board falls under the same rules as the rest of the forum, so don't do anything here you wouldn't do elsewhere on this forum. Things like spamming, flaming/flame baiting are to be avoided, and can result in punishments varying from a warning, to a smite, to a ban. For more explanation on Tau Online's karma system, please look
here
. Proper spelling and grammar is necessary. We have a low tolerance towards people using "txt" talk, so drop that habit now. An occasional spelling mistake is fine. But spelling mistakes shouldn't be that common due to the Spell Check feature. Use it, as it helps everyone understand you better. Also, consider reading every stickied thread of this board. They contain valuable information and will help you on your way to success as an Imperial Guard player.
Who can I contact if I'm having a problem?
As previously stated, your board moderators are
AfterCresent
, and
JD
.
The Global Moderator most likely to be "patrolling" around here is
Wargamer
. Send one of us a personal message if you have any queries. A full list of Tau Online staff can be found
here
. Just a friendly reminder: Moderators are on
your
team. If you have a dispute with another member, contact us. Don't try to fix things by yourselves. We don't mind assisting. It's why we volunteer here. The moderating staff will try to act as a mediator. Please remember, we are only humans and if your fear a bias judgement, another moderator can always be assigned to help you, or simply tell us that you think we're being biased. Our assistance is not reserved to the forums though. If you're having a problem that's not online, or you just need to blow off some steam, just send us a personal message. We'll do everything in our power to help you out.
I think I'm ready to start posting, any final considerations?
Before creating a new thread, please consider using the
Search function
. Your questions may have already been answered! Tau Online is quite a large forum, there's a large chance that your question has already been asked and answered. Be aware of that.
Most of all: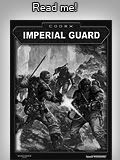 I just got into Warhammer 40,000. What does the Imperial Guard have to offer?
The Imperial Guard offers a force that's most likely the easiest to relate to. In a universe of supermen, giant bugs, violent green-skinned fungus and elves in space, the Imperial Guard are just humans. In game, our models may not be the toughest or the strongest, but the sheer strength and volume of fire our men pour out is our greatest asset. As a result, our force is mostly based on shooting. With arguably the best basic tank in the game (the Leman Russ) and a fearsome array of heavy weapons; if you like shooting and blowing stuff up, we're that army you want.
As an added bonus, IG can be used in almost any playing style. From mechanised infantry to fearsome Tank Companies to the Infamous "Human Wave" conscript armies - what more could you want?
The Imperial Guard also have a vast model range. Plastic Cadians can be mixed with metal Cadians, Tallarns, Mordians, Praetorians, Valhallans, Forge World Death Korps of Krieg and the Armageddon Steel Legion - there's a unique army for everyone!
The Imperial Guard Infantry Platoon really confuses me. Can you explain how it works?
An infantry platoon proudly displays the firepower of the Imperial Guard. Most armies in Warhammer 40,000 have a maximum squad size of 10 models for an Troop Slot. In the Imperial Guard, the maximum squad size for a Troop slot is 55 men.
A platoon consists of a Command Section (a Junior Officer and his four assistants) and a minimum of two 10 man guardsmen squads(up to 5 squads in a platoon, excluding the command section). Each squad can have one heavy and one special weapon, meaning the basic platoon can bring a fearsome amount of men and specialized weapons to the fray.
What are doctrines?
The Imperial Guard Codex states that "Doctrines are variations in training and organization that have an effect on the way a regiment fights."
These are options you can select to vary the play style of your army, such as making your units mechanised in Chimera transports, or giving them Heavier Carapace Armour, for added protection. I just want to make this clear;
Doctrines are not necessary!
In fact, I prefer the plain Imperial Guard list, without any doctrines at all. On Tau Online, doctrines are generally frowned at. They may seem like they add a new depth to your army, but most of the time your wasting doctrine points buying back specialised units and additions that cost too much for the benefit provided. A lot of the questions posted here concern doctrines, so using the Search function may find you your answer.
What are advisors and how do they work?
Advisors are specialty units that help bolster the strength of your command squad (or lesser units, depending on how many you take) and add a unique twist to your play style. You can take up to 5 of each type of advisor, and they
do not
take up a HQ choice. An advisor is placed in the HQ command, then through lower ranking squads (HQ Command Squad>Platoon Command Squad>your choice of infantry).
Remember that each squad can have more then one type of advisor attached; so you can have a Psyker, Commissar and Priest attached to your HQ Command Squad. Any advisors that do not have a squad to be attached to cannot be used.
[hr]