As many of you know, Forge World recently rolled out it's latest variant of the Leman Russ: The Annihilator, with the same twin-linked Lascannons as it's Space Marine namesake: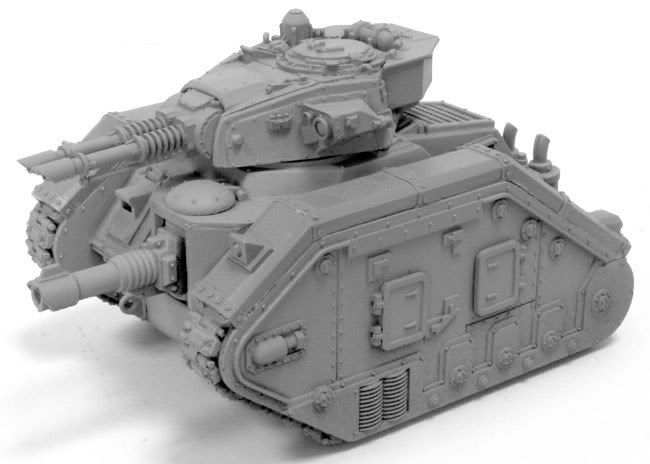 I recently started thinking about the implications this vehicle has in an Armoured Battlegroup - particularly, if it could fill the roll of the Vanquisher as the premiere tank hunter of the Treadheads.
The first stroke in favour of this vehicle is the price tag: While a Vanquisher will cost you 35 points more than a standard Russ, the Annihilator will fetch you ten points
less
.
Next up is firepower versus rate of fire. As far as your sheer AP roll goes, the Vanquisher clearly wins against most vehicles, with an average of 15. However, you're gambling with a single 50% chance of hitting (or 66% with a Command Vehicle or Commissar Tank). The Annihilator has a 75% chance of hitting home with its turret, and can even use the hull Lascannon in the same turn. Moreover, against Necrons the las-blasting version is a clear winner: With it's extra die removed by Living Metal, the Vanquisher turret becomes almost useless against the floating chunk of old cheddar, needing a 6 to even glance.
Lastly, there's the point of alternate roll usage. A Vanquisher can, like the Russ, put down a 'pie plate of doom' and spell death for MEqs and anything lesser than them, without requiring Ballistic Skillz. However, the Annihilator has a great boon in its multiple AP2 weapons; where a Vanquisher would fail, the Annihilator can go toe-to-toe in a shooting war with Broadsides and Obliterators, as well as mercilessly hunt down TEq foes.
In future, my Commissariat vehicles will not be Vanquishers, but Annihilators. Will
yours
?