Edit:
I've had a few requests from people who wanted to see some pictures of the models fully assembled and painted before they decided whether or not they wanted to join the club and get some for themselves, so I painted some up for all to see. I'm not the best painter in the world, but I think you'll still enjoy seeing how this project has gone from concept to reality.
Just click on a thumbnail to see the full pic.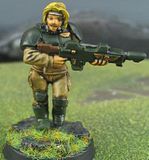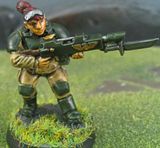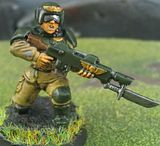 Some of my fellow Imperial Guard players from around the world and myself are tired of GW and Forgeworld refusing to put female cadians on the sprues. After a massive online petition we were told that a forgeowrld sculptor had made an upgrade kit and offered it to them, but they had decided that they would never release it. According to GW fluff, half of cadians should be female, and we want our armies to represent that. So, instead of waiting, we are pooling our money together and hiring a professional sculptor and we are going to make it happen ourselves.
The sculptor is going to make a torso and a pair of heads, one with goggles like in the concept art, and another made so that you can put the empty helmet right onto it. Since these will be made entirely out of greenstuff, we can cast them and make copies without breaking IP rules.
Here's the concept art, originally drawn by The Green Witch on 40K online: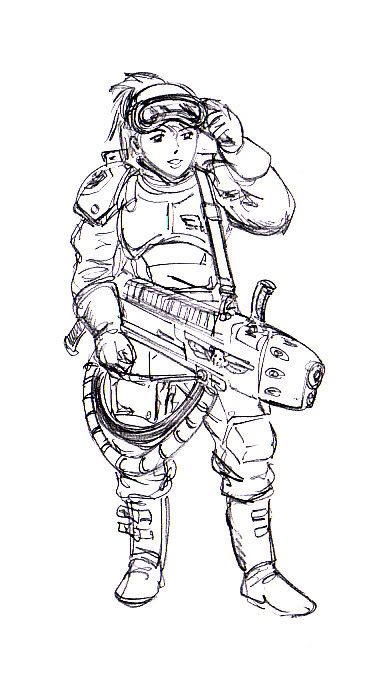 The sculptor used to sculpt for Cell Emtertainment, which was responsable for such things as Krash, Ronin, 1999, Hybrid, and some others.
Here's a link to some of his work on CMON. Obviously, this example is a lot bustier then what we would want for a female cadian, but I think it shows that he has the skills to pull this off.
Sample
I wanted to know if anyone from this forum is interested in joining in on the project. Each of us is pitching in $40.00. The deadline to join in is February 26th. Everyone who joins in will get 25-30 sets, depending on how many people join up. Each set will contain a torso and both heads. Shipping is included in the $40.00. This is not a business transaction. We will not be selling these afterwards or anything like that, so the only way to get any is to join in now. This is just a group of players pooling their money together to make some cool conversions for their personal armies, nothing more.
PM me if you are interested.
P.S. Just so everyone knows, the IP issue has already been resolved.
Kugelblitz, one of the people who has already joined in the project, has known one of the GW VP's for many years, and he spoke to him about the project and we have been given the green light. His reasons: Small scale production, not for sale afterwards, not for profit, no GW parts being cast, private group, no harm, no foul.
So, the IP issue is a non-issue. There's no need to bring it up or talk about it.