Ok so here's the Imperial Guard army list for the upcoming community game.
Remember; the first ones to sign up gets the units!
[hr]
Elite 1: Hardened Veterans
9 Veterans + Sergeant; 2 plasma guns, 1 meltagun, 1 missile launcher, carapace armour, sergeant with power weapon and laspistol.
Total: 155pts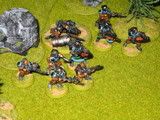 Played by: King Winter
[hr]
Troop 1: Armoured Fist
Autocannon, grenade launcher; carapace armour
Total: 103pts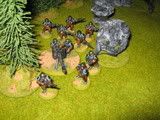 Played by: Anton
[hr]
Troop 2: Chimera
Heavy Bolter, Multi-laser
Total: 85pts
Played by: The_Greater_Good
[hr]
Fast Attack 1: Sentinel
Lascannon
Total: 55pts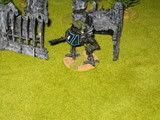 Played by: Elessar
[hr]
Total: 398pts
[hr]
Note: The Chimera and Armoured fist squad are noted as being two units because I've decided that 1 player should control the vehicle and 1 should control the squad. This is to get another member playing (4 > 3) even though the game is so small (points-wise).
I will be deploying the units and post tomorrow how the battlefield looks like and where the units are at etc. If you have any questions just send me a pm.
~Olannon