++Incoming transmission. Clearance level Magenta++
+++Thought for the day: Let steel protect your body, and faith your mind.+++
+Transimition derived from Teutonian II, Forgeworld. Techpriest Karls Brechen+
Inquisitor, i have procured the data on the Teutonian Mark IV Automatic Combat Shotgun at your request. The weapon is a tactical shotgun employed by sappers and assault squads of the Teutonian system, in Guerra. Its power and simplicity has let it work its way to become the standard shotgun for Guerra urban infantry and trench fighters. The weapons are also assigned to penal legions under the control of Teutonian commanders. It can have a bayonet mouinted on the tip to create a small spear. Teutonian sappers prefer to attach their combat knives, which are heavier and broader. This alows the shotgun to be used as a make-shift axe. Specifics are provided in th data fleck provided.
...FleckSearch......Downloading......Found......Ma rk IV Shotgun......Guerra Sector......Teutonian Sub-Sector.......Praise the Emperor...
+++DEPARTMENTO MUNITORIUM+++
+++Equipment Specifics+++
Teutonian Mark IV Automatic Combat Shotgun.
Fire mode: Semi-automatic. Gas-actuated
Clip size: 8+1 shells. Individually loaded.
Calibre: 8 gauge
Muzzle velocity: 910 m/s
Muzzle to stock length: 1041mm
Mass: 4.5kg
Range: 40 meters. This will disable a non-armoured humanoid. Death is not assured.
Shell: 410 pellets
Pellets: Lead
Bayonet mount: Yes
Lamp-pack mount: Yes
Stock: Steel, non-folding.
Body: Steel
Muzzle: Adamantium
+++Close Data Fleck+++
The information given upon this data fleck is not to be communicated, either directly or indirectly, to any person not holding an official position in the Imperial Guard. On no account must this data fleck be taken into the front line.
+++End Transmission+++
Nice bit of fluff for you guys. Now ill show you how to make one. You'll need a cadian pattern lasgun, a sharf knife, and if you want a bayonet hten the bayonet and some glue. Also, remember to be careful when handling the knife and glue.
Place your knife on the nitch in the muzzle, shown below.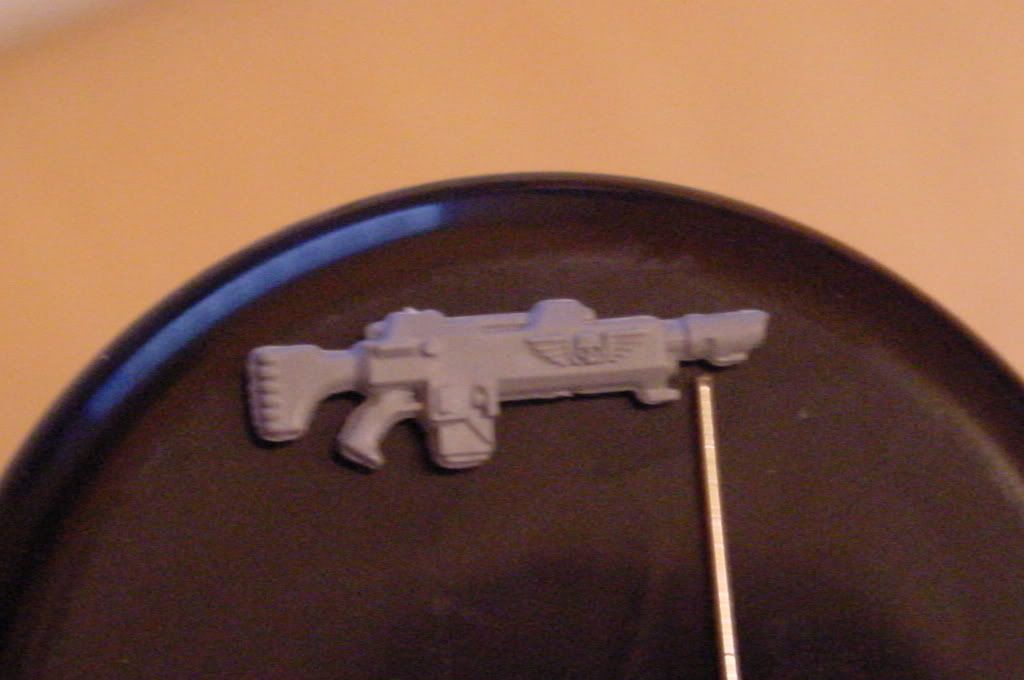 Cut through, removing the muzzle.
It should look like this: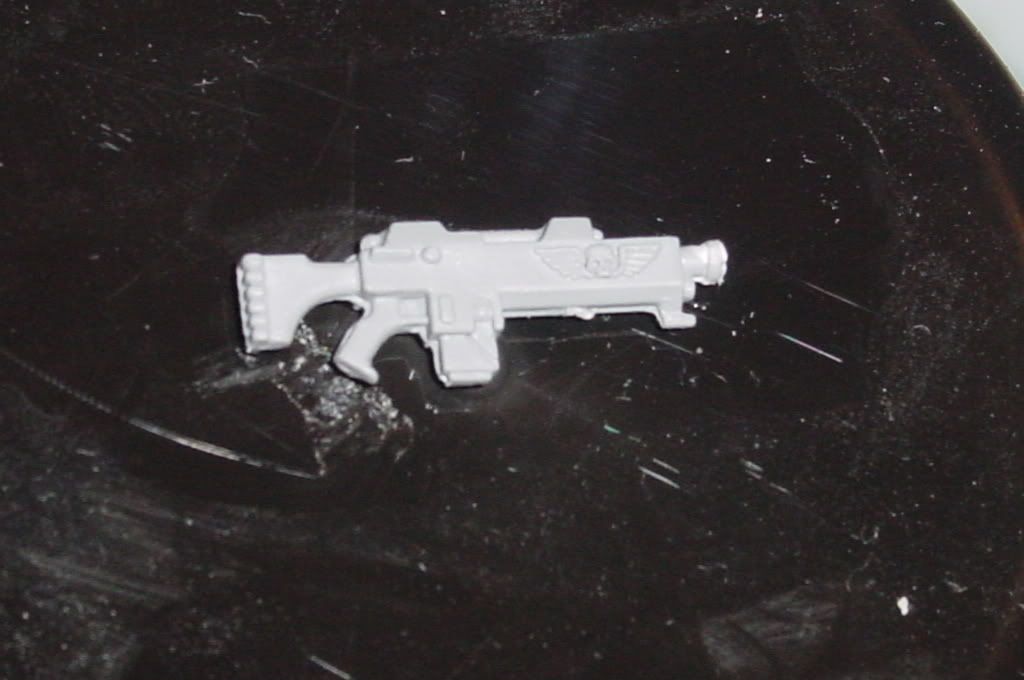 Now remove the scope mount on the top of the lasgun. The way i do it is grab the front with one hand, place your other hand's thumb on the stock. Hold the Knife with your other fingers and cut along towards your thumb. Now remeber i used a swiss army knife for this. if you use a craft knife(you should) then dont use this method, as you will probably but your thumb. If you do use this method, remember to go slowly, while a blood covered weapon looks cool, its better to use Red Gore. Also, if you use the stock for support be careful not to bend it, its happened to me a few times. You shotgun should now look like this: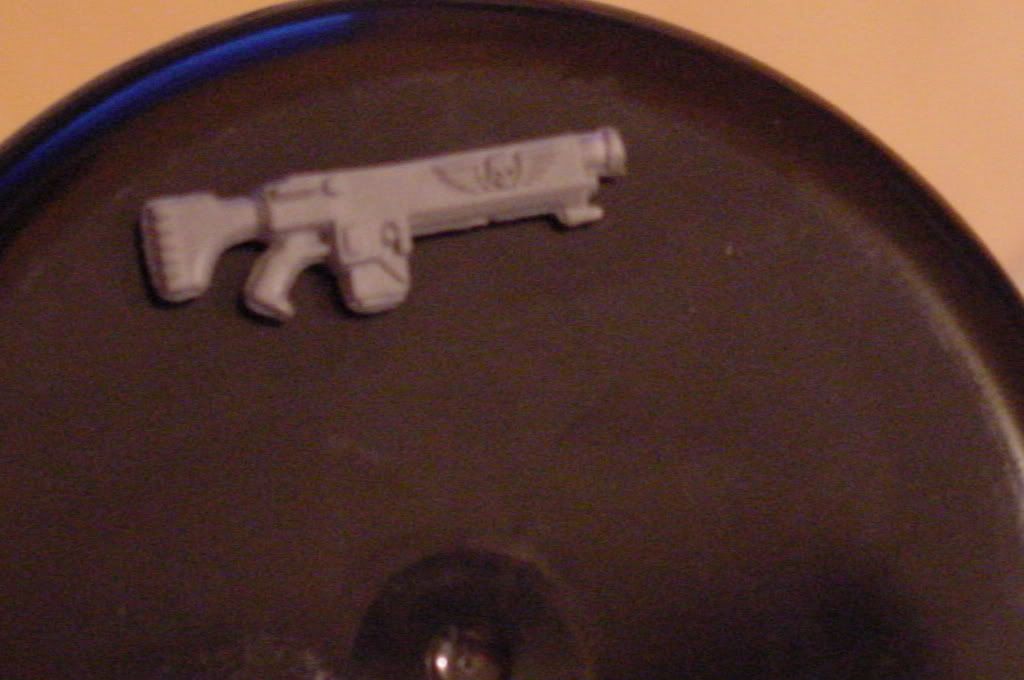 Now cut the clip off, so it looks like this:
Some people way like keeping it like this, others may want to do this. Place you knife on the clip mount's corner, the one close to the trigger. Then cut down at and angel, cutting a triangle off. If you'r not sure how much to cut off cut off less than you think is necessary. Then scrap off mroe plastic if you think it needs to be smaller. It should now look like this: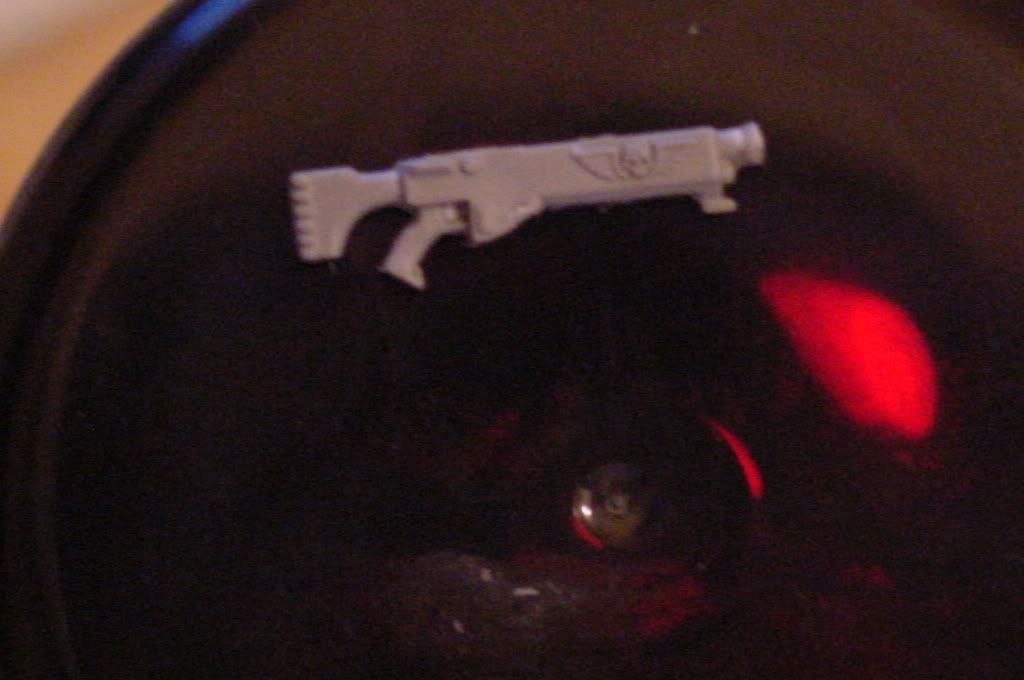 If you want to add a bayonet, slice off the bayonet mount under the muzzle. Now take your bayonet and scrap along the handle that's going to be attached to the shotgun until its flat. Bare in mind handles are very thin and break easily. Now place the bayonet on, and make sure it all fits. You may have to cut a bit off the cross-section so that the bayonet isn't facing down. To glue it on use very little glue, and place it on the shotgun, not the bayonet. Mine looks like this: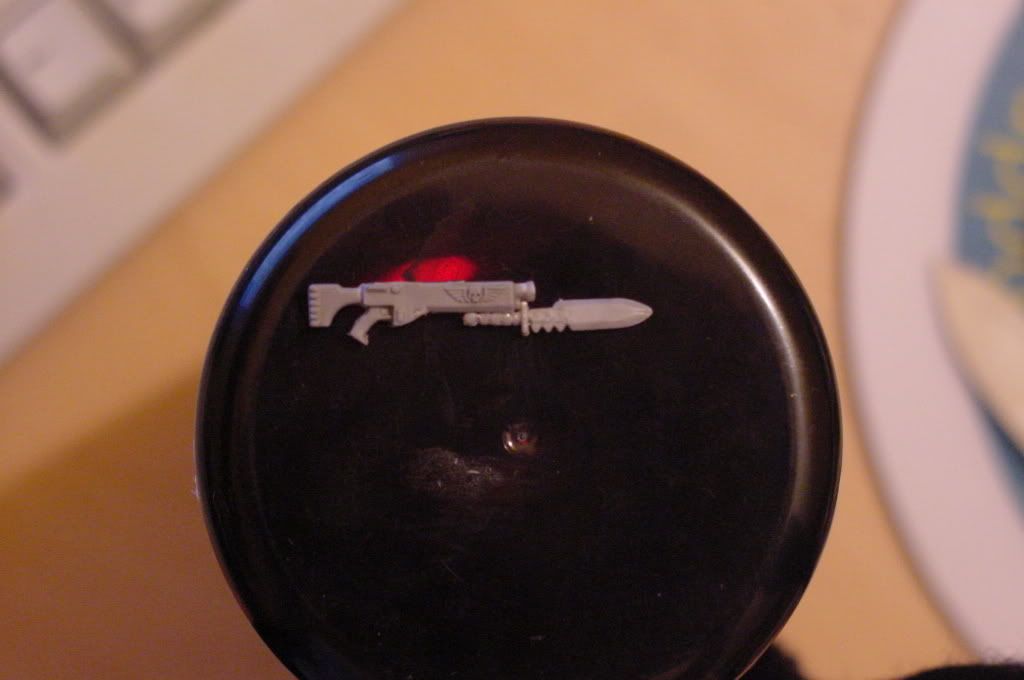 I used a knife off the chaos marine sprue to get that brutal trench combat of ww1. If you think its too big you can use a bayonet off the heavy weapon accessory spure. If you like the size but dont want the jaggedness(inqusitors dont like spikey bits on imperial soldiers) you can use the space marine bayonets.
Now you can trim the shotgun and glue it on to a model. And you dont have to use a loose lasgun, the ones attached to arms work just as well.
Here's a squad from a penal legion, under the command of a ruthless commissar:
Shotguns also go well with suicide hardened veteran squads that'll be charging people, or on cheap, hit-and-run rough riders.