Discovered a load of Praetorians I bought a while back the other day, and they are just too cool to leave unused. So, I've drawn up this list to give them some life. All comments are welcome!
I'm using the following Doctrines:
Close Order Drill ("The company will fix bayonets!")
Iron Discipline ("Stand and fight you 'orrible little man!")
Sharpshooters (representing rifle drill)
Rough Riders (dragoons, lancers...)
Conscript Platoons (local militia)
HQ
Command HQ (iron discipline, sharpshooters) - 102pts
Captain Rhodes (
) (senior officer with power weapon, bolt pistol)
Veteran (company standard)
3 Praetorian Guardsmen (vox, heavy bolter)
Troops
Infantry Platoon - 237pts
Lieutenant Cole's Command Section (vox, lascannon, iron discipline, sharpshooters)
1st Squad (veteran Sgt. Allen, sharpshooters)
2nd Squad (veteran Sgt. Williams, sharpshooters)
Conscript Militia - 80pts
1st Squad
2nd Squad
Fast Attack
6 Rough Riders - 77
(veteran Sgt. Hitch, vox, hunting lances)
Total: 496pts
I'm not sure what to use as conscripts- Empire militia, converted Praetorians in different uniforms...? What do you recon, should I use conscripts at all? I have enough infantry to make another squad armed like the ones I have already, but no heavy weapons or rough riders yet. But that's okay, because they're going to be conversions anyway.
So, what do you recon? Oh yes, the infantry squads have lasguns and veteran sergeants only because of this: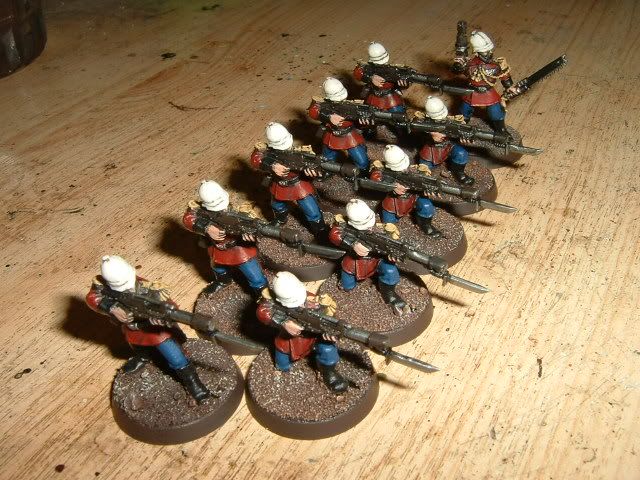 Just how
cool
does that formation look?! "Pre-SENT! FIRE!" ;D