[size=15pt]Starting Imperial Guard[/size]
This is an idea stolen from Captain Whizz in SM, and I thought it's a handy layout. Thanks for the idea, Capt.!
Starting from Scratch
To start Imperial Guard, you'll have to buy a few models. This should be enough to start a small Cadian or Catachan army, and have the ability to play some small games off the bat.
Things to buy:
Cadian army:
Imperial Guard Codex
Imperial Guard Battle force
The battle force gives you a platoon [without the Command squad], 3 heavy weapons teams, whose bitz can be used for many more, and a Leman Russ battle tank.
Imperial Guard Chimera
Imperial Guard Command Squad
Imperial Guard Cadian Shocktroops
Imperial Guard Kasrkin Stormtroopers.
Imperial Guard Cadian Officers
All of this comes to about 265 USD. You can probably estimate the number of GBP, as I'm not too sure.
Anyways, this will give you a very nice starter army, of around 700-1000 depending on how you equip it. With this, you'll have a standard company of Imperial Guard. Here's a diagram: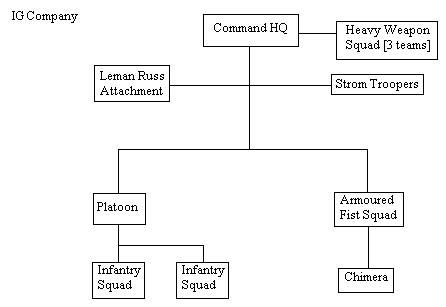 As you can see, fluff-wise, you have a standard company, with two attachments. You use the Command Squad for the Command HQ, the Heavy Weapons Squad for the Heavy Weapons Squad attached to the Command HQ, the Leman Russ as an attachment, the Stormtroopers as an attachment, 10 men out of the Shock-troops boxed set for the Armored Fist squad, and use the other 10, split into two groups. One group to form a Command section for your platoon, the other, for bits, or, a special weapons squad, which will go with the Command HQ in the same fashion as the Heavy Weapons squad.
For all those who are unawares, the force you just bought fills out a compulsory force organization chart for a standard mission. Here's a diagram:
Note that 2-5 Infantry Squads cont as 1 platoon, which counts as 1 troops choice. Also note that each platoon may take at least two and up to five 10-man infantry Squads. Also note that each platoon must have an officer with a 4-man command squad.
Now that you have a basic force, you're ready to start playing. You should play against all types of army's, and attempt to ally other Imperial Guard players in an attempt to learn the style of play and tactical practices.
Expanding the Army
Well, you've played a couple of games, and you've found that your heavy weapons squad should not charge a Bloodletter squad in assault phase. Gross!
Seriously, you should probably have found the different tactics used for each unit, and the deployment practices each merits.
It's time to expand your army. There are several options:
-
You can increase troop quantity
§ This is a good option for any army, as you want to have enough basic troops to last a battle.
-
You can buy another Tank
§ There are several tanks for your liking. You can purchase another Leman Russ, or a Demolisher.
§ There is the Basilisk, as well, a great artillery piece that will instill fear into the hearts of those that face you
§ There is the Hellhound, an agile flame tank, perfect for quick armies, or for facing any kind of infantry
-
You can buy more Elites
§ There are more Elite options than Storm Troopers, like the snipers known as Ratlings, or the assault-geared Ogryn. Both of these will be more favorable dependant on your past experience with storm troopers. I.e., were your stormtroopers always shooting long range, or were they in assault for most of the battle?
-
You can buy Fast Attack
§ There is a slot for fast attack, but for practical purposes, I left it out of the original list. It is better saved for those who need it. There are several types.
· Sentinel: A walker, with good weapons; good for tank-hunting, or a little more anti-light-vehicle and tough infantry support
· Rough Riders: Good for moving quick into the battle, and killing tough units with their hunting lances.
· Hellhound [mentioned above]
-
You can buy more transports
§ More transports are always a good thing, as a squad of Ogryns should be given a lift right to the fray. Chimeras, the Guard's only transport, is a great vehicle for transporting units into a firefight, and then giving mobile supporting fire while they fight
-
You can buy Advisers
§ Advisers are attached to your command squads, and normal squads if you have enough. You can use 5 of each. There is the Commissar, which is always a good choice, the Pyskers, a good choice for any type of army, and the Priest, good for assault-geared Command Squads.
EDIT
Equipping the Army
Now you have an army, lets look at some ways you can equip the basic units, like infantry, and Leman Russes.
When fighting a diverse foe...
Many enemies are diverse and balanced, always leaning towards one trait, but adept at both. One example are Orks. You definitely realize their assault potential, but they can be known to be very shooty on occasion.
When fighting a diverse foe, you should include certain upgrades in your...
Basic Squads
Most of your basic squads, those found in the platoon, will be used for laying down light fire from lasgun range, but it is always a great idea to include a special weapon and a heavy weapon.
Heavy Weapons
-You will find there are two heavy weapons that stand out as balanced; the Heavy Bolter and the Autocannon. The Heavy Bolter, while slightly weaker, has more shots, so a better chance of hitting. It's great for killing light to moderately armoured troops and vehicles. The Autocannon is slightly more powerful, but at 2 shots, you're at only a 50% chance of a hit. They are better for dealing with light vehicles, and really shine at long range. Both of these weapons should be often included in your army, no matter the foe.
-Another great Heavy weapon is the Lascannon. While being somewhat 'wasteful' in the fact it nulls out 9 lasguns, it is, in theory, a lascannon with 9 wounds. All the other men [excluding the Sergeant] can die before the operator. If you pass morale checks, you will probably see him around for the whole game if theres no assault on him. Back to the point, the lascannon is the most potent anti-tank weapon the Guard infantry can summon, and at a whopping strength, has been the bane of Terminators and heavy tanks for milliena.
-One of the most versatile for the Anti-infantry or Anti-tank weapons is the missile launcher. It may not be the prettiest gun around, but it works wonders when cutting swathes through light infantry or taking out heavy tanks. With the ability to change from krak to frag, there is a menace contained for any foe.
-Another, seemingly less popular weapon is the mortar. While it doesn't do much in a normal squad, it can still pin down enemy infantry, and rip apart light infantry from out of sight. Its a nice, cheap weapon, and always is fun to be lurking behind light cover.
Special Weapons
-There are two great all-round special weapons, that you will probably use the most out of the three. One is the grenade launcher. Like its cousin the missile launcher, the grenade launcher can fire either krak or frag grenades, making it a real thorn in the side of your opponent. They are adaptable to any situation, and are a great weapon for do-it-all squads with no real target in mind. The otter weapon is the plasma gun. While being dangerously reactive, it is one of the best weapons for killing heavy infantry and light vehicles. With the rapid fire capability, it is essentially a beefed up lasgun. Its a great weapon to have in support squads targeting tough units.
-The other special weapon is the melta-gun. A favourite of many players, it is devastatingly effective against vehicles and tough characters. It is half the range of a lasgun, however, and is a risk to get close enough to use it, but the results are often fantastic.
[EDIT]-The last special weapon is the flamer. Your best bet is to just give this to either a command squad, where you can take 3, or a suicide special weapons squad. They are incredibly short-ranged, and not as powerful as the meltagun or otehr such weapons. Its cheap, though, and used in pairs or trios, can really put a dent in an enemy.
When equipping Heavy weapons squads, its always a great idea to identify a goal, or target. If you want a unit that will hunt tanks, then equip it with missile launchers or lascannons. You should probably have at least one Fire-support squad, a squad with heavy bolters and autocannons, for a good firebase. Aside from these, the mortar squad is perhaps the most effective. With 3 blast templates and a chance to pin, these are great when working in teams. Equip a squad with 3, and hide them out of sight. Your opponent will become very annoyed, but its the way the game works!
[EDIT] When equipping tanks [thanks for the tips, Elessar] that can carry sponsons, it is important to first identify teh role and the possible tactics of said tank. If the tank is sitting back, laying down long range fire, you should probably take sponsons. If the tank is going to be mobile and agile, you may or may not want to take them. One of the largest advantages to sponsons is that your tank can still be a menace if it suffers a variety of damages, like weapon destroyed, or immobilized. Your standard sponson available to all Leman Russ variants, is the heavy bolter. This is a wise choice for laying down effective anti-infantry fire, and fits well with a atnk will to support from long range. Another sponson available is the heavy flamer. It seems as though the heavy flmaer is useless, but can be a very good last minute insurance for assaulting anti-tank squads, or as a nasty surprise for the enemy from a seemingly useless immobilized and weapon destroyed tank. On the demolisher, there are two types of sponsons additionally available, but those are up mainly to personal preference.
On all tanks in the Imperial Guard, they can carry hull-mounted weaponry. Most commonly, it is a lascannon or heavy bolter. On the Chimera chassis varients, your only choice consists of a heavy bolter. On the Chimera itself, it can carry eitehr a heavy bolter or a heavy flamer. When using the heavy flamer turret, an additional auto-hit template is always welcome, but its best use lies in City-fight, or areas with lots of cover. In an open field, take a heavy bolter. On the Leman Russ and its varients, one can take eitehr a heavy bolter, or a lascannon. Many players take lascannons, so that if their tank's cannon is destroyed, they can become a long range tank hunter. Others take heavy bolters, especially if they are using teh tank as a long range support weapon, mentioned beforehand. This is a wise choice, because when stationary, the tank can pump out an ordnance blast and 9 shots at, say, an infantry squad.
Well, now that you pretty much have a diverse army, you may want to check out some tactics to use for it. Here's a link for using an Imperial Guard Army and all its units [Thanks Wargamer!]:
Tactica Imperium
http://forums.tauonline.org/index.php?topic=590.0
Good luck, Commander!