Hey,
Not sure what forum to put this in but I'll just put it in IG since its mainly an IG army
(but has elements of tau)
The Night Hawks are my Imperial Guard regiment, he is some info about them C+C
welcome (don't go too hard on me , I have no codex's or the rulebook for fluff)
Name: Night Hawk Regiment
Race: Imperial Guard
Allies: Tau
Neutral: Space Marines and Other IG armies.
the Tau Allies are a bit like Tau having human auxiliaries except the other way around.
Creation of the alliance with the Tau : The Night Hawk IG Regiment was in a great battle against the nids however there methods of defense against the incoming horde were useless.
The Alien Bugs overrun Imperial outposts killing all in their path, while the guard were forced back further and further until they reached a small tau encampment.
Inside the camp they heard gunfire, and screaming. The Night Hawks rushed in and
fought off some tyranids that were tearing apart some Tau fire warriors. Twelve fire warriors survived, they thanked the Night Hawks greatly and offered to serve them. The Night Hawk Commander Kirone did not reply instead he explained to the Fire Warriors that the incoming Tyranid Horde would tear them to shreads unless they fought together.
Later that night they managed to use one of the Imperial Radios to contact a nearby Tau military base. They arranged for Devilfish's to pick them up and take them to the Tau base.
That Day the alliance was formed and Tau and Imperial guard fight together in the
Night Hawk regiment. Although many Imperial regiments believe they are traitors to ally with the Tau. however they remain neutral towards the Night Hawks
here are some pictures of My Night Hawk Army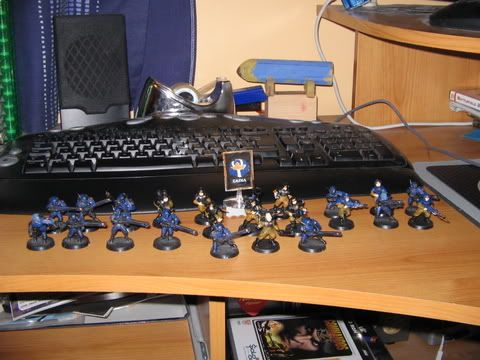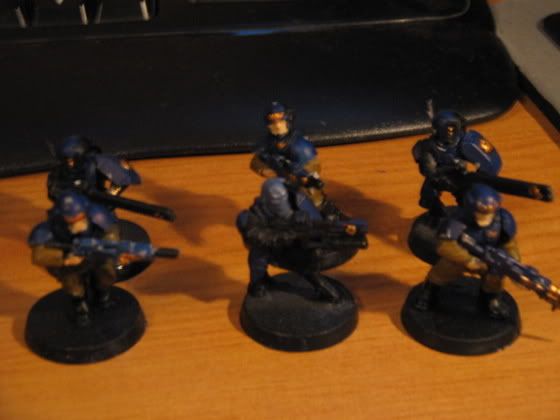 leave comments please,
Rapouc