Ala DoW Narrator...
...It was when the guardsman found they had no armor piercing rounds left that the guards turned to their Tech-priests, beseeching them for some way to defeat the heavily armored vehicles of the Emperor's enemies. The Tech-priests, unsure of how to combat this strange turn of events, went to the stores to see what they had to make do with. Perhaps they would discover a small cache of frag grenades that could be used to make satchel charges, or maybe some way to repair the damaged and destroyed Lascannon energy packs, which had been all but depleted during the last assault. What they found instead was hundreds of thousands of chain-swords, numerous parts to assemble the fuselage of rockets (Although lacking both Frag and Krak caps), and plenty of launch tubes, left over from the first attempt at turning the assault... What the Tech-priests came up with then, was a highly guarded secret, the likes of which has yet to leave the small backwater world of Gordessa VIII; The Rocket Propelled Chainsaw.
[table][tr][td]
Strength
[/td][td]
Range
[/td][td]
AP
[/td][td]
Type
[/td][/tr][tr][td]6[/td][td]36"[/td][td]3[/td][td]Heavy 1, Rending[/td][/tr][/table]
Unfortunate accidents...:
There are many problems with a weapon as highly specialized as this, and on a roll of 1 or 2, the firer takes a STR 6 AP - strike, representing the fact that the numerous jams and whirling teeth attached to a small explosive device might not work too well...
Pictures of the device, found in the ruins.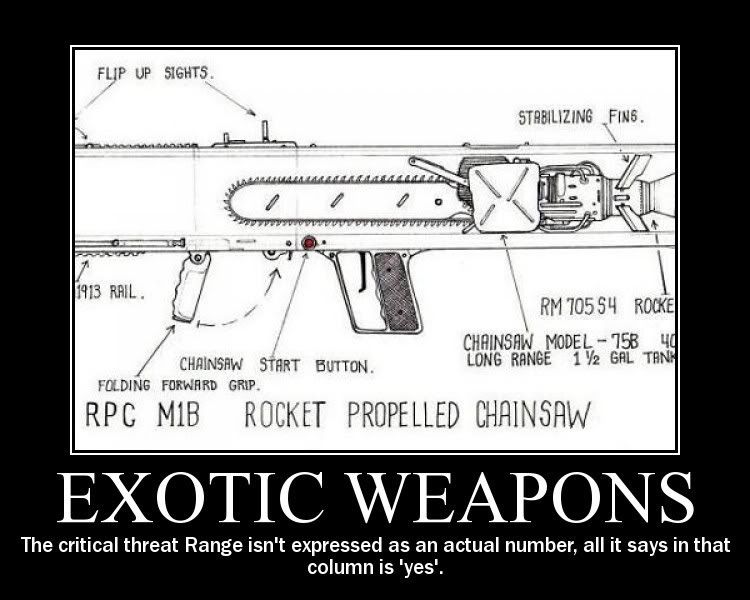 Just a little something fun for you guys. Thought you'd like this. I'd even restrict it to 0-1 weapon teams bearing the weapon.
Otherwise, I know it's not fluffy. I just thought it would bring a couple of laughs. (Though this is probably more suited to a Chaos army...)