Well since I find myself amazed at the amount of tools we have available, but even further amazed at what people use to do certain things that would work better with the right tool. I've decided to make a small tool tutorial in an effort to help anyone who would want/need it.
"Choosing the right tool for the job."
Scissors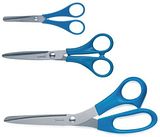 Your standard garden variety scissors. Nearly everyone has a pair at home. These can be handy for people wanting to make some cuts where smaller tools can hurt to hold.
Safety Precautions
Always wear safety goggles when cutting anything! Obviously scissors are sharp too, so it's best to treat them the same as two knives and always cut away from yourself and don't play with the edge or place extremities there.
The best tasks Scissors can be used for are
Cutting Card (Paper, Cardboard, etc.)- This may seem obvious, but we still have some people trying to tough it out with a knife and slipping. Just be sure not to use those plastic safety scissors, they won't cut much very well.
Cutting Plastic- These are pretty handy nippers if you want to cut straight plastic. Unlike most hobby blades the scissors won't generally be affected by cutting through most plastic. Generally anything 3mm thick and under can be cut with scissors, larger pieces tend to warp and/or tear. I'm looking at you Ork players to use those pieces well.
Some things/materials scissors aren't that great to use on
Balsa Wood- Yes, some of us fogeys use wood in making our pieces of terrain, scissors tend to break, shred, and generally render poor looking edges.
Polystyrene- It's not that scissors are too bad with this...But it leaves horrible looking cuts and is fairly akward to cut well, some cases will see the styrene "crushed" apart rather than cut. This generally isn't the look wanted by the hobbyist behind the scissors.
Metal- Now I know that some people use scissors to cut wire, this is not cool. Metal quickly tears up and blunts the edge of scissors increasing the chances of ruining the scissors, causing imperfections that directly affect cutting quality, or in dangerous parts cause pieces of scissors (the metal bits) to fly when the rolled edge is broken off.
Modelling Knife
Alright, to beginners and veterans alike you should know you wield a mighty power in these versatile tools of hobby enthusiasts. Honestly though this tool guide can't even go halfway into the number of varieties and uses for this tool. I suggest that beginners get familiar with this one, because it's a long journey with this one.
Safety Precautions
Basic safety techniques include cutting away from yourself, keeping the blade sharp (dull edges require more pressure which means less control if the knife slips), and wearing safety goggles.
What to cut
Paper- Yep, this little one will cleanly slice through any paper you can find, though thinner sheets are recommended for control. If traced out, more delicate designs can be cut from paper (and plastic sheet) than scissors could. Great for small precise marks, I highly suggest defaulting to scissors for larger jobs.
Balsa Wood- Again keep the cuts and/or pieces small to stay in control as well as not "tearing" the wood fibers. Cutting with the grain is recommended as long as it's done safely.
Plastic- There is no plastic that I have found that will withstand this. Back scraping can be used to smooth surfaces, you can cut and convert to your hearts desire. This is your main tool you plastic hobbyists.
Metal- While I'm hesitant to say that this can be used on most metals, I will fully endorse that a sharp blade can help clean metal minis and be used for light work on them. Unfortunately, I find working on metal to be especially hard on hobby blades so be sure to observe the basic safety rules and be prepared to go through some blades.
Polystyrene- If the blade were a little longer there would be no need for a Hot wire cutter, as it is the hobby knife is perfectly suited to tackling most hobby jobs that you can think up while working on the styrene. Generally I see people making rocky terrain when working with the polysterene with a hobby knife.
Modelling Saw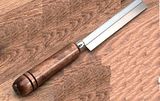 I use a Jeweler's saw, which I'm pretty sure matches the performance of this tool (they look pretty much the same as far as edges go). I love this tool and I wish more people used it on their models, I can guarantee there would be less sliced fingers, arms, legs, whatever. It has great control and will generally leave an easily sanded cut if needed.
Safety Precautions
Treat the saw the exact same way as you would the Hobby Knife when it comes to safety though.
Just remember, you can always saw more if needed (vs. sawing too much).
Cutting do's...
Plastic- Generally aim for 2-3mm worth of plastic before sawing since the movement can snap smaller pieces of plastic easily enough. I find this to be immeasurably better than the hobby knife when cutting limbs or large pieces of a model to re-position.
Balsa Wood- With teeth this fine cutting Balsa wood is easy no matter where the grain is (technically it's more of an artificial grain caused by the pressed wood, but it's there all the same). Be careful and don't get overzealous though, this will definitely cut through the wood very quickly, which can leave you with a wonderfully decorative art piece, but maybe not the Warhammer cottage you were going for.
Metal- I find that metal is easily done away with in most hobby thicknesses by my saw. On thicker metal I notice the edge goes quickly but it will normally cut it, kind of like a hacksaw. Your mileage may vary, but this is certainly safer than sawing at some brass sheets with a blade.
Polystyrene- Pretty much this can be used in place of the scalpel/hobby knife on the larger 'chunks'. While the cutting may need to have some small portions fixed at first, it's better than an all-nighter with the hobby knife. Like the wood though, be careful of cutting too fast.
...and cutting don'ts.
Paper- Really it's not that good. You end up with frayed edges and all-around rough cuts. This is also unsafe since the paper usually is supported by your hands.
Clippers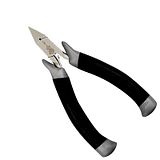 The other white meat hobby tool. Not as varied as the knife but certainly a good tool of it's own. I suggest getting one capable of cutting a lot of metal, these hardened blades will come in handy for tough metal minis.
Safety Precautions
Basic safety tips include no throwing, don't place extremities into the small blades, etc. It's hard to hurt yourself, but it can be done, so wear goggles and be aware of where the cutting portions are at all times.
Clipping the smart way
Plastic- The main reason you should have these. More precise, I feel, than the scissors you can more closely cut the sprues and pieces to the right size. It's 'okay' for nipping off any protruding bits cleanly enough. I would also use them on thicker plastic if you did not mind the small tearing that sometimes happens, it's still safer than a blade for that purpose (though I still recommend the saw in this case).
Metal- This is what I usually see being used to cut metal with. I usually see then bent and/or chipped clippers that aren't good for much else. Try to keep the thickness of the metal under 2mm and you should be fine with whatever clippers you buy. If you have a ton of metal mini's then be sure to get good quality nippers, you'll likely need them.
Clipping the not-so-awesome way
Paper- Yeah, it'll cut but the cut will be so small it's not worth it. Large pices with multiple small cuts are harder to line up straight as well. Just don't do it.
Balsa Wood- These tend to do the pinch/tearing "cutting" I talked of earlier. The small size makes working with Balsa wood a complete hassle, just swallow the pride and pick up the right tool. Your hand(s) and models will thank you.
Polystyrene- Again, the small head makes working this stuff absolute agony. Save the cramps and grab a Hot wire cutter or a different-better suited- tool. If your still cramping, stretch more and eat some bananas. ;D
Hot Wire Cutter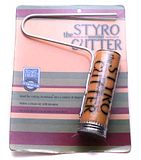 Ahh, the venerable forces contained within this tool are older than any past person alive... Really though they're only good for one thing, but they do it so well that I heartily suggest getting this tool if your intending on using polystyrene in many projects.
Safety Precautions
Since the cutter is using a decent amount of heat to help cut through the Polysterene, you should avoid contact with both your skin and anyone else's. Different brands will probably get different heat results, so above all treat this like a large blade that is extremely sharp (easiest way to think about it is a lightsaber on the low setting :
)
Cutting... Well, it's really only for Polystyrene in my opinion. In this role it's far and above the best tool for the job going through the styrene as if you were sculpting butter. Because of this be careful and go slowly, one good slip makes the building in question unarguably a ruin.
Cutting Don'ts
Everything else
- Yes, it might be fun to see what you can melt or burn (depending on the heat out put on yours) but it's not safe or smart to do so. Avoid using this tool improperly, or you might cut a hand off.
Hot Glue Gun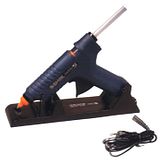 What's this?! The quintessential grandma gluing device in a hobby setting?! Well get ready for your mind to be blown away by the possibilities. Firstly, this is a unisexual tool. Able to bind together any material so far discussed in this tactica, the basic hot glue gun is overlooked in favor of plastic or super glue. A few differences though.
Safety Precautions
Not there are some warnings I have to impart when using a Hot glue gun. Don't forget that the tip, possible the case, and more importantly the glue are actually hot! Capable of instantly blistering skin, either the tip or glue are very hot when turned on, in fact the sticky nature of the gun can cause worse burns than a fire because the material sticking to the skin will continue to cook the area until scraped off (the same reason molten cheese is so dangerous). So be safe and smart in it's use and, as always, wear eye protection. Lower powered guns (and as a result glue) is recommended. My experience with hotter guns are non-existent, but a little research shows that the glue and/or tips may be much hotter for some models. I suggest testing a small piece of polysterene to insure the cooling glue will not melt through the material.
Where the hot glue gun shines is those areas that aren't usually seen. It can add strength and staying power to any material diiscussed, base coated or not. Different material types can be quickly joined together.
The speed doesn't stop at the joining time either, the glue will quickly cool and allow a hobbyist to see his creating. It can also be used to temporarily (and more cleanly) hold a model than super glue can. You can even use some of the glue- if your creative- to create lenses and conversion work for your army.
Karma'd - SILK. As for the stickying - we'll see how usefull it is from other members.