The other day I got my first rare earth magnet disks and happily magnetized a couple weapons for my Tau Commander's arm. I couldn't have been happier with the result.
I decided to make sure that all of my magnets are installed so that all weapons can be attached to all Crisis suits, so that all backpacks can be attached to any Chaos Space Marine, etc. Rather than dig out a model every time I want to check the poles on magnets, I decided to make a "master" set of magnets.
I took a spare wooden disk from an old project and drilled a couple small cavities out and set two magnets into it. Make sure they've got opposite poles facing outward. Having two of the same pole facing outward doesn't help you much. :P One magnet represents a magnet that would be set into a body or arm, the other represents a magnet set into a weapon, backpack, or other extremity.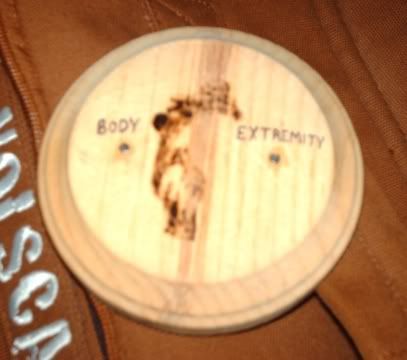 To make sure I am inserting a new magnet the correct way, I just verify the pole by placing it on my "master" set to figure out which way I need to set it. This way all of my magnets set in arms and bodies have the same pole facing outward, as do all magnets set into weapons, backpacks, and the like.
I figured I'd share the idea with the masses. It has simplified the process for me. Hopefully it helps you out as well.