Got the program but don't know how to use it? Having trouble making boards or want to ask, "How did you do that?" but don't want to look stupid? Well, fear no more! Here, I've made the only Vassal 40k tutorial on the Internet. I've seen my fair share of people who move into a room as soon as they figure out how, and then ask everyone in the middle of a game, "How do you play?" or, "How do you use this program?" And the general response is, *facepalm*. or >
If you come across this, or find someone who is having trouble figuring it out, give them the link to this page. Should help.
After understanding this tutorial, you should've learned how to use the Vassal 40k program in under 30 minutes. You can keep this page in a separate window when you start trying to use it as sort of a reference sheet.
VASSAL - OPENING
After you open Vassal, never close it. It will close down Vassal 40k. I save the link to the 40k Vassal module on my Desktop and in my Quick Launch bar.
When you open the program, you'll get the play mode, which looks like this:
For now, just click on Next. When you do, you'll come across the familiar Setup menu, as shown below.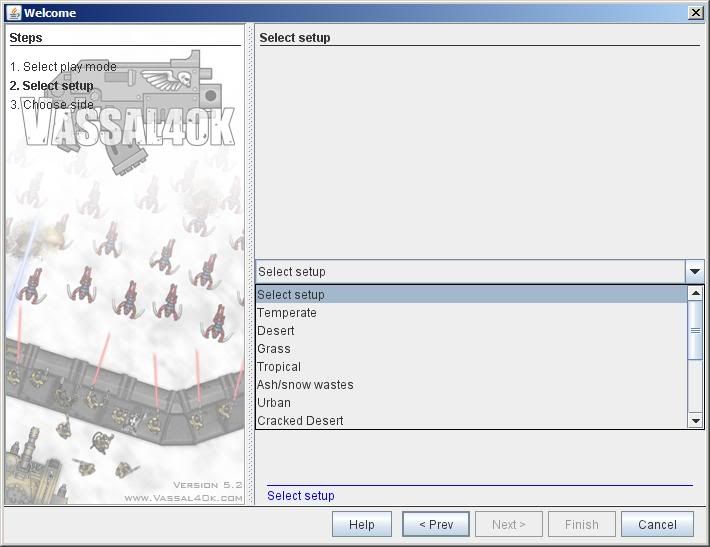 Find the type of board you want to click on, and behold, you'll get it. Ignore the "Own Size" for now. The next Menu shown below isn't very important. You could join as player anyone or observer. Click Finish. It will ask for the second player, who can also be anyone, so just click Finish again.
You can increase the size of the window, it's usually a good idea. Now here is what it should look like (except the errors and uploads I have in my version. If you know where the latest version is, I'd like the link!
[hr]
[hr]
WINDOWS AND GENERATORS
First, I'll show you what all the buttons are at the top. From left-to-right:
1. Undo.
This does exactly as it says, pulling the board/message box or rolling to what it looked before the last action was completed.
2. Ignore this.
3. Show/Hide server controls. This is for online play, when you no longer want to see the online menu options on the far right side, or you want to see them again. This simply saves room.
4. Change player status (again, not very important).
5. Board. Clicking on this will show/hide the board.
6. Player 1's model box (place/modify models in here)
7. Player 2's model box (place/modify models in here)
8. Shows all the model ranges, terrain, and markers.
9. Dice rolling generator.
Pretty simple. D6+D6 will add the result of 2 dice (i.e. Leadership, scatter distance). XD6 lets you choose how many dice you can roll (and what side, even 3-sided!). This is very useful for rolling results that the other dice rolling generators.
10. To Hit/Wound Generator. Pretty simple.
11. Save Generator.
12. To Hit/Penatrate Generator. Pretty simple, for vehicles.
13. Vehicle Damage. Also simple. Mark as many as apply.
14. Deep Strike Mishap. Clicking this will give you an instant result.
15. Turn Status.
This is important because it marks who's turn is when. It goes on to infinity. Generally speaking, you can scroll through the message box and easily tell what results went where.
16. Random Mission Generator. Clicking this will give you an instant result.
17. Random Deployment Generator. Clicking this will give you an instant result.
18. Army List Notes.
I'll expand on this later.
[hr]
[hr]
SHORTCUT/SELECTION KEYS
You'll need to know how to use these before anything else.
Shift + Left Mouse Click
= Select terrain/some markers (objectives, deployment zones)
Right Click
= Open drop-down menu of options to deal with selected piece(s). This will also show you the shortcut keys to all the available option while the subject piece is selected.
Ctrl + "-"
(or)
"+"
= toggle secondary weapon/equipment options
Ctrl + "["
(or)
"]"
= toggle primary weapon (second primary)/equipment options
A Special Tip:
If you move the mouse over one of the selected models, you can see the titles of the option changes as you toggle them.
Ctrl + D
= Delete selected (now you know how to get rid of the deployment zones)
Ctrl + C
= Clone selected (Note, this is not your typical "copy/paste". So once you clone something, it will create the new clone on top of the old one. You will have to immediately move the clone(s) out of the way.
Ctrl + Forward Arrow Key
= Move selected 1" forward (model facing)
Ctrl + Backward Arrow Key
= Move selected 1" backward (model facing)
Ctrl + Left Arrow Key
= Pivot selected to left (model facing)
Ctrl + Right Arrow Key
= Move selected to right (model facing)
Shift + Forward
= Move selected 6" forward (model facing)
Shift + Backward
= Move selected 6" backward (model facing)
Using these movement shortcuts will eliminate the time you take pulling out the ruler and rotating it to the desired position, moving said models, and then removing the ruler. It's also easier for your model sprites to cooperate when you have them all facing the same direction at the end of each phase.
Shift + Right Arrow Key
= Rotate the model freely. I don't recommend doing this because it's usually pretty unnecessary. If you accidentally do pivot a model (trying to pivot a model to the right), just click Undo or click before you make the move. The reason this can be bad is if you have a large number of models selected, the program will confuse which model you're rotating. If this happens, just left-click the mouse rapidly until it cycles through all the models and it will eventually just de-select all the models.
Ctrl + M
= Mark selected model(s) as Moved/Not Moved (Note: Sometimes, having that little "M" can be annoying. But once you remove it, you will also lose the previous location markers, red lines and dots that show the last location of the model, which can be very useful when undoing a mistake or when you change your mind in the Movement Phase.)
Ctrl + I
= Model Information (This is extremely useful for making notes on the models. Try not to stretch out a whole phrase, like "Team Leader with Target Lock". Just mark initials for things like TL. Or "Doom of Malan'tai", "Parasite of Mortex", just use shorted forms, like "Doom" or "Parasite". Players can always ask what they mean, and you can tell them, and usually someone will ask only once.)
Ctrl + W
= Wound Count -- I personally mark the number of wounds remaining (2) with the capital letter W (2W). It will separate this information from the normal model information.
Ctrl + B
= Change base color of models (good for distinguishing units or unit leaders).
Ctrl + Z
= Toggle sprite (some will have different looks or facings; I just now discovered this shortcut)
Alt + 1
= See 1" radius from model's base
Alt + 2
= See 2" radius from model's base
Alt + 3
= See 6" radius from model's base
Alt + 4
= See 12" radius from model's base
Alt + 5
= See 18" radius from model's base
Alt + 6
= See 24" radius from model's base
NOTE: These are excellent for determining who's in range if you select the closest target model or rear-most shooting models (though more fairly, the models shooting). They can also be used to instantly settle distance issues like close combat, or seeing which models can strike where. Once you get to know these, you can play a game 45% faster than a board game!
A special tip: if you highlight the models around a shaded area or template, you can see a bright green highlight around each individual base. This makes counting the models extremely easy.
Ctrl + E
= Toggle vehicle damage marker
Ctrl + 0
[zero] = Show/Hide 2" radius from transport doors
Ctrl + R
= Remove vehicle damage marker (Note: For some Eldar vehicles, it is glitched to open the hatch and show the 2" raidus from door hatch. You will need to hide the transport door radius twice to remove it)
Ctrl + A
= Add smoke (usually useful for smoke launchers or revealing a cover save for the vehicle)
Alt + A
= Show vehicle's armor facings
Ctrl + K
= Kill Model (this will create a blood splotch for most infantry models, or a pack of craters for vehicles)
There may be a few special options, but most of these can be done from the drop down menu as you won't be changing them often enough in a game to need the shortcuts.
SCATTER DIE
Ctrl + R
= Roll Scatter Die
Ctrl + Forward Arrow Key
= Move Scatter die 1" in arrow direction
Ctrl + 3
= Show 3" blast template over Scatter Die
Ctrl + 5
= Show 5" blast template over Scatter Die
Ctrl + 7
= Show 7" blast template over Scatter Die
Ctrl + 0
= Show 10" blast template over Scatter Die
NOTE: A lot of players prefer using this because it prevents having to get a green-colored blast template and then fidget with it and the scatter die. Don't forget to highlight the models if it looks like counting might be difficult.
FLAME TEMPLATE
Ctrl + P = Pivot (NOTE: The focal point is the tip of the teardrop
Ctrl + R = Rotate (The focal point will be the center of the flame template. Personally, I never use this).
Don't forget to highlight the models if it looks like counting might be difficult.
[hr]
[hr]
USING MODELED SPRITES
There are two areas in which models can be placed: The Board, and the Player 1/2 boxes. When you're creating your force, you will want to open up either Player 1 or Player 2. Ask your opponent which they will be using or declare which one you plan on/are using.
I'll show you how to grab the model sprites that you want to be using below.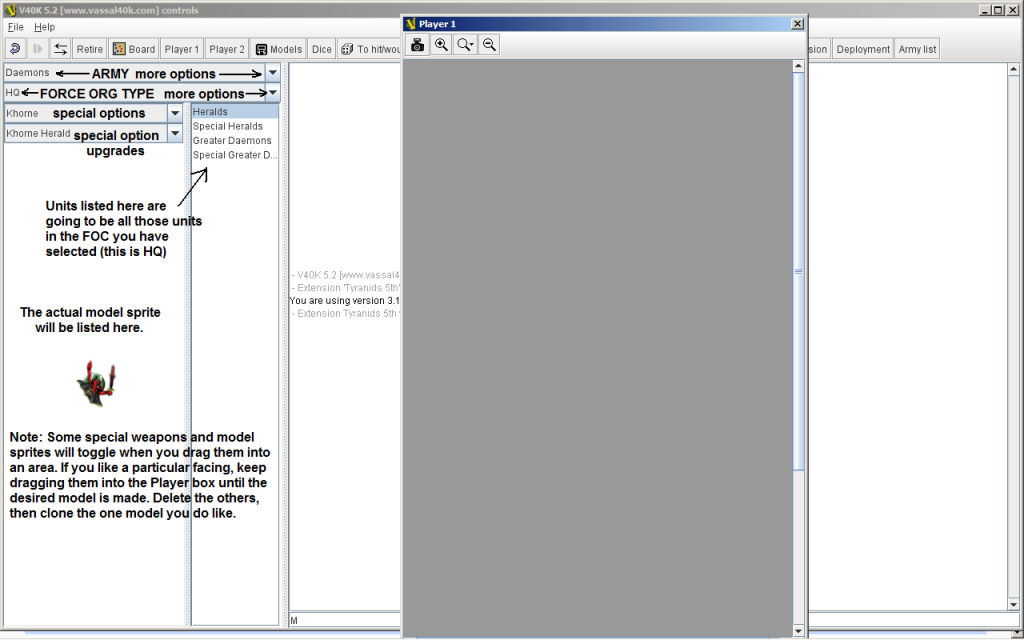 [hr]
[hr]
THE BOARD
From the Player Box, you can drag the models onto the board.
You can see the deployment zones and board tools under Models --> Counters/Templates (scroll to the bottom of the armies)--> Miscellaneous (sub option). On the right side of the spites, it might have closed the gap (why, I don't know) between the full list of options and the message box. You will have to drag it open to see them.
Below the Counters/Templates, you might have noticed "Terrain". Since I already gave you an extensive list of shortcuts, you already know how to rotate, select, and move terrain on the board (remember, to keep interference between models and terrain, you have to shift + click the terrain piece to select it.
Special Note: For Ruins, it can be difficult telling what is the area terrain or not. Use the dirt/snow roads to mark the boundaries.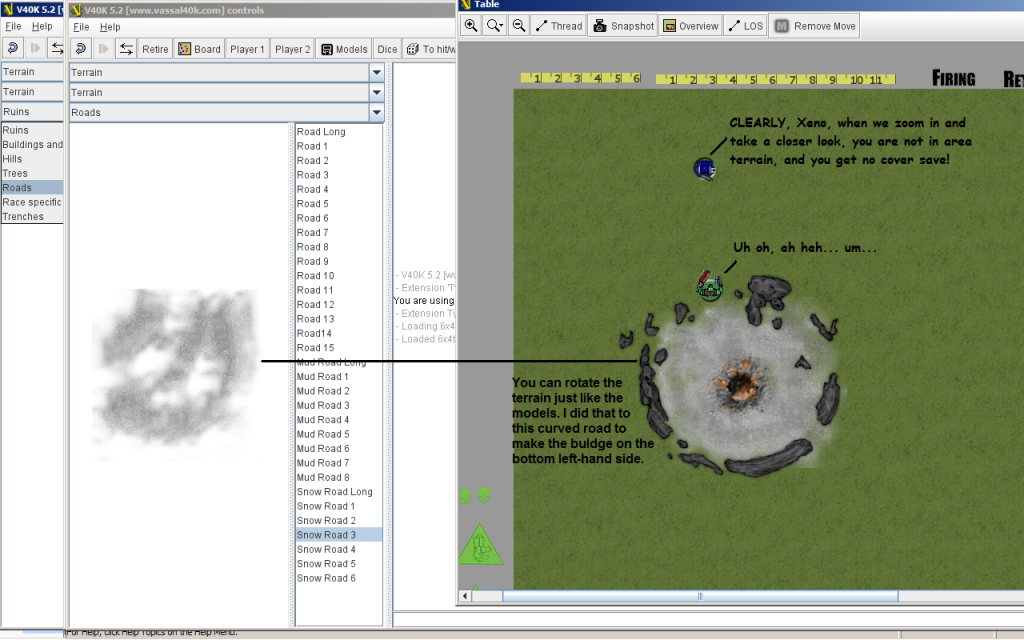 [hr]
[hr]
FUN EXERCISE!
It's time to put everything you know to the test. If you're learning with a friend, this can be a good way to practice with someone else. If you're by yourself, you can have fun as you move the models around. We're going to make a race and see how fast you can go!
1. Start with a plain board (Temperate).
2. Create this board
(You can use any models you want, but the board has to be as close to that as possible, and the models much be infantry, in the exact same locations as you see them).
You will find 3 buildings under Buildings and Objects, 5 trees under trees, the trench portions under Trenches, and the 3 ruin portions under Ruins.
3. Play this Exercise
By only using shortcuts keys, move one of the two models around. When they get within LOS of an Ork (or other basic infantry model that you hate!), kill the enemy model (do not delete it). You kill the Ork when you draw the LOS line from your model to the Ork model. You cannot touch the edges of any terrain or the board edge. You have to move past the trees to enter the trench. The end is the board edge on the far left in the trenches. If you want to be more dramatic, you can get into base contact with the Orks and then make a blood splotch as your hero beats them down in combat!
4. Time each person
See who conducts the exercise (moving the models around) faster with the better time. When you reach the end, delete the blood splotches and then start again for the next player.
If you want to, you can give your characters weapon systems to use and then test to hit, wound, and kill the Orks or actually fight each one in combat. No barrage weapons would be allowed, but psychic powers can be used (as long as they are conducted in combat or require LOS to be used. Using the Doom of Malan'tai is cheating!).